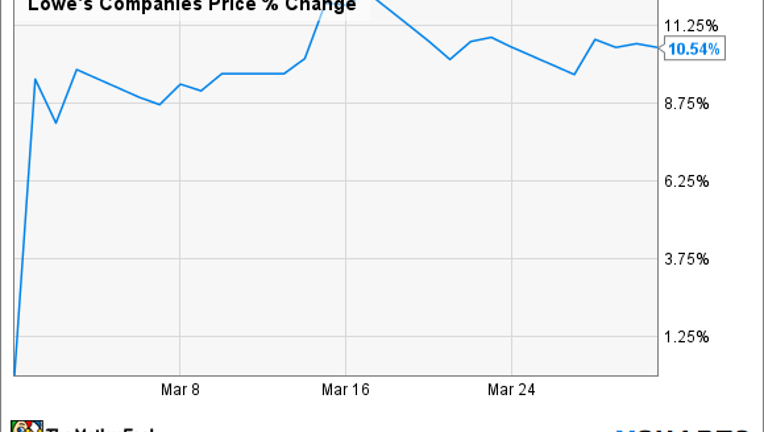 What happened
Shares ofLowe's Companies Inc.(NYSE: LOW) were stacking higher last month after the home-improvement retailer delivered an impressive fourth-quarter earnings report. According to data from S&P Global Market Intelligence, the stock finished up 10.5%.
Image source: Lowe's.
As the chart below shows, the stock's gains came almost entirely at the beginning of the month following the earnings report.
So what
Lowe's turned in stellar results on all counts. Comparable sales at the home-improvement retailer accelerated to 5.1%, its fastest pace in several quarters, and overall revenue increased 19.2% to $15.8 billion, which topped estimates at $15.4 billion. The jump in sales was largely attributable to its acquisition of Canadian home-improvement retailer RONA last year, which added nearly 500 stores to Lowe's portfolio.
On the bottom line, adjusted earnings per share surged 45.8% to $0.86 from $0.59 a year ago. CEO Robert Niblock credited the company's "omni-channel platform, customer experience design capabilities, and project expertise."
Now what
Looking ahead, Niblock said 2017 presented a "favorable macroeconomic backdrop for home improvement," and the company's guidance confirmed that view, calling for an overall sales increase of 5% and comparable sales growth of 3.5%. Lowe's plans to open 35 new stores and calls for earnings per share of $4.64, up from $3.99 last year.
With an expanding economy and strong housing market, Lowe's stock looks primed to deliver in 2017 again, continuing its momentum from last quarter.
10 stocks we like better than Lowe'sWhen investing geniuses David and Tom Gardner have a stock tip, it can pay to listen. After all, the newsletter they have run for over a decade, Motley Fool Stock Advisor, has tripled the market.*
David and Tom just revealed what they believe are the 10 best stocks for investors to buy right now... and Lowe's wasn't one of them! That's right -- they think these 10 stocks are even better buys.
Click here to learn about these picks!
*Stock Advisor returns as of April 3, 2017
Jeremy Bowman has no position in any stocks mentioned. The Motley Fool has no position in any of the stocks mentioned. The Motley Fool has a disclosure policy.