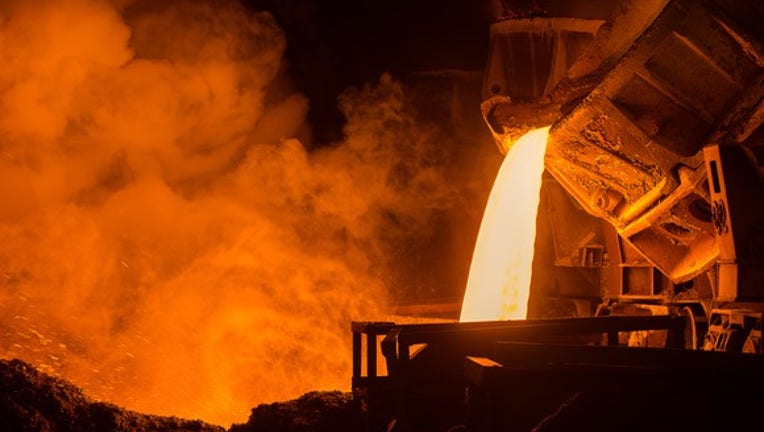 Mechel stock looks red-hot on Monday. Image source: Getty Images.
What happened
Shares of Russian steelmaker-cum-coalminer Mechel PAO(NYSE: MTL) shot up nearly 19% in early Monday trading before retracing ever so little. As of 11:30 a.m. EST, Mechel stock was still holding onto a respectable 17.6% gain. But why?
So what
Two possible answers suggest themselves. Firstly, there's the 6-K filing that Mechel made with the SEC this morning, in which the company described its recent participation in the 22nd International Industrial Exhibition, Metal-Expo, at the All-Russia Exhibition Center in Moscow. According to Mechel, its "booth became one of the most visited and lively negotiation areas." Furthermore, over "four days we managed to reach dozens of new agreements, strengthen and expand long-standing partnerships," according to company CEO Andrey Ponomarev.
But lacking identification of specific partners and specific deals (and specific numbers to hang a valuation on), it's hard to imagine that this simple press release could be responsible for driving a 19% gain in Mechel stock.
Of course, there's also Mechel's upcoming third-quarter earnings news, due out mid-December. Analysts are forecasting 39% sales growth for Mechel in this announcement, which would be terrific news. But even if they're right about that, that Q3 earnings report remains a month away. If this is the reason investors are excited, they may have begun celebrating a bit early.
Now what
Fact is, even after restructuring its debt, Mechel remains deeply unprofitable (in fact, it's going on its fifth straight year of losing money), and it's hard to see why investors would be optimistic about Mechel's prospects at any time. When you add in the prospect of President-elect Trump levying increased tariffs on foreign-produced steel, now seems an especially unwise time to be getting excited about Mechel stock.
Forget the 2016 Election: 10 stocks we like better than Mechel OAO Donald Trump was just elected president, and volatility is up. But here's why you should ignore the election:
Investing geniuses Tom and David Gardner have spent a long time beating the market no matter who's in the White House. In fact, the newsletter they have run for over a decade, Motley Fool Stock Advisor, has tripled the market.*
David and Tom just revealed what they believe are the ten best stocks for investors to buy right now... and Mechel OAO wasn't one of them! That's right -- they think these 10 stocks are even better buys.
Click here to learn about these picks!
*Stock Advisor returns as of November 7, 2016
Fool contributorRich Smithdoes not own shares of, nor is he short, any company named above. You can find him onMotley Fool CAPS, publicly pontificating under the handleTMFDitty, where he currently ranks No. 314 out of more than 75,000 rated members.
The Motley Fool has no position in any of the stocks mentioned. Try any of our Foolish newsletter services free for 30 days. We Fools may not all hold the same opinions, but we all believe that considering a diverse range of insights makes us better investors. The Motley Fool has a disclosure policy.