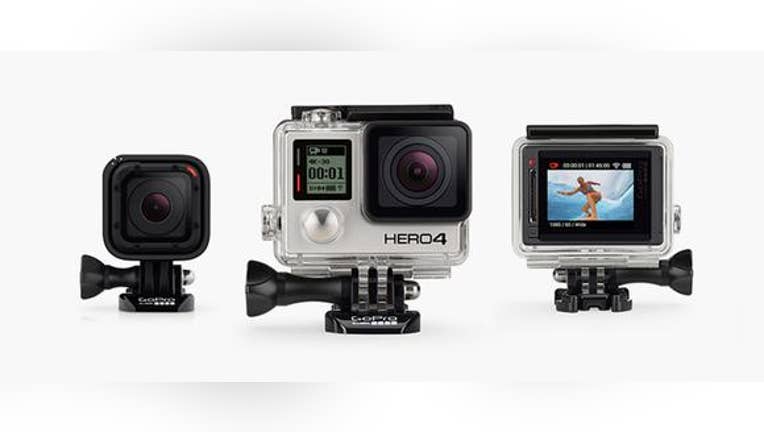 GoPro's capture device line now consists of the HERO4 Session, HERO4 Black, and HERO4 Silver models, Image source: GoPro,
What:Shares of GoPro fell 10.6% Tuesday on no company-specific news.
So what:It is worth noting, however, that GoPro wasn't alone in its painful plunge; key GoPro supplier Ambarella also closed down more than 8% Tuesday on no materials news. That said, Ambarella has also fallen more than 17% over the past week, after the video processing chip company blamed high inventory levels for customers in the wearable sports camera space -- which GoPro dominates -- for its disappointing fourth-quarter results and light forward guidance. What's more, the broader market certainly didn't help, as the Nasdaq Composite Index turned negative late in the day before closing down 1.3%.
Now what: It's no mystery GoPro isn't exactly resting in the market's good graces after its painful holiday-quarter results last month. And until GoPro can prove it has what it takes to return the company to sustained top- and bottom-line growth -- which could come through any combination of its new software initiatives, impending new product category launches, or a long awaited refresh of its recently narrowed capture device lineup -- it seems these kinds of no-news swings (both down and up) are par for the course. In the meantime, investors would be wise to focus first on GoPro's actual business.
The article Why GoPro, Inc. Stock Dropped Today originally appeared on Fool.com.
Steve Symington has no position in any stocks mentioned. The Motley Fool owns shares of and recommends Ambarella and GoPro. Try any of our Foolish newsletter services free for 30 days. We Fools may not all hold the same opinions, but we all believe that considering a diverse range of insights makes us better investors. The Motley Fool has a disclosure policy.
Copyright 1995 - 2016 The Motley Fool, LLC. All rights reserved. The Motley Fool has a disclosure policy.