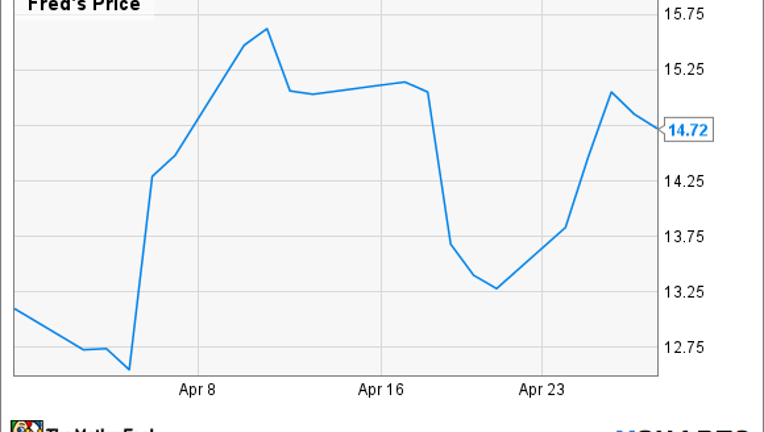 The drugstore chain Fred's (NASDAQ: FRED) reported lower sales and a bigger loss in Q4, but optimism over its potential deal to buy up to 1,200 Rite Aid (NYSE: RAD) stores has left investors confident in its future.
Image source: YCharts.
What happened
The chain lost approximately $22.5 million or $0.60 per share in Q4, an increase from a loss of $3.9 million or $0.11 per share during the same quarter in 2015, the increase was due to over $23 million in one-time charges the company recorded, about half of which related to the pending Rite Aid deal.
It was not a great quarter by any measure, as net sales decreased 4.5% to $529.7 million from $554.6 million in Q4 2015. Still, the overall optimism surrounding the company was enough to drive its share price higher (though as you can see on the chart above, it was not a steady rise). After closing March at $13.10 shares finished out April at $14.72, a 12% increase, according to data provided by S&P Global Market Intelligence.
Fred's has been looking to expand its pharmacy business. Image source: Getty Images.
So what
Like many retailers Fred's had a difficult fourth-quarter. Comparable store sales have been moving in the wrong direction, dropping by 3.6% in Q4. Investors are forgiving that because the chain has been working to refocus itself on health and buying 1,200 Rite Aid locations will massively change the company. Fred's laid out what it expects to gain from the deal in its earnings release
The problem, and it's a significant one is that the deal to buy those stores is contingent upon Walgreensreceiving federal regulatory approval to buy Rite Aid. That should happen, but there are no guarantees.
Now what
Fred's plays the waiting game. Major acquisitions that shrink the number of choices for consumers move slowly even with the current business-friendly government. In this case, it comes down to whether the Federal Trade Commission (FTC) thinks that Fred's buying 1,200 Rite Aid locations creates enough of a major player to allow the Walgreens purchase to go through.
10 stocks we like better than Fred'sWhen investing geniuses David and Tom Gardner have a stock tip, it can pay to listen. After all, the newsletter they have run for over a decade, Motley Fool Stock Advisor, has tripled the market.*
David and Tom just revealed what they believe are the 10 best stocks for investors to buy right now... and Fred's wasn't one of them! That's right -- they think these 10 stocks are even better buys.
Click here to learn about these picks!
*Stock Advisor returns as of May 1, 2017
Daniel Kline has no position in any stocks mentioned. The Motley Fool has no position in any of the stocks mentioned. The Motley Fool has a disclosure policy.