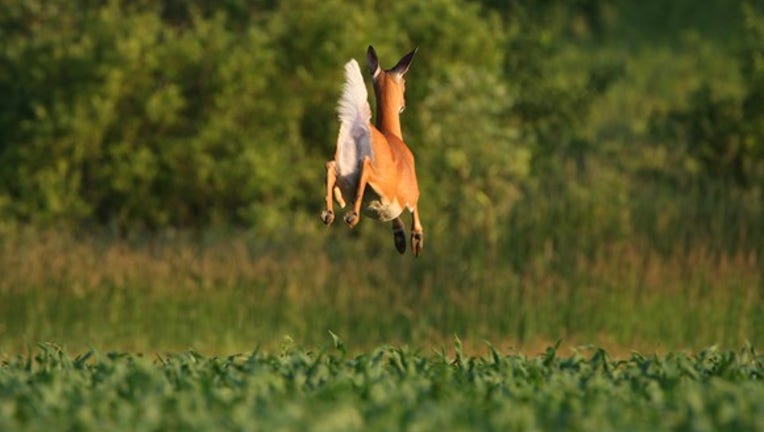 Deere jumped today. Image source: Getty Images.
What happened
Shares of Deere & Co. (NYSE: DE) stock leapt more than 10% in Wednesday trading, and were recently spotted up 10.8% over their pre-earnings price at 1:15 p.m. EST -- a new all-time high.
So what
Deere's earnings news this morning wasn't as good as you might think, judging just from the stock-price jump. In fact, fourth-quarter earnings declined 17% year over year, to just $0.90 per share, on a 3% decline in revenues (to $6.5 billion).
While the numbers weren't good, they were much better than Wall Street had expected. Consensus estimates heading into earnings had predicted a much steeper falloff in earnings, to just $0.39 per share. So while Deere earned less last quarter than in the year-ago quarter, it still earned more than twice as much profit as Wall Street had bargained for.
Now what
So far, this has been a bad-news/good-news story. Now here's some really good news: Q1 2017 sales will likely be down about 4% year over year, and 1% for the full fiscal year, but "in spite of continuing weakness in the global agricultural and construction equipment sectors," CEO Samuel R. Allen says Deere is probably going to earn at least $1.4 billion in its just-started fiscal 2017.
One again, this number should be better than the $1.2 billion that Wall Street was expecting. And Allen went on to promise $500 million in "cost reductions" by the end of 2018 -- so next year could be even more profitable than this one.
10 stocks we like better than Deere & Company When investing geniuses David and Tom Gardner have a stock tip, it can pay to listen. After all, the newsletter they have run for over a decade, Motley Fool Stock Advisor, has tripled the market.*
David and Tom just revealed what they believe are the 10 best stocks for investors to buy right now... and Deere & Company wasn't one of them! That's right -- they think these 10 stocks are even better buys.
Click here to learn about these picks!
*Stock Advisor returns as of November 7, 2016
Fool contributorRich Smithdoes not own shares of, nor is he short, any company named above. You can find him onMotley Fool CAPS, publicly pontificating under the handleTMFDitty, where he currently ranks No. 330 out of more than 75,000 rated members.
The Motley Fool is short Deere & Company and has the following options: long December 2016 $92 calls on Deere & Company. Try any of our Foolish newsletter services free for 30 days. We Fools may not all hold the same opinions, but we all believe that considering a diverse range of insights makes us better investors. The Motley Fool has a disclosure policy.