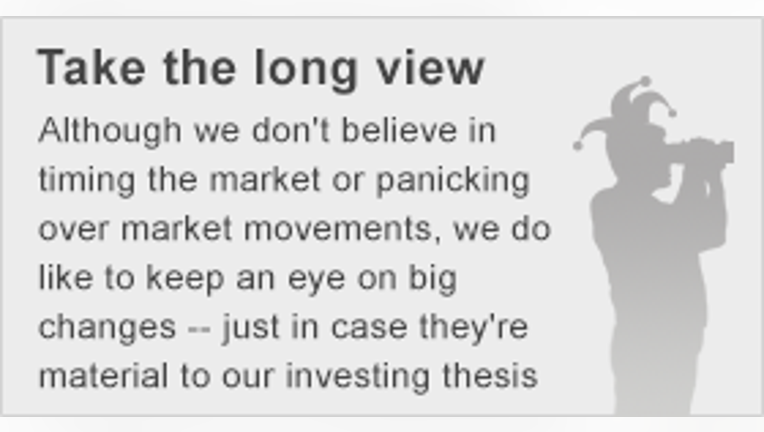 What: Shares of apparel retailer American Eagle Outfitters were down 14.5% at 11 a.m. ET Friday after its quarterly update disappointed Wall Street.
So what: American Eagle shares have slumped over the past six months on signs of softening sales, and today's holiday season update -- same-store sales are up 4% so far in the quarter while Wall Street is forecasting growth of 4.7% -- suggests that things aren't turning anytime soon. So while management has done well to tweak its merchandise offering amid increasingly fierce competition, short-term-oriented traders are being forced to exit on the strong possibility that core sales will miss expectations for the current quarter.
Now what: Management continues to expect Q4 EPS in the range of $0.40 to $0.42, versus the average analyst estimate of $0.42. "I am extremely pleased with the steady progress made in 2015, with expected annual EPS growth of roughly 70%," said CEO Jay Schottenstein. "I'm optimistic about our future plans, and across the organization, we are diligently focused on driving continued momentum in 2016."More importantly, with American Eagle continuing to boast a rock-solid balance sheet and a cheapish low-teen P/E, the downside looks limited enough to bet on that bullishness.
The article Why American Eagle Outfitters Shares Plunged originally appeared on Fool.com.
Brian Pacampara has no position in any stocks mentioned. The Motley Fool has no position in any of the stocks mentioned. Try any of our Foolish newsletter services free for 30 days. We Fools may not all hold the same opinions, but we all believe that considering a diverse range of insights makes us better investors. The Motley Fool has a disclosure policy.
Copyright 1995 - 2016 The Motley Fool, LLC. All rights reserved. The Motley Fool has a disclosure policy.