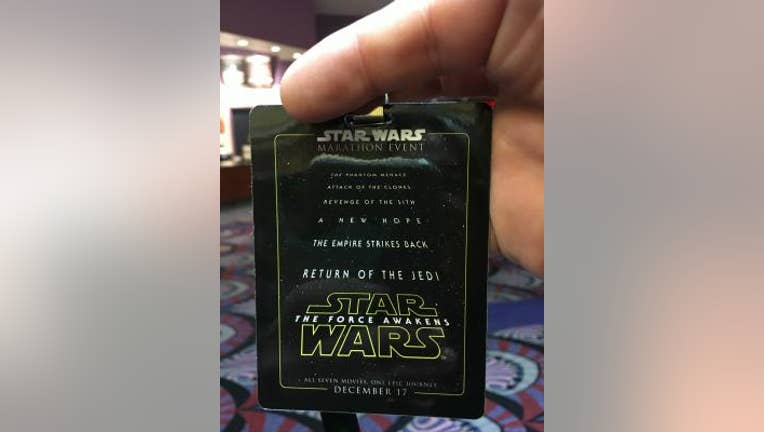 Usually a lightsaber can take down any foe, even a rampaging velociraptor, Vin Diesel, and most certainly the little fellows fromMinions.
Star Wars: The Force Awakens, however, wasn't released until Dec. 18, meaning that despite its record-breaking opening, it won't have enough have enough days in theaters before the year ends to change which studio wins the 2015 domestic box-office battle.
Source: author.
It's not thatStar Warsisn't a a megahit -- the film is likely to end its run as the biggest film ever in the United States and in global box office. It's simply a case of one studio heading into the end of 2015 with a lead so large that not even a new generation of Jedi, a flickering red lightsaber, the melted mask of Darth Vader, and an adorable new robot were enough to catch up.
Which studio is going to win?As of Dec. 20 -- two days into the release ofStar Wars: The Force Awakens-- Universal, which is owned byComcast, sat at the top of the domestic box-office standings. The studio, which had just over $2.4 billion in ticket sales, according to Box Office Mojo, was led by hits includingMinions,Furious 7, andJurassic World,the film that held the record for opening-weekend sales before it was knocked off byStar Wars.
In addition to its three megahits, all of which earned over $1 billion globally, Comcast's movie studio also saw big returns fromPitch Perfect 2 ($184 million in U.S. box office),50 Shades of Grey($166 million),Straight Outta Compton($161 million),Train Wreck($110 million), and even the somewhat underperformingTed 2($81 million). That gave Universal 22.3% of total U.S. box office, ahead of Walt Disney which had $1.86 billion, or a 17.3% share.
The author did his part for Disney, paying $50 to see all seven Star Wars films on opening night. Source: author.
"It's right down to the wire with Disney amassing a whole galaxy full of dollars in the home stretch of the box office year in a virtual horse race toward the finish line with the 2015 megasuccessful market share leader Universal," Rentrak senior media analyst Paul Dergarabedian told Deadline."With just 11 days to go, it's anyone's guess where we will wind up. Either way, both studios have had a truly incredible year."
That's an optimistic read on Disney's prospects for catching up from the company that tracks box-office results, because evenStar Warswon't bring in more than $500 million between Dec. 21 and midnight on New Year's Eve. Disney had a great year with big domestic hits includingAvengers: Age of Ultron($459 million in U.S. box office),Inside Out($356 million),Cinderella($201 million),Ant-Man($180 million), andThe Good Dinosaur($97.8 million) joiningStar Wars($288 million domestically as of Dec. 21). But even a late push from the Force won't catch Comcast's Universal.
Disney is the real winner hereWhile Comcast and Universal should celebrate their victory, Disney's box-office take was more impressive because it put up the numbers by releasing only 13 films, with two holdovers from 2014 adding to its total. Universal had 25 new films out in 2015, with one holdover from last year contributing.
Still, neither Disney nor Universal really has anything to complain about. Both studios will top $5 billion in global box office, and both either relaunched or launched successful new series, which should keep them at or near the top of the box-office heap for years to come.
The article Which Studio Won the 2015 U.S. Box-Office Battle? originally appeared on Fool.com.
Daniel Kline has no position in any stocks mentioned. He saw the Star Wars marathon but had a tough time getting through the first two prequels. The Motley Fool owns shares of and recommends Walt Disney. Try any of our Foolish newsletter services free for 30 days. We Fools may not all hold the same opinions, but we all believe that considering a diverse range of insights makes us better investors. The Motley Fool has a disclosure policy.
Copyright 1995 - 2015 The Motley Fool, LLC. All rights reserved. The Motley Fool has a disclosure policy.