What Will Be the Top-Grossing Movie of 2016?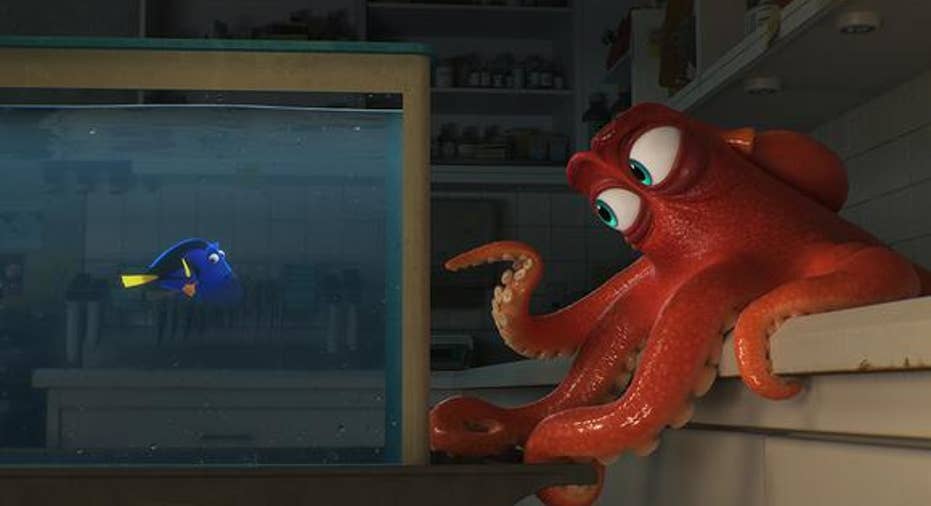 Global movie ticket receipts hit a record high of more than $38 billion in 2015, and this year's explosive franchise slate, combined with continued overseas growth, positions 2016's haul to be even bigger. This year has already seen its first big hit, with Twenty-First Century Fox'sDeadpool, and the company, along with entertainment rivals Time Warner and Disney, look to be firing on all cylinders for this year's box competition.
Still on deck for release: Batman v Superman: Dawn of Justice,Alice Through the Looking Glass, Finding Dory, Captain America: Civil War,Fantastic Beasts and Where to Find Them, Independence DayResurgence, and Rogue One: A Star Wars Story. They allhave massive ticket sales potential and a shot at being the year's top-grossing film.
To get an idea of which films look strongest and which company is best positioned to deliver the top-grossing movie of 2016, we asked three Motley Fool contributors to spotlight their pick for this year's biggest movie. Read on to learn which pics could shine brightest at the 2016 box office.
Image source: Disney
Daniel B. Kline:WithStar Wars: The Force Awakensalready past $2 billion at the global box office, the prospects look awfully strong for any films that take place in the beloved "galaxy far, far way." In fact, the success of the first film in the new trilogy, which continues the story that left off on the big screen in Return of the Jedi, has been so enormous that it will increase interest in the anthology films that will be released in the years between the major movies.
BeforeThe Force Awakens became a phenomenon, I wouldn't have predicted such lofty heights forWalt Disney's first Star Wars anthology film, Rogue One: A Star Wars Story.Instead, I would have predicted that it would perform in the range of where the lesser Marvel films such as Ant-Man do -- about $520 million globally. Now, however,The Force Awakenshas created a whole new generation of fans for the series and expanded its fan base further with women.
Disney is also very smart, and it should be able to cleverly weave details that affect episodes VIII and IX intoRogue One, which is a sort of immediate prequel to the events in the originalStar Wars.The new film will also be able to draw on classic characters, including the greatest villain in film history -- Darth Vader, who is very much alive at the time the movie takes place.
Given the goodwill created byThe Force Awakens, sampling forRogue Onewill be very high. The film should open strong, and if it's good, it has a strong chance to be the biggest movie of 2016, with the only potential stumbling block being that its Dec. 16 release gives it a narrow window before the year closes. Still, the film will have two more days of ticket sales in 2016 thanThe Force Awakensdid in 2015, and that film earned $651 million between Dec. 18 and Dec. 31.What will help Rogue Oneis that the two extra days it will be open are a Friday and a Saturday -- potentially huge days.
It's going to be a close call at the 2016 box office only becauseRogue One: A Star Wars Storyhas to make so much money so fast for it to claim the calendar crown. If you look at what gets earned in total by any 2016 release during its entire box office run, then the newStar Wars should crush the competition like Vader on the windpipe of an insubordinate officer.
Image source: Disney.
:Disney'sPixar movie studio has a great track record of cranking out hit after hit, so whenever it releases a new movie, it always stands a good chance of winning the title of top-grossing film of the year. Its movies tend to appeal to kids and adults alike, and they translate well in foreign markets
On June 17, Disney is set to release Finding Dory, the sequel to its 2003 megahit Finding Nemo, which rang up more than $895 million in worldwide box office sales on its release. It wouldn't surprise me one bit if Finding Dory ended up crossing the billion-dollar threshold. If so, it has a great shot at claiming the title of top-grossing movie of the year.
My confidence stems from Pixar's history of producing sequels that end up outselling the original movie. For example, worldwide ticket sales of the first Toy Story movie were "only" $362 million when it was released in 1995, but that number jumped to $485 million when the second installment of the series hit theaters in 1999. That number grew yet again when Toy Story 3 hit theaters in 2010, as worldwide sales topped $1 billion. Pixar also saw growth when it released a Cars sequel and a Monsters prequel. The numbers from boxofficemojo.com indicate huge jumps even though they are unadjusted for rising ticket prices.
With a track record like that in place, I see no reason to believe the trend won't hold true for Finding Dory, so it gets my vote as the most likely choice for the year's top-grossing film.
Image source: Time Warner.
Keith Noonan:Time Warner'sBatman v Superman: Dawn of Justicelooks a bit darker than the average blockbuster, and its shadowy aesthetic and promise of bloody battles between DC Comics' biggest heroes could limit the movie with family audiences, but I'm a believer in the explosive potential of the film. A silver-screen showdown between Batman and Superman has been teased and hinted at for decades, and many years of buildup combined with what looks to be a strong cast, good effects work, and lots of promotion set the stage for a big performance.
If the film turns out to be high quality and makes good on the inherent promise of its sprawling title, Warner's foray into an expanded DC Cinematic Universe will have all the ingredients it needs to strike box office gold and claim the year's top spot against some very strong competition.
Warner's last two Batman films each crossed $1 billion in global unadjusted ticket sales, while 2014'sMan of Steel's gross of roughly $670 million suggests that Superman has a box office pull of his own. Add in the big-screen debut of Wonder Woman, and the film has the combined box office muscle of DC Comics' three biggest heroes to elevate it above the year's other big releases.
Between the marketing forBatman v. Supermanand DC Universe follow-upSuicide Squad, Warner has done a good job of distinguishing its superhero universe from the competition, and the film's March 25 release date could play to its advantage, as the movie will have roughly six weeks in theaters until the next likely action blockbuster, Disney's Captain America: Civil War, releases.
With 11 films planned in the DC Cinematic Universe through 2020 and a production and marketing budget for Batman v. Supermansomewherein the neighborhood of $400 million, Warner has a lot riding on its big March release. My early impression is that both of the company's 2016 superhero movies will be big successes, with Batman v. Supermanputting up massive numbers and setting the stage for Warner to have a great year at the movies.
The article What Will Be the Top-Grossing Movie of 2016? originally appeared on Fool.com.
Brian Feroldi owns shares of Walt Disney. Daniel Kline has no position in any stocks mentioned. Keith Noonan has no position in any stocks mentioned. The Motley Fool owns shares of and recommends Walt Disney. The Motley Fool recommends Time Warner. Try any of our Foolish newsletter services free for 30 days. We Fools may not all hold the same opinions, but we all believe that considering a diverse range of insights makes us better investors. The Motley Fool has a disclosure policy.
Copyright 1995 - 2016 The Motley Fool, LLC. All rights reserved. The Motley Fool has a disclosure policy.