Time Warner Inc.'s Best Business Segment in 2015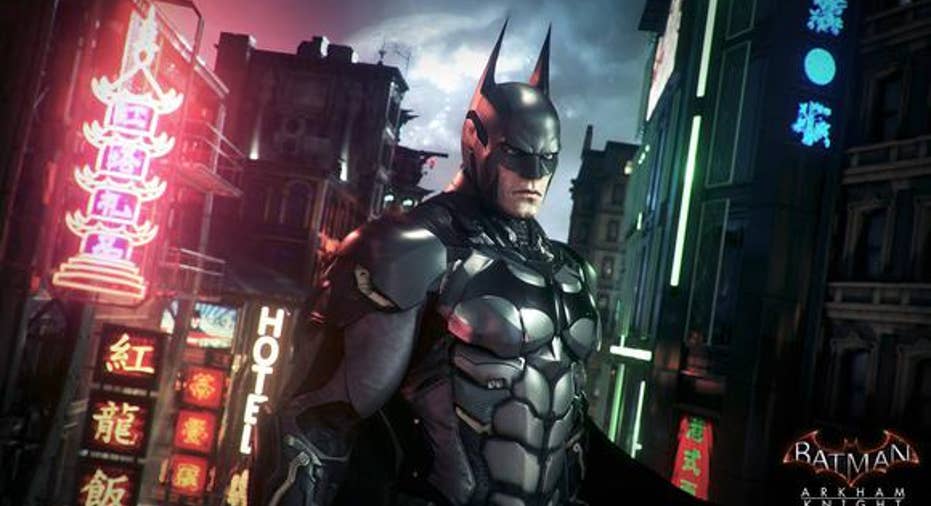 Time Warner's Home Box Office division has dominated headlines for the business this year. The service pulled in a record 43 Emmy Awards in 2015, leading all networks on the strength of its blockbusterGame of Thrones series. In April, it finally became available as a stand-alone app, giving it access to the fast-growing streaming-video market.
Yet HBO's operating results don't put it on top in a ranking of the broadcasting giant's best-performing business segments. That honor, instead, goes to the Warner Bros division, which is home to successful television, film, and importantly, video-game studios.
Warner Bros' Batman:Arkham Knight helped the division grow despite a weak box office. Image source: Warner Bros.
Contributing more to the business Through the first three quarters of the year, Warner Bros' revenue has climbed higher by $1 billion, or 11%. The increase, both in relative and absolute terms, beats the contribution of Time Warner's other two divisions, HBO and Turner -- by far.
Sales (in millions) through Q3 of 2015 by division. Source: Time Warner financial filings.
The outperformance story changes a bit if we look at profit, rather than sales, growth. In that case, the broadcast piece of the business takes first place. But keep in mind that Turner's earnings increase was boosted by the benefit of removing expensive NASCAR programming from the mix:
Adjusted operating income (in millions) through Q3 by division. Source: Time Warner financial filings.
Yet overall, the Warner Bros segment made the biggest operating improvements in 2015 by achieving double-digit sales growth, and adding more than $200 million to Time Warner's bottom line.
How it happened Those strong results came despite an unusually soft year at the box office. Warner Bros' fantasy movie Pan bombed, pulling in just $35 million of receipts on a production budget of $150 million. Jupiter Ascending fared just as poorly, with $47 million collected in U.S. theaters on a $176 million budget. Yes, American Sniper and San Andreas did better, but it's still likely that Warner Bros' long string of finishing within the top two film studios in the country will come to an end this year.
The good news for investors is that the video game side of the business offset much of that box-office weakness. Warner Bros was the industry's top publisher through the first three quarters of the year, leaving pure-play heavyweights Activision Blizzard and Electronic Arts behind. Time Warner had help from a string of blockbuster hits such as Mortal Kombat X and Batman: Arkham Knight. As a result, a studio that usually ranks near the bottom of the country's 10 biggest video-game publishers raced to the top, with 20% market share through August, according to research firm NPD Group.
The outlook Warner Bros isn't likely to maintain that dominant position through the holiday season, though. It can look forward to strong sales of its latest Lego video-game release. As a toys-to-life game, Lego Dimensions will add profitable retail toy sales to the mix, boosting profit margins as it has for Activision and its Skylanders franchise.
"Lego Dimensions". Image source: Warner Bros.
But Activision should take overall first prize again with a big assist from the latest installment of the global powerhouse Call of Duty franchise. Meanwhile, Electronic Arts' Battlefront game seems well positioned to benefit from Star Wars mania as we close out the year. EA executives are expecting to sell as many as 13 million copies of that title. Against hits like those, Time Warner isn't likely to hold its No. 1 position through Q4.
Still, investors have to be pleased that Warner Bros made such a big contribution, even as the movie studio struggled. "Our business is intentionally diverse," an executive told The Wall Street Journal in October, "so in a year where we've faced challenges at the box office, our games and TV businesses have been off the charts."
The article Time Warner Inc.'s Best Business Segment in 2015 originally appeared on Fool.com.
Demitrios Kalogeropoulos owns shares of Activision Blizzard. The Motley Fool owns shares of and recommends Activision Blizzard. The Motley Fool recommends Time Warner. Try any of our Foolish newsletter services free for 30 days. We Fools may not all hold the same opinions, but we all believe that considering a diverse range of insights makes us better investors. The Motley Fool has a disclosure policy.
Copyright 1995 - 2015 The Motley Fool, LLC. All rights reserved. The Motley Fool has a disclosure policy.