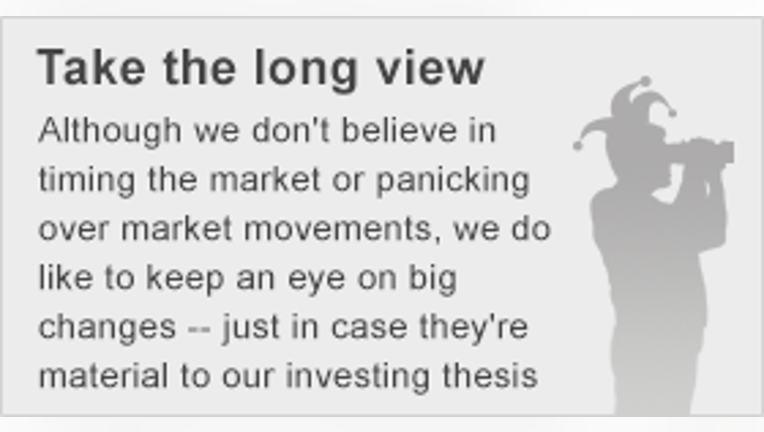 Image source: Atwood Oceanics.
What: Shares of Atwood Oceanics surged 10% by 3:30 p.m. ET on Wednesday. There wasn't any specific news fueling the stock other than the fact that the price of oil rebounded a bit today.
So what: The price of crude oil rebounded nearing market close after slumping earlier today amid government data showing a surprising 10.4-million-barrel climb in oil inventories, when analysts only expected a 3.6-million-barrel build in inventories. Traders, however, looked past that data point, instead focusing on slumping domestic output and projections that production will continue to decline. Those further declines are the key to ending the oil glut, which would then get oil prices out of their current rut.
Higher oil prices are exactly what Atwood Oceanics needs because it has a boatload of drilling rigs going off contract later this year. At the moment, oil prices are really too low for oil producers to justify new rig commitments; however, if they see prices heading higher, that might be enough to change their minds. It's that hope of better days ahead that's really driving Atwood Oceanics' stock price today.
Now what: Despite today's rally, crude oil is still in the low $30s, which is well below the oil price producers need in order to increase their investments in offshore drilling. Furthermore, there's likely going to be a long lag between oil hitting that price and oil companies giving the green light to new offshore wells. This suggests that Atwood Oceanics isn't out of the woods just yet.
The article This Is What's Fueling Atwood Oceanics, Inc.'s Double-Digit Move Today originally appeared on Fool.com.
Matt DiLallo has no position in any stocks mentioned. The Motley Fool owns shares of and recommends Atwood Oceanics. Try any of our Foolish newsletter services free for 30 days. We Fools may not all hold the same opinions, but we all believe that considering a diverse range of insights makes us better investors. The Motley Fool has a disclosure policy.
Copyright 1995 - 2016 The Motley Fool, LLC. All rights reserved. The Motley Fool has a disclosure policy.