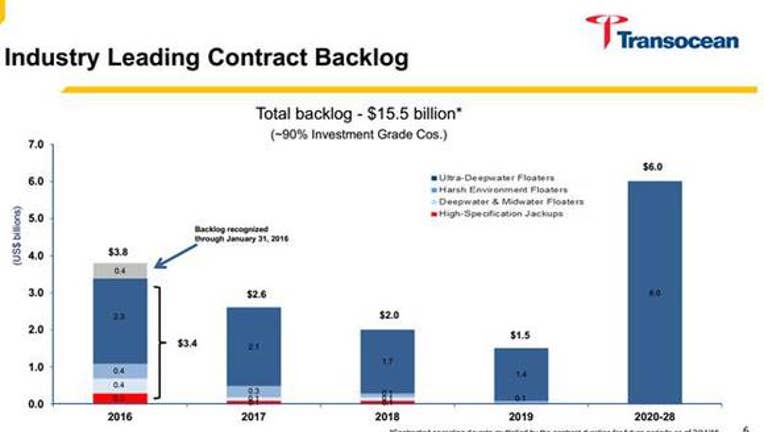 Source: Transocean investor presentation
With U.S. oil production declining, OPEC and Russia looking to freeze production, and global oil demand continuing to grow, a recovery in oil prices does seem to be on the horizon.
If that recovery does indeed happen, there will most certainly be areas of the energy sector where a person would enjoy being invested. Based on what Transocean (NYSE: RIG) CEO Jeremy Thigpen recently said at the Howard Weil Energy Conference, the offshore drilling sector might not be one of those.
No rate recovery until 2020Saying times are tough in the energy sector is not doing the situation justice. This is a collapse for the ages, both deep and long. Just as the onshore oilfield service industry is suffering from a massive rig count reduction, the level of offshore activity is also grinding to a halt.
The difference between the two is that shale drilling is likely to resume much faster when oil prices rebound. In fact, I'd be tempted to suggest that offshore drilling is going to have a hard time recovering to where it was before the 2014 oil collapse unless oil prices stay high for an extended amount of time..
A trend has emerged in the oil and gas industry in recent months. Companies are changing their long-term plans and moving away from long-lead-time projects such as offshore deepwater. The idea of committing huge sums of capital over several years to build out an offshore or oil sands project is a non-starter in the this world of crimped cash flows. Companies that had been lulled into a false sense of security by several years of steady high oil prices are now very much aware that this is a volatile industry.
In the place of long-lead-time mega projects, oil and gas producers are now turning more of their focus to developing shale assets. While an offshore deepwater project takes several years to development, a shale well can only take weeks from spud to production. By focusing on shale, companies can quickly ramp spending and production up into higher commodity prices and down if commodity prices drop.
In recent months we've seen Marathon Oilannounce that other than for the completion of already-in-progress projects, all of 2016 will be directed toward resource (shale) plays.Conoco Phillipsannounced that it will be exiting the offshore exploration game entirely, and Chevron's CEO just said the company is going to pivot away from megaprojects and toward short-cycle opportunities, particularly in the Permian Basin.
Perhaps, then, it's not surprising that at the Howard Weil conference, Thigpen noted that he doesn't expect rig demand to pick up until at least 2018 and sees no chance for dayrate increases until 2020.
Is Transocean on secure financial footing?
Transocean shareholders probably thought the BP Macondo oil spill was the biggest disaster they would have to endure. The collapse in oil prices has been far worse to Transocean's share price. For the near term, Transocean doesn't have any significant balance-sheet concerns. The company has $2.3 billion in cash and $3.0 billion on an undrawn revolving credit facility.
Source: Transocean Howard Weil presentation.
There's a $1.6 billion debt maturity in 2017 to be dealt with, though, which will either eat into that cash balance or call for a draw on the revolver if it can't refinance with other long term debt. Also providing some cash flow security is a $15.5 billion contract backlog with customers.
Source: Transocean Howard Weil presentation.
That provides Transocean some comfort about cash that will be coming in over the next few years. The news on the backlog front is hardly bright, either, though, as the backlog has shrunk from $21.2 billion just one year ago.
Transocean's financial position is nowhere close to being dire, but if business doesn't improve, that financial condition is going to worsen slowly over time. With the words from Transocean's own CEO that dayrates could remain depressed through 2020, there is reason for medium-term concern.
What are the implications for investors?As an investor, I have a weakness for beaten-down sectors and companies. I'm generally inclined to believe that the market has overreacted and that things are usually not as extreme at either end (good or bad) as stock prices suggest.
When it comes to Transocean and any of the offshore drillers, though, it may be best to take a pass. There are serious short-term challenges here, andthe long-term dynamics of the offshore business has worsened materially as evidenced by the industry moving toward shale.
The energy industry went out into the deepwater because there was nowhere else it could find oil. That situation has changed, because we've figured out how to get oil out of shale and tight oil rocks at a cost that competes with or is better than deepwater production.
With volatility reintroduced to the world of oil prices, every company that can will be choosing short-cycle-time shale over long-lead-time deepwater megaprojects. Demand for offshore drilling will probably never fully recover.
The article There's Still No Light at the End of the Tunnel for Offshore Drillers originally appeared on Fool.com.
TMFWolfpack has no position in any stocks mentioned. The Motley Fool owns shares of and recommends Chevron. Try any of our Foolish newsletter services free for 30 days. We Fools may not all hold the same opinions, but we all believe that considering a diverse range of insights makes us better investors. The Motley Fool has a disclosure policy.
Copyright 1995 - 2016 The Motley Fool, LLC. All rights reserved. The Motley Fool has a disclosure policy.