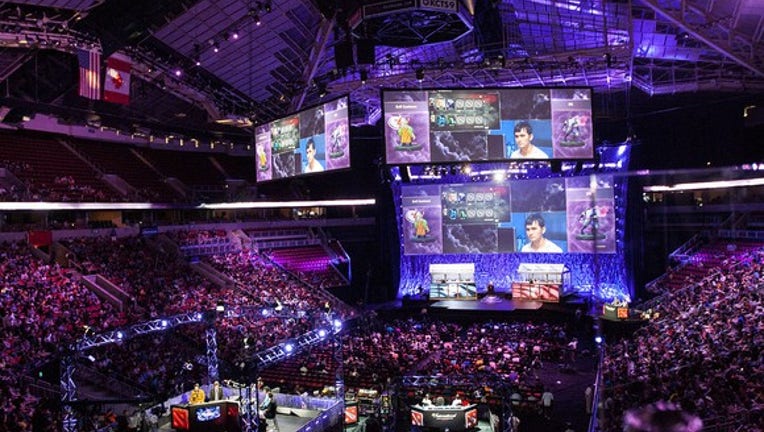 These are exciting times for Nvidia (NASDAQ: NVDA). Three-to-five years ago the most exciting initiative associated with Nvidia was its investments in mobile computing, especially mobile gaming.
Fast forward a few years and Nvidia is all the rage on Wall Street thanks to an explosion of possibilities to apply its core business, graphics processors, to just about every area of the economy -- healthcare, manufacturing, transportation, etc. In addition to these opportunities, there are also exciting trends happening in the world of gaming that should continue to drive growth in Nvidia's gaming business.
Image source: Nvidia Investor Day 2016 presentation.
As you can see from the chart, gaming dwarfs the other segments. Other segments will very likely catch up at some point, but right now Nvidia needs a healthy, growing gaming industry. Gaming revenue growth has been very strong the last few quarters, and this has helped Nvidia expand gross margin. Higher margins can boost earnings growth, allow for future increases in the dividend, and can help fund investments in smaller, faster growing segments by providing extra cash for R&D and hiring.
So how can Nvidia's gaming segment keep growing?
Advancements in technology
During the second quarter conference call in August, Nvidia CEO Jen-Hsun Huang said the next generation of gaming platforms (PS5, etc.) will double the graphics performance of the current generation (PS4, Xbox One, etc.). This has been happening almost every year or two on smartphones and tablets. Next-gen consoles will represent such a significant leap in the production quality of games that it will cause a greater adoption of advanced GPUs, and with that, higher average selling prices leading to higher margins for PC gaming as well.
Improvements in graphics capability should create a major upgrade cycle as graphics technology improves in next-gen gaming hardware. Nvidia has an installed base of around 80 million GeForce users (GeForce is Nvidia's GPU line for PC gamers).Most of those gamers are using older GPUs. Nvidia started shipping GPUs based on the new Pascal architecture -- the layout design of a processor -- in the second quarter. Only a third of Nvidia's GeForce users have upgraded to Maxwell, the previous architecture. As technology advances, it is inevitable that those gamers who haven't upgraded will begin to upgrade to newer GPUs.
Nintendo
Nintendo's upcoming Switch console is another catalyst for Nvidia's gaming business. The Switch, which is expected to launch in March 2017, will use a custom Nvidia Tegra processor.Jen-Hsun Huang expects the relationship with Nintendo to likely last two decades as Nintendo tends to stick with a graphics architecture for a long period of time.
At this point there is no way to know what the exact monetary benefit will be for Nvidia, but we can look to the past for a general idea. Nvidia developed the GPU for the original Xbox in 2002 and collected $439 million in sales from Microsoft in calendar year 2002.Analysts expect Nvidia's full year revenue to be $6.8 billion. Assuming Nvidia collects around $500 million from Nintendo, that is less than 10% of Nvidia's expected full year revenue.In all likelihood, Nintendo will be a marginal source of revenue. Nevertheless, Nvidia's deal with Nintendo will bring some degree of benefit for years to come.
eSports
The eSports market has been booming. Major brands like Coca-Cola have started sponsoring tournaments, and ESPN has begun covering eSports with a desire to bring as much rigor to eSports as the NBA, NFL, and MLB.As eSports grows so does the need for players to keep up technologically in order to compete at the highest level, and that's where Nvidia can help with their line of high-end, GeForce GTX GPUs.
Image source: Jacob Wells via flickr.
Jen-Hsun Huang expects eSports to bring a new generation of gamers to the PC. Here's what he said on a recent Nvidia conference call:
Along with eSports, Virtual Reality (VR) is another growing market that is driving interest in gaming. According to Statista, VR software sales are expected to exceed $20 billion by 2020. That represents enormous growth considering that VR software sales are only estimated around $500 million for 2016. As eSports and VR both continue to grow, we should see VR competitions held at eSport events. VR games are very immersive experiences and require a high-end graphics card to provide smooth gameplay. Nvidia's latest GTX 10-series GPUs provide gamers eSports and VR capable performance.
The future is promising
It's very early for these new markets in the world of gaming. eSports and VR are just starting to gain traction, but if they continue their current trajectory, these new markets will help strengthen demand for Nvidia's GPUs as players keep up with the latest technological advancements.
Gaming is still the core of Nvidia's business, so it's important that there is a healthy, growing gaming industry. Machine learning, deep learning, and self-driving cars are providing Nvidia with lots of opportunities to leverage its GPU business across many different applications, expanding margins in the process. However, when investors evaluate Nvidia, there's plenty to like about Nvidia's gaming business over the long term.
10 stocks we like better than Nvidia When investing geniuses David and Tom Gardner have a stock tip, it can pay to listen. After all, the newsletter they have run for over a decade, Motley Fool Stock Advisor, has tripled the market.*
David and Tom just revealed what they believe are the 10 best stocks for investors to buy right now... and Nvidia wasn't one of them! That's right -- they think these 10 stocks are even better buys.
Click here to learn about these picks!
*Stock Advisor returns as of Nov. 7, 2016
John Ballard owns shares of Nvidia. The Motley Fool owns shares of and recommends Nvidia. Try any of our Foolish newsletter services free for 30 days. We Fools may not all hold the same opinions, but we all believe that considering a diverse range of insights makes us better investors. The Motley Fool has a disclosure policy.