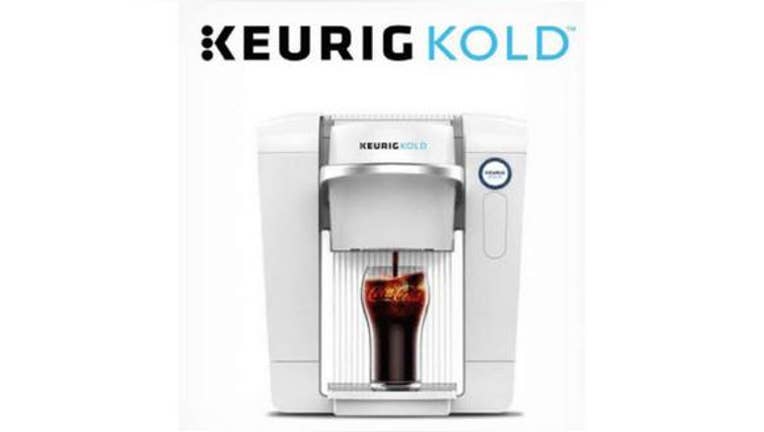 Image source: Keurig Green Mountain.
Things were going terribly for Keurig Green Mountainbefore agreeing to a $13.9 billion buyout earlier this month.
We went over some of the upbeat stories that broke on the single-serve java champ throughout the year over the weekend. Now let's take a look at some of the negative headlines.
Feb. 4Keurig Green Mountain posted financial results for its fiscal first quarter, and the market didn't like it. Net revenue clocked in at $1,386.4 million, just shy of the $1,386.7 million it posted a year earlier. It's the first time in at least several years that Keurig Green Mountain posted a year-over-year decline on the top line.
Shares of Keurig Green Mountain took a 5% hit on the trading day following the news. Things would go on to get a lot worse. The rate of the declines would widen as the fiscal year played out.
Feb. 21It seemed to validate Keurig Green Mountain back in 2010 when European coffee giant Luigi Lavazza took a minority stake in Keurig Green Mountain. The two companies pledged at the time to jointly develop products to gain a foothold in each other's home turf, but the original dream machine of a Keurig-like platform for high-end espresso brews never materialized.
Luigi Lavazza threw in the towel back in February, selling 5.2 million shares at a purchase price of $119.18. Luigi Lavazza moving on was a negative in its own right, but realizing that Keurig Green Mountain paid so much for its stock -- when it would crash south of $40 a few months later -- makes this a headline that stings twice.
Sept. 29Keurig Green Mountain finally began selling Keurig Kold, but the market that was once hyped up about the prospects of a new carbonated beverage makerturned lukewarm on Kold. The high price of the system, laughably expensive pricing on flavors, and the inconvenient nature of a machine that has to be on for two hours to serve up a chilled eight-ounce drink made it a hard sell at its initial $370 sticker price.
Nov. 18The fiscal year closed badly for Keurig Green Mountain. Net sales plunged 13% for the fourth quarter relative to the year before, and net income took an even bigger hit. A 9% decline in pod revenue hurts, but the 32% plunge in new brewer sales is the dagger.
The stock still shot higher on the news. As bad as the results were, Wall Street was holding out for a worse showing. This still doesn't take away from the grim reality that this is an iconic brand in decline. The buyout comes at a welcome time.
The article The Worst Keurig Green Mountain, Inc. Headlines in 2015 originally appeared on Fool.com.
Rick Munarriz owns shares of Keurig Green Mountain. The Motley Fool has no position in any of the stocks mentioned. Try any of our Foolish newsletter services free for 30 days. We Fools may not all hold the same opinions, but we all believe that considering a diverse range of insights makes us better investors. The Motley Fool has a disclosure policy.
Copyright 1995 - 2015 The Motley Fool, LLC. All rights reserved. The Motley Fool has a disclosure policy.