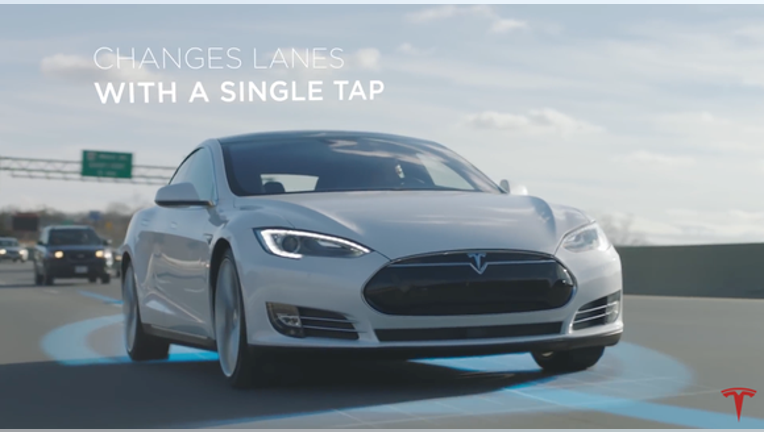 When asked about driverless cars during an interview at KentPresents this week, Tesla Motors chief technology officer JB Straubel said the electric-car maker has a big software update, which would move its fleet further in this direction, coming for its vehicles. Ahead of the company's unveiling of its Model 3, his timeframe for when Tesla is going to announce the update is particularly interesting.
Tesla autopilot for Model S. Image source: Tesla Motors.
Tesla is prepping a big software update"In terms of driverless cars, we're working on this very aggressively right now," Straubel said. "We have a pretty big release -- sort of a new set of features -- via a software update very, very soon, actually, in just a few weeks to a lot of our customers."
Straubel's reference to a timeframe of "just a few weeks" is intriguing since Tesla is holding an event on March 31 to announce its Model 3, or Tesla's first car at a more affordable price point of $35,000. Will the software announcement be made during the event? And, if so, why?
With Model 3 set to be priced at half the starting price of Model S -- and well below the Model X' starting price of $80,000, the company may be aiming to simultaneously announce a few new features applicable to its flagship S and X in order to prevent cannibalization of the models by Model 3. While Tesla won't begin deliveries of its lower-cost Model 3, Tesla did say it will begin taking orders for the lower-cost car on March 31. So, if Model S doesn't handily stand out from its new, lower-cost sibling, some would-be Model S or X buyers could opt to wait for the Model 3 instead.
Musk has hinted that the Model 3 will come equipped with sensors to enable a version of its autopilot technology, but it's not clear whether the technology will rival Tesla's higher-cost models or not.
Currently, both Tesla's Model S and X come standard with safety-related autopilot features, such as blind spot warning and automatic emergency braking. Further, all Tesla vehicles include related hardware relevant to every available convenience-related autopilot features, which include automatic steering and lane changes on the highway. But customers must pay $2,500 to enable these convenience-related autopilot features, or $3,000 after delivery.
Autopilot upgrade for Model S. Image source: Tesla Motors.
What autopilot features will Model 3 include? The question isn't whether Model 3 vehicles will be able to tap into Tesla's autopilot technology. Priced at $35,000, Model 3 will still be a premium car; the electric-car maker will almost certainly include at least some autopilot features. But the question is to what extent will autopilot be integrated? And what will come standard and what will cost extra money?
Investors may not get all their answers about Model 3's autopilot when Tesla announces it later this month. Tesla CEO Elon Musk has said in February he hadn't yet decided how much information about the vehicle he would want to continue keep secret.
But if Tesla sticks to Straubel's timeline about a big software update coming in a "few weeks," chances are investors will hear something about autopilot soon.
The article Tesla Motors, Inc: Big Software Coming in a "Few Weeks" originally appeared on Fool.com.
Daniel Sparks owns shares of Tesla Motors. The Motley Fool owns shares of and recommends Tesla Motors. Try any of our Foolish newsletter services free for 30 days. We Fools may not all hold the same opinions, but we all believe that considering a diverse range of insights makes us better investors. The Motley Fool has a disclosure policy.
Copyright 1995 - 2016 The Motley Fool, LLC. All rights reserved. The Motley Fool has a disclosure policy.