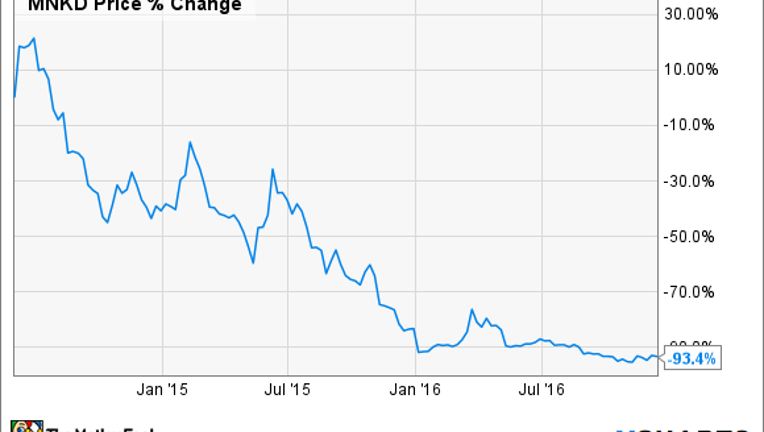 Tax-loss selling is an effective strategy to lower your tax bill. The basic idea is to sell stocks that have fallen on hard times and are unlikely to mount a comeback. You can apply the capital loss against any capital gains in your portfolio, thereby lowering your overall tax bill for the year.
Image Source: Getty Images.
The problem, though, tends to be actually admitting our investing errorsand then taking the necessary action to cut our on losses on once-promising equities. If you own shares of Arena Pharmaceuticals (NASDAQ: ARNA), MannKind Corp. (NASDAQ: MNKD), or Dynavax Technologies Corp. (NASDAQ: DVAX), however, it may be time to do just that. Let's check out why.
Arena is years away from making a comeback
After FDA-approved weight-loss pill Belviq failed to live up to its blockbuster hype, Arena has essentially reverted back into a clinical-stage biotech. While that's not necessarily the kiss of death, the biotech lacks a late-stage product candidate, is losing around $18 million per quarter, and exited the third-quarter with only$101.6 millionremaining in cash and cash equivalents.
The bottom line is that Arena's mid-stage drug candidates -- ralinepag for pulmonary arterial hypertension and etrasimod for ulcerative colitis -- are both five to six years away from potentially reaching the market. Making matters worse, these experimental drugs are likely to face exceedingly crowded markets when -- or if -- they do make it all the way to the commercial stage of their life cycles.
Without an exciting blockbuster drug candidate in hand, with a deteriorating cash position, and down 24% year-to-date, Arena is arguably a strong candidate to let go for tax purposes right now.
MannKind might be too far down the rabbit hole
MannKind is a small-cap biopharma that markets the rapid-acting inhaled insulin Afrezza. Despite the human insulin market being one of the largest drug spaces in terms of annual sales, MannKind's niche product has failed to catch on as a viable alternative to injected insulin since its approval by the FDA in June 2014.
The direct result of the market's tepid response to Afrezza is that MannKind lost the backing of its former partner Sanofiat the start of 2016, and its share price has absolutely cratered since the drug's approval:
Now, MannKind did get a reprieve from the hangman's noose last month after Sanofi decided to generously forgive thebalance of its$71.56 million loan to the struggling biotech and purchase $10.2 million worth of insulin as a means to conclude its former marketing agreement. However, the company still needs Afrezza's U.S. sales to surge higher in order to prove that it is a viable product. MannKind ultimately must find a new business partner in order to remain solvent beyond 2017, and that won't happen unless Afrezza's fortunes change soon.
As if Afrezza's anemic commercial launch wasn't enough, though, the biotech will also need to do something about its sub-$1 share price to stay listed on the Nasdaq. And that implies that a reverse split (when a company lowers its share count to hike its price per share) will be required early next year. If so, early shareholders will probably get whacked yet again, given that reverse splits performed out of desperation tend to result in further valuation erosion.
In light of all these headwinds, MannKind stands out as an exceptional candidate to sell for tax purposes before year's end.
Dynavax swings and misses on Heplisav's regulatory application, again
Last month, Dynavax's shares were crushed after the FDA issued a second Complete Response Letter for the company's experimental hepatitis B vaccine Heplisav-B. The stock nosedived because Heplisav was expected to produce peak sales somewhere in the $700 million neighborhood, and it was the company's only near-term prospect of transforming into a cash flow-positive operation.
Although the FDA reportedly isn't requiring any additional clinical trials and Heplisav does appear to be approvable with some tweaks to its regulatory filing, Dynavax said that it may require a partner to get the job done. Put simply, the bulk of the vaccine's potential revenue may end up in the pocket of another company, presumably in exchange for an upfront milestone payment and back end royalties.
Apart from the disappointing scenario unfolding for Heplisav right now, the company also lacks another late-stage candidate to pick up the slack, so to speak. In other words, a comeback doesn't appear to be in the cards for this beaten down biotech stock anytime soon.
10 stocks we like better than Arena Pharmaceuticals When investing geniuses David and Tom Gardner have a stock tip, it can pay to listen. After all, the newsletter they have run for over a decade, Motley Fool Stock Advisor, has tripled the market.*
David and Tom just revealed what they believe are the 10 best stocks for investors to buy right now and Arena Pharmaceuticals wasn't one of them! That's right -- they think these 10 stocks are even better buys.
Click here to learn about these picks!
*Stock Advisor returns as of Nov. 7, 2016
George Budwell has no position in any stocks mentioned. The Motley Fool has no position in any of the stocks mentioned. Try any of our Foolish newsletter services free for 30 days. We Fools may not all hold the same opinions, but we all believe that considering a diverse range of insights makes us better investors. The Motley Fool has a disclosure policy.