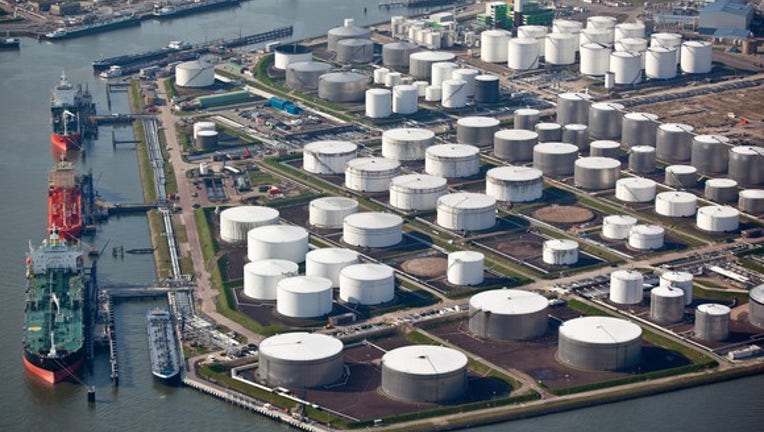 Talk about a fast change. Six months ago, Targa Resources Corporation (NYSE: TRGP) was grappling with a "not enough growth" problem as its project pipeline was looking mighty dry. Fast-forward to today, you have a company that just closed an acquisition that could cost as much as $1.6 billion and another $1 billion in organic growth projects.
Getting all of these new assets on line will likely do wonders for Targa's bottom line, but it does make you wonder where the money will come from to pay for them. Let's take a look at Targa Resources' most recent earnings report to see what has changed in the past couple of quarters and what could be the biggest constraint going forward.
Image source: Getty Images.
By the numbers
Data source: Targa Resources Corp. earnings releases.
Overall, Targa's quarterly results were unchanged aside from the typical one-time accounting anomalies such as impairments or gains/losses on derivatives. The most significant of those one-time gains is a $40 million cash payment Targa received in the fourth quarter. This payment relates to an agreement with Noble Group back in 2014 to build a crude and condensate splitter. Targa receives a $40 million pre-payment annually to support the construction of the facility until it is complete and operates for a full year. If we strip out that payment, Targa's distributable cash flow for the first quarter is in line with the previous quarter.
Looking at Targa's business segments, the company's gathering and processing division is growing quicklywhile its logistics and marketing segment is on the wane. The gathering and processing business is doing particularly well as volumes in its Permian Basin assets more than offset declines in its other regions. It also helps that the average realized price for its commodity-linked businesses increased significantly compared to this time last year.
Targa's logistics and marketing business hasn't been quite as lucky. While overall fractionation, Benzene treating, and export volumes were all up, higher product costs and operating expenses ate into margins. Some of those operating expenses were related to scheduled maintenance and downtime, though, so this might just be a one-time issue.
What is likely more important than the earnings report itself was the announcement that came with that press release. Targa's management announced that it would spend $210 million to build an additional 450 million cubic feet per day of natural gas processing facilities in the Permian Basin. These new investments were made possible by the company's recent acquisition of gathering and processing assets in the Permian.
This additional $210 million is on top of Targa's already rather ambitious 2017 capital spending plan. Targa's current capital budget for fiscal year 2017 is $960 million, of which $565 million is dedicated to the Permian. These investments are just another data point to support that the Permian is the place to be for oil and gas production today. With this acquisition and these investments, Targa is going all-in with the Permian.
What management had to say
With the recent Permian Basin acquisition closed, Targa Resources CEO Joe Bob Perkins highlighted the new investment opportunities presented to Targa as well as expectations for the coming years.
What a Fool believes
It wasn't that long ago that Targa Resources was running out of options to grow the business. Since then, the company has made that big Permian acquisition and found some new investment opportunities as a result. The next question investors have to ask is this: Where will the company get the funding for those new assets?Management did promote the fact that it has a lot of room under its short-term borrowings -- about $1.8 billion in available credit facilities -- but that is not a viable long-term funding option for $900 million in capital spending and the $1.6 billion acquisition. Eventually, it will have to go to the financial markets, and that hasn't been the most lucrative funding source recently.
Perhaps the addition of these Permian assets will provide Targa enough cash flow to pay a portion of its capital spending plan. For investors, we'll just have to wait and see if that happens.
10 stocks we like better than Targa ResourcesWhen investing geniuses David and Tom Gardner have a stock tip, it can pay to listen. After all, the newsletter they have run for over a decade, Motley Fool Stock Advisor, has tripled the market.*
David and Tom just revealed what they believe are the 10 best stocks for investors to buy right now... and Targa Resources wasn't one of them! That's right -- they think these 10 stocks are even better buys.
Click here to learn about these picks!
*Stock Advisor returns as of May 1, 2017
Tyler Crowe has no position in any stocks mentioned. The Motley Fool has no position in any of the stocks mentioned. The Motley Fool has a disclosure policy.