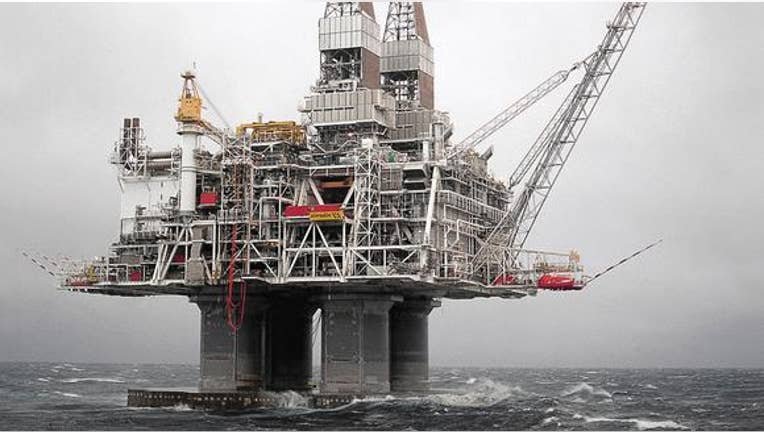 Source: ExxonMobil corporate website.
Oil and gas behemoth ExxonMobil (NYSE: XOM) recently released its 2014 reserve report, and with it came the end of a mighty streak.
After 21 consecutive years of growing its oil and gas reserves, Exxon told us that in 2015 the company replaced only 67% of the reserves it produced. The cause of the decline wasn't an issue with Exxon not being able to find oil and gas.The issue was low commodity prices resulting in the company being forced to deem previously existing reserves as uneconomic.
Oil and gas prices have dipped so low that even the strongest companies in the industry are suffering.
The guilty culprit -- natural gasThe oil price collapse is what gets the most headlines these days. The financial news is regularly littered with what the energy minister from one OPEC nation or another may have said.
But it wasn't the low price of oil that put the big dent in Exxon's reserves. It was natural gas.
While Exxon more than replaced its oil production in 2015, it had to reduce its proven natural gas reserves by roughly 5 trillion cubic feet. The issue wasn't that the natural gas itself disappeared; the problem is that prices are so low that the gas is now uneconomic to produce. So the good news is that if natural gas prices rebound in the coming years, some or all of those reserves could come back to Exxon.
This is a continuation of a tough period for Exxon when it comes to natural gas. In December 2009, Exxon acquired shale gas producer XTO Energy for a dizzying $31 billion in Exxon shares. Exxon hasn't even been drilling XTO's legacy natural gas assets in the past couple of years and has instead been focused on oil acreage in the Permian and Bakken that came in the deal.
Two and a half years after that acquisition in June 2012, Exxon CEO Rex Tillerson was famously quoted as saying that the company was "losing their shirts" drilling for natural gas.
With natural gas prices currently trading for a sickly $1.76, I think it's safe to say that those shirts are still in short supply around Exxon's corporate headquarters when it comes to shale gas.
Now obviously for a company the size of Exxon not replacing 33% of one year's production is not that big of a deal. This company has a vast reserve base and the current stressed environment could actually benefit the company in the long run if it can acquire some very attractively priced assets.
Another streak ends -- share buybacks are discontinuedBefore releasing the information about its reserves, Exxon had released its Q4 earnings. Included in that was this news about its share repurchase program:
"In the first quarter of 2016, the corporation will continue to acquire shares to offset dilution in conjunction with its benefit plans and programs but does not plan on making purchases to reduce shares outstanding."
This is yet another sign of how big of an impact low oil and gas prices are having on everyone in this industry. In the previous several years, Exxon had been a major acquirer of its own shares at higher stock prices. Now with a lower stock price, the share repurchase plan has been kicked to the curb in order to protect the balance sheet.
From 2011 through the end of 2014, Exxon spent an incredible amount repurchasing shares:
2011: $22.0 billion
2012: $21.1 billion
2013: $16.0 billion
2014: $13.2 billion
In 2015, that number is down to just under $4 billion, and in 2016 the numbers are apparently going to be pretty close to zero, with just enough being repurchased to offset option issuances.
Will the XTO mistake keep Exxon on the M&A sidelines?Despite all of the damage being done by low commodity prices to Exxon's reserves and its share repurchase plan, Exxon's share price has held up very well.
At just over $80, Exxon is trading only about 20% below its 2014 high.
Meanwhile, there are all kinds of attractive acquisition candidates with share prices that are down 50%, 60%, 70%, and more. You can't help thinking that now would be a perfect time for Exxon to use its much more richly valued share price to scoop up some significant assets on the cheap.
Companies such as Continental Resourcesor Whiting Petroleum have very beaten-down share prices and large, high-quality positions in the Bakken. Acquiring one of these companies would provide Exxon with decades worth of development drilling locations that involve no exploration or political risk. Surely shareholders in these companies would welcome an ExxonMobil takeover at a nice premium from where the stocks currently trade.
Last time commodity prices collapsed, Exxon did make a major move acquiring XTO. Since that hasn't worked out very well, perhaps Exxon will remain on the sidelines this time if the mergers-and-acquisitions market heats up.
We will have to wait and see.
The article Should You Worry About ExxonMobil's 21-Year Reserve Replacement Streak Ending? originally appeared on Fool.com.
TMFWolfpack has no position in any stocks mentioned. The Motley Fool owns shares of ExxonMobil. Try any of our Foolish newsletter services free for 30 days. We Fools may not all hold the same opinions, but we all believe that considering a diverse range of insights makes us better investors. The Motley Fool has a disclosure policy.
Copyright 1995 - 2016 The Motley Fool, LLC. All rights reserved. The Motley Fool has a disclosure policy.