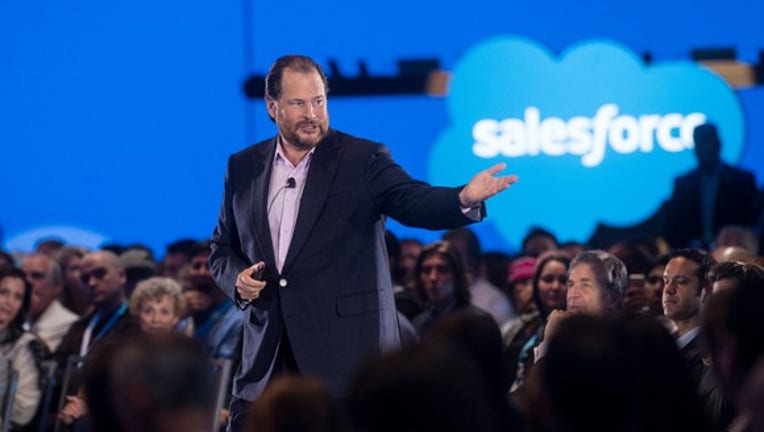 Image source: Salesforce.com.
Salesforce.com (NYSE: CRM) reported fiscal 2017 third-quarter results on Nov. 17. The cloud software leader continues to deliver strong revenue growth, positioning the company to surpass $10 billion in sales in the year ahead.
Salesforce.com results: The raw numbers
Data source: Salesforce.com Q3 2017 earnings release.
What happened with Salesforce.com this quarter?
Total revenue leapt 25% year over year to$2.1 billion and 27% when excluding the effects of foreign currency fluctuations. The growth was broad-based, with all four of Salesforce's main business segments reporting double-digit sales increases.
Image source: Salesforce.
That strong performance is likely to continue in the quarters ahead, with deferred revenue increasing 23% to $3.5 billion Salesforce as ofOct. 31, and unbilled deferred revenue -- essentially business that is contracted but not yet invoiced -- rising 28% to $8.6 billion.
Image source: Salesforce.
"We had outstanding execution in the third quarter, closing a record number of large transactions as more and more companies look to Salesforce as their trusted advisor to redefine their customer strategies," saidPresident and COO Keith Block in a press release. "No other enterprise software company is delivering customer success at this scale -- and certainly not at this pace."
Importantly, Salesforce's revenue growth is also boosting its cash generation, with operating cash flow improving 21%, to more than $1.4 billion, in the first three quarters of fiscal 2017.
Image source: Salesforce.
Still, Salesforce remains unprofitable on a GAAP basis, with third-quarter net loss per share coming in at $0.05. On an adjusted basis, non-GAAP earnings per share -- which exclude stock-based compensation, acquisition-related expenses, income tax adjustments, and certain other items -- rose 14% to $0.24.
Looking forward
Salesforce expects fourth-quarter revenue of $2.267 billion to $2.277 billion, which would be an increase of 25% to 26% from the prior year period. The company anticipates a GAAP loss of $0.10 to $0.09 per share, while non-GAAP earnings per share are projected to be in the range of $0.24 to $0.25. And deferred revenue is forecasted to rise approximately 22% to 23% year over year.
Looking even further ahead, Salesforce also issued a sales forecast for fiscal 2018, with full-year revenue expected to between $10.1 billion and $10.15 billion, representing an increase of 21% compared to fiscal 2017.
"I'm delighted to announce that we expect to deliver our first$10 billionyear during our fiscal year 2018, which puts us well on the path to reach$20 billionfaster than any other enterprise software company," said Chaiman and CEO Marc Benioff.
10 stocks we like better than Salesforce.com When investing geniuses David and Tom Gardner have a stock tip, it can pay to listen. After all, the newsletter they have run for over a decade, Motley Fool Stock Advisor, has tripled the market.*
David and Tom just revealed what they believe are the ten best stocks for investors to buy right now... and Salesforce.com wasn't one of them! That's right -- they think these 10 stocks are even better buys.
Click here to learn about these picks!
*Stock Advisor returns as of November 7, 2016
Joe Tenebruso has no position in any stocks mentioned. The Motley Fool recommends Salesforce.com. Try any of our Foolish newsletter services free for 30 days. We Fools may not all hold the same opinions, but we all believe that considering a diverse range of insights makes us better investors. The Motley Fool has a disclosure policy.