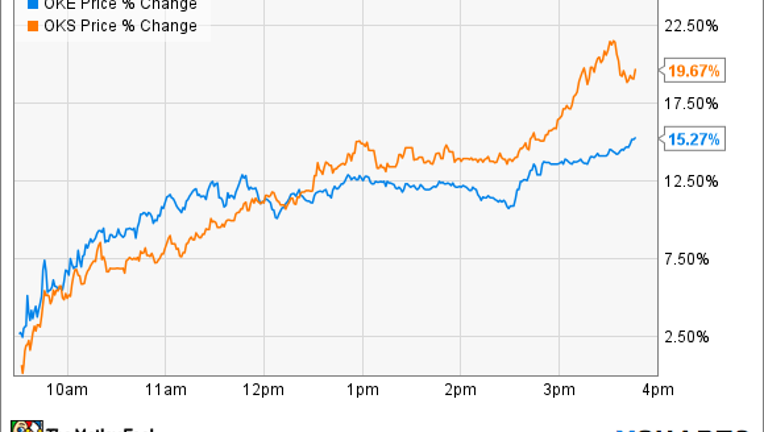 What:Natural gas and natural gas liquids pipeline, processing, and gathering companyONEOK and its master limited partnershipONEOK Partners LP stocks are up big Monday, following a press release providing financial guidance for 2016:
So what:Frankly it's not very often that Mr. Market responds positively when a company announces that it expects its dividend to remain flat in the coming year, but that, in a nutshell, is what's driving Monday's reaction. Considering the state of the energy markets, and the company's still-relatively high exposure to NGL commodity prices on its gathering and processing business, there has been real concern that ONEOK Partners' cash flows wouldn't be sufficient to support its distribution. That would potentially hurt ONEOK's dividend, since ONEOK's sole source of income comes from its general partner and common unit interest in ONEOK Partners.
In addition to announcing that ONEOK's dividend wouldn't be cut in 2016, the release also stated that ONEOK expected $250 million in new cash inflows in 2016, which it would be able to use to support ONEOK Partners if necessary. It also stated that there would be no secondary stock offerings of ONEOK Partners in 2016 or "well into" 2017. This makes sense because of the high cost of this capital with the share price so beaten-down.
Management also reiterated that it expected ONEOK Partners would reach a distribution coverage ratio of 1.0 in 2016 (essentially the break-even point for its cash flows to cover its dividend costs) based on current commodity future prices.
Now what:While there's a difference between "expects" and "guarantees," this is definitely good news for investors who are counting on steady income from either ONEOK or ONEOK Partners going forward, and frankly, both still look to be relatively attractive investments. Even after Monday's price increase, both are still yielding more than 10%, and after Monday's announcement, that payout should be relatively secure for this year.
However, the risk is certainly not zero. This announcement leaves management plenty of wiggle room if things change, and with the current state of energy prices, that makes sense.
This announcement provides a nice dose of certainty, but there remains risk if commodity prices get worse. Invest accordingly.
The article ONEOK Inc. and ONEOK Partners LP Stocks Up 15% and 20% Today: Here's Why originally appeared on Fool.com.
Jason Hall owns shares of Oneok. The Motley Fool owns shares of and recommends Oneok. The Motley Fool recommends Oneok Partners. Try any of our Foolish newsletter services free for 30 days. We Fools may not all hold the same opinions, but we all believe that considering a diverse range of insights makes us better investors. The Motley Fool has a disclosure policy.
Copyright 1995 - 2015 The Motley Fool, LLC. All rights reserved. The Motley Fool has a disclosure policy.