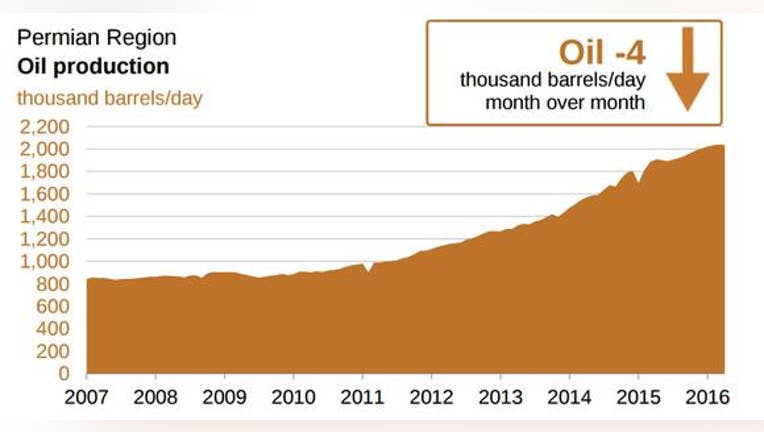 Image Source: pixabay.com
It's hard to reach a consensus in the energy market these days. Some analysts think oil prices will remain low for a long time because of the advances in shale technology. Other analysts think the current oversupply is exaggerated and crude prices are at risk for a spike given the lack of investment and spare capacity. The market has oscillated between both camps over the past few months, giving credence to both cases.
While analysts may disagree on energy prices, one thing that most analysts do agree on is that Occidental Petroleum is one of the few energy companies that can afford to raise its dividend for 2016. The company has the perfect combination of financial strength and great assets to sustain itself. Let's take a closer look at the company and its future prospects.
Rock-solid balance sheetUnlike other independents, Occidental has a strong balance sheet. The company has $4.4 billion of cash on hand, an "A" credit rating, and hundreds of millions of dollars of cash coming its way from a lawsuit settlement with Ecuador. Occidental has little debt, with a debt-to-capitalization ratio of 0.25 and the capacity to borrow at low costs if needed. The company's cash flows are helped by the start of the majorAl Hosn gas project in theUnited Arab Emirates last year, which added 30,000 barrels of natural gas liquids and condensate production per day, as well as 180 million cubic feet of natural gas production per day. Because it has strong finances, Occidental can pay its dividend, sustain its production, and survive $30-per-barrel crude prices for several years if prices fail to rebound.
The largest oil producer in the PermianOccidental has great assets. It's the largest oil producer in the Permian Basin, with 255,000 barrels per day of total production for 2015, 1.5 million net acres of shale potential, and 1 million acres of enhanced oil recovery potential.
Permian oil production. Source: Energy Information Administration.
Because the basin has multiple stacked payzones and goodinfrastructure, oil production in the Permian has increased even while production in other basins has declined because of the low crude prices. Given that Occidental has many sweet spots in the basin that allow for low cost of production, its shale and tight gas production rose 40% year over year in 2015 and is expected to grow substantially this year. Because shale makes up only 20% of Occidental's total production at the moment, however, the company's core production for 2016 is expected to grow only marginally from its 2015 levels. As shale production contributes a larger share of total production, Occidental's production has the potential to grow by 5%-8% a year in the long term.
What the future holds for OccidentalAs an independent, the company will have a stock whose price depends on crude prices, and fundamentals in that area have shown signs of improvement. Because crude prices have been low, U.S. oil production has fallen by by 600,000 barrels from its peak and is now declining at a rate of 100,000 barrels a day per month. Because of the severe strain low prices have put on their budgets, Russia, Saudi Arabia, and several major OPEC countries are expected to meet in Doha on April 17 to discuss a potential production "freeze." Meanwhile, analysts believe crude demand will rise 1.1 million per day for 2016. If current trends and estimates hold, supply and demand could balance by early 2017, and crude prices could rally to $60 per barrel or higher at that time.
If prices rally to $60 per barrel, Occidental will be free cash flow-positive and able to sustain its dividend indefinitely without having to borrow or sell non-core assets. If prices rally higher, Occidental could ramp up its capital expenditures in the Permian and will grow production faster.
The article Occidental Petroleum: The Combination of Financial Strength and Long Term Production Growth originally appeared on Fool.com.
TMFJay22 has no position in any stocks mentioned. The Motley Fool has no position in any of the stocks mentioned. Try any of our Foolish newsletter services free for 30 days. We Fools may not all hold the same opinions, but we all believe that considering a diverse range of insights makes us better investors. The Motley Fool has a disclosure policy.
Copyright 1995 - 2016 The Motley Fool, LLC. All rights reserved. The Motley Fool has a disclosure policy.