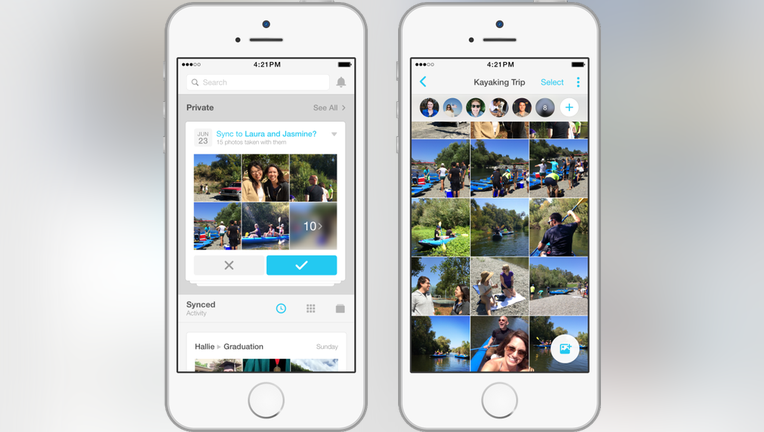 Facebook's Moments app. Source: Facebook
You might not have heard about Moments, a photo-sharing app from Facebook . The app has been downloaded by only a few hundred thousand people. Moments harnessed the power of Facebook's network and its facial-recognition software to automatically share photos with everyone in a group. The only problem is that it required everyone to download the app.
But just because only a small percentage of Facebook users downloaded the app doesn't mean it wasn't a success. In fact, Facebook is testing integration of Moments' photo-sharing technology into Messenger, so users can share photos with everyone.That's how Facebook uses apps -- to make its bigger apps better -- so their success can't be determined just by download numbers.
Feed the mother shipFacebook's approach to apps is somewhat similar to Alphabet's Google, which creates dozens of apps for Android and iOS to feed data back into the mother ship. But where Google's apps inform the company's advertising business, very few of its apps actually inform product improvements to other apps. For the most part, each app operates as a stand-alone unit -- the exception being the growing slate of YouTube apps.
Facebook, on the other hand, isn't looking for new ways to collect data from its users. It's looking to improve its product. That's what it did with Paper, which eventually spawned Instant Articles. Slingshot introduced drawing. And Moments introduced photo sharing.
Even the apps that failed (and really failed) provide important feedback for Facebook's development team. Riff showed that most people simply aren't interested in creating videos, even when prompted. As a result, Facebook has focused more of its efforts on better ways to lean back and consume video on its flagship app.
What to expect from NotifyFacebook's most recent app, Notify, will appeal to a very niche audience. Notify sends a push notification to users' lock screens whenever there's breaking news from a publisher or topic they follow. It will compete with Google to help users find information on topics they might be interested in, and most likely, very few people will actually download it.
Notify by Facebook. Source: Facebook
Those who do will provide Facebook some data on interests, echoing the results of Google-type apps. More importantly, they'll help Facebook figure out how to integrate Notify's push notifications into its main app, if at all.
The natural place for news notifications is Facebook's Notifications tab on its flagship app, a section the company recently revamped. At the same time, Facebook may find that people don't like getting a notification on their lock screen every time there's a breaking news story, and they'll find a different way to get users engaged with news on Facebook.
Don't judge an app by its downloadsHere's the key difference between Facebook's app strategy and Google's. While both strategies are designed to improve the value of each company's flagship products, Facebook's strategy doesn't require a lot of downloads to be a success.
Google relies on lots of downloads from lots of users, so it can gather lots of data. Facebook just needs enough data to make a judgment call on whether some of those feature are appropriate for its flagship apps. It found that to be the case with Moments, and it will certainly find that to be the case with future apps its team creates.
Investors shouldn't expect Facebook to create the next Facebook. Instead, they should ask if an app's functionality will make Facebook better -- more engaging, more content, more data -- if it were integrated with the flagship product.
The article Not Many People Downloaded One of Facebook's Latest Apps, but It Was Still a Huge Success originally appeared on Fool.com.
Adam Levy has no position in any stocks mentioned. The Motley Fool owns shares of and recommends Alphabet (A and C shares), and Facebook. Try any of our Foolish newsletter services free for 30 days. We Fools may not all hold the same opinions, but we all believe that considering a diverse range of insights makes us better investors. The Motley Fool has a disclosure policy.
Copyright 1995 - 2015 The Motley Fool, LLC. All rights reserved. The Motley Fool has a disclosure policy.