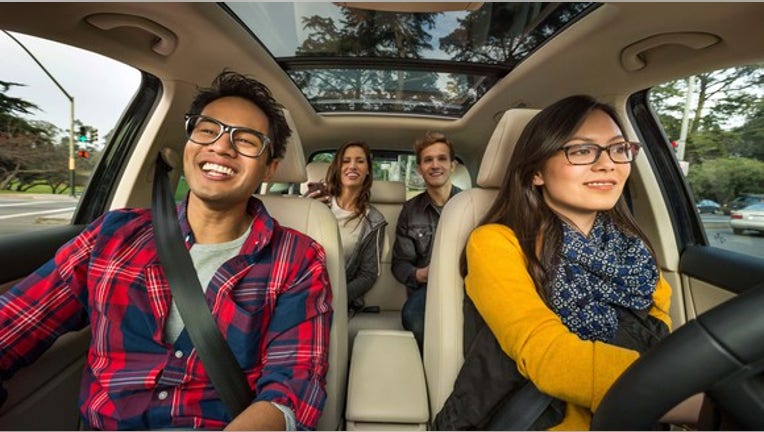 Ridesharing may ultimately replace car ownership. Image source: Lyft.
In some ways, the automobile has been the symbol of the American experience.
We have romanticized the road trip and turned getting a license to drive into a bar mitzvah-like right of passage, signifying adulthood. For many of us, our cars are more than just a method of conveyance. They are prized possessions treated more like children than functional hunks of metal.
Yes, our cars get us from place to place, but they are also status symbols, hobbies, and showpieces.
That all may change soon, according to Lyft co-founder John Zimmer, who believes the age of automobile ownership will soon come to an end. He also believes that our time behind the wheel has nearly reached its conclusion as well, and he shared those and other thoughts on the future of the automobile industry in a piece he wrote forMedium.
What is the future of cars?
Zimmer noted in his essay that Elon Musk, who runs Tesla Motors(NASDAQ: TSLA), has a vision of a network of car owners renting their vehicles to others. He agrees with the fleet of vehicles idea, but believes that companies (like Lyft) will own those cars, not individual people.
He noted that cities have been built around cars.
Zimmer believes that in cities private car ownership will mostly end by 2025. He cited statistics that show that in1983, 92% of 20- to 24-year-olds haddriver's licenseswhile 46% of 16-year-olds did. That number dropped to 77% in 2014 for 20- to 24-year-olds and 24% for 16-year-olds.
"Today, it'sjust 24%,"he wrote of 16-year-olds. "All told, a millennial today is 30%less likelyto buy a car than someone from the previous generation."Basically, Zimmer contends that young people are less tied to the idea of owning a car than earlier generations.
What does this mean for automakers?
Zimmer wrote that he expects the majority of Lyft's cars to be self-driving within five years. The company already has a fleet of driverless cars created in conjunction withGeneral Motors(NYSE: GM)operating in San Francisco and Phoenix.
Lyft, Tesla, and ridesharing rival Uber may all have slightly different visions for the future, but Zimmer is correct that at least in cities, cars simply make no sense. Whether Lyft's vision wins or Tesla, Uber, Alphabet oranother tech company leads the way, it's clear that the role of the car is changing.
If Zimmer's vision happens -- in cities, it certainly makes sense -- it dramatically changes the auto business. Of course, some people will still own cars privately, but if ownership largely shifts from individuals to fleets, then in many ways longevity and reliability will become the most needed traits in vehicles.
The end of private car ownership would devastate the car business as we know it. GM simply would not sell as many cars if the cars it sold were being used efficiently by multiple users.
Zimmer's timetable may be off, and while his vision seems right for for cities, it does not seem like suburban car owners will give up their vehicles quite so easily. Still, it's hard to argue that with the advent of ridesharing, driverless cars and the cost saving of not owning cars, a massive change for the auto industry has already begun.
A secret billion-dollar stock opportunity The world's biggest tech company forgot to show you something, but a few Wall Street analysts and the Fool didn't miss a beat: There's a small company that's powering their brand-new gadgets and the coming revolution in technology. And we think its stock price has nearly unlimited room to run for early in-the-know investors! To be one of them, just click here.
Suzanne Frey, an executive at Alphabet, is a member of The Motley Fool's board of directors. Daniel Kline has no position in any stocks mentioned. He lives downtown and would happily get rid of his car. The Motley Fool owns shares of and recommends Alphabet (A shares), Alphabet (C shares), and Tesla Motors. The Motley Fool recommends General Motors. Try any of our Foolish newsletter services free for 30 days. We Fools may not all hold the same opinions, but we all believe that considering a diverse range of insights makes us better investors. The Motley Fool has a disclosure policy.