IMAX Corporation's Blockbuster Run Ends with a 12% Stock Drop in 2016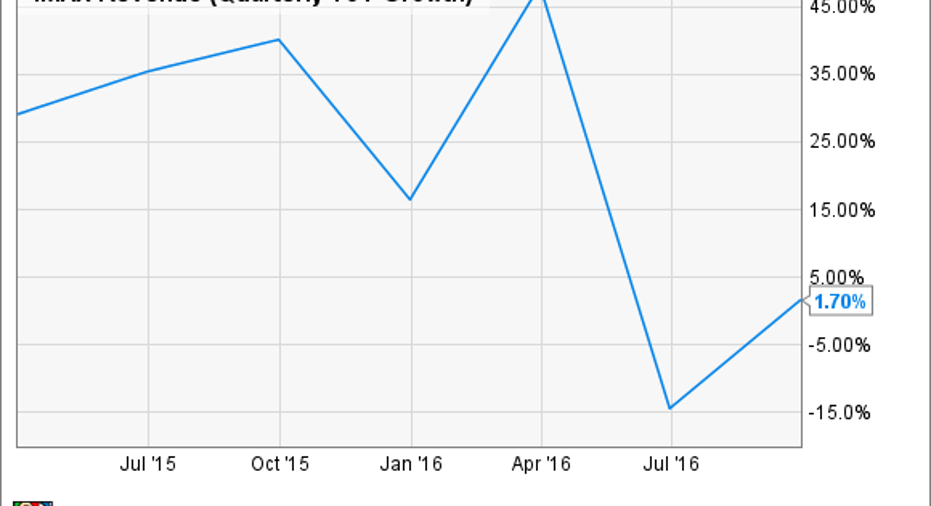 Image source: Getty Images.
What happened
Shares of giant theater company IMAX Corporation (NYSE: IMAX) fell 11.6% in 2016, according to data provided by S&P Global Market Intelligence, as slowing growth led to an investor sell-off.
So what
Let's start with the bad news: IMAX's growth slowed significantly in 2016, exemplified by third quarter growth of just 1.7% to $86.6 million. You can see below that second quarter growth was actually negative. Under this slowing growth scenario, it's not surprising investors weren't excited to bid up a stock trading at 52 times trailing earnings.
IMAX Revenue (Quarterly YoY Growth) data by YCharts
The good news is that 162 new theaters were contracted in the third quarter and backlog stands at 547 theaters, up from 384 a year ago. Long-term, the expansion of theaters should help grow IMAX's revenue base if movies that exploit the format are created.
Now what
While growth may have slowed in 2016, I think the future is getting brighter. Wanda signed a deal to add 150 theaters in China over the next six years, which will make China a key market for the company. Imax's business model is all about exploiting the existing theater infrastructure, and every new theater adds to the leverage in the business. IMAX stock may have had a bad 2016, but this isn't a company I would give up on because of a few weak quarters.
10 stocks we like better than IMAX When investing geniuses David and Tom Gardner have a stock tip, it can pay to listen. After all, the newsletter they have run for over a decade, Motley Fool Stock Advisor, has tripled the market.*
David and Tom just revealed what they believe are the 10 best stocks for investors to buy right now... and IMAX wasn't one of them! That's right -- they think these 10 stocks are even better buys.
Click here to learn about these picks!
*Stock Advisor returns as of Nov. 7, 2016
Travis Hoium has no position in any stocks mentioned. The Motley Fool owns shares of and recommends IMAX. The Motley Fool has a disclosure policy.