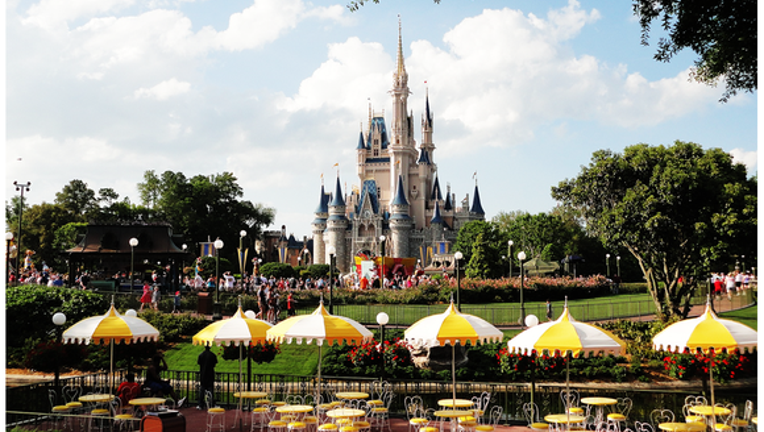 Disneyland's central plaza, with the Sleeping Beauty Castle in the background. Image credit: Pixabay.
Thanks to its one-of-a-kind portfolio of media companies, Disney generated $53 billion in revenue over the past 12 months. What does it do with all this money? The slideshow below answers this question.
Viewers of the slideshow will learn two interesting points about the House of Mouse:
First, Disney enjoys unusually wide profit margins. Its pre-tax operating margin over the past 12 months was 25%. That comfortably exceeds the 17% median figure for the S&P 500's 100 biggest companies. This helps explain why Disney's shares have outperformed the S&P 500 by approximately 1,400 percentage points over the past quarter century.
Second, Disney is among the biggest taxpayers in the United States. Its tax bill over the period examined added up to $5.1 billion. That compares to a $1.4 billion median among the 100 biggest S&P 500 companies.
What else can investors learn about Disney from an analysis of its revenue flows? Scroll through the brief slideshow below to find out.
Slideshow data sourced from YCharts.com on November 24, 2015. Slideshow image credit: Pixabay, istock/Thinkstock.
The article How Disney Spent $53 Billion in 12 Months originally appeared on Fool.com.
John Maxfield has no position in any stocks mentioned. The Motley Fool owns shares of and recommends Walt Disney. Try any of our Foolish newsletter services free for 30 days. We Fools may not all hold the same opinions, but we all believe that considering a diverse range of insights makes us better investors. The Motley Fool has a disclosure policy.
Copyright 1995 - 2015 The Motley Fool, LLC. All rights reserved. The Motley Fool has a disclosure policy.