How Cypress Semiconductor Could Benefit From the Next iPhone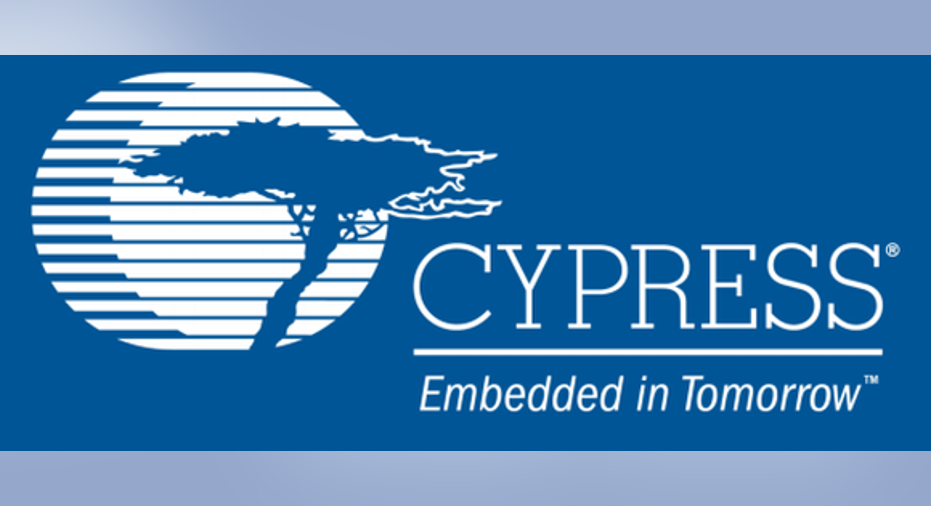 Image source: Cypress Semiconductor.
Cypress Semiconductor (NASDAQ: CY) shares have gained more than 17% this year thanks mostly to strong fourth-quarter results released in early February, with the semiconductor specialist trading close to its 52-week highs as of this writing.
Cypress, however, is not done yet, as recent rumors regarding Apple's (NASDAQ: AAPL) next iPhone suggest that its business could get a big shot in the arm.
A design win would be a big deal
The Wall Street Journal has reported that insiders said Apple is going to ditch the Lightning connector for a USB-C port in the next iPhone. Though there is a precedent for the company using USB-C in the MacBook line, well-known analyst Ming-Chi Kuo believes otherwise. The KGI Securities analyst reportedly said in a research note obtained byAppleInsider that Apple could use "Type-C power delivery" for all the upcoming iPhones this year instead of ditching the Lightning port altogether in favor of USB-C.
It makes sense for Apple to use Type-C power delivery through the existing Lightning port instead of moving to the USB-C standard, as the former is good enough to enable fast-charging on the iPhone. The additional advantage of using USB-C is high-speed data transmission, but Kuo points out that this is a niche application for iPhone users, so he thinks Apple will stick to the existing standard.
Additionally, Kuo's comments seem credible because Apple has a whole line of Lightning accessories under the MFi program on which it makes money. The company reportedly gets a fee of around 10% of the wholesale cost of an accessory made under this program. For example, an Apple-certified Lightning to USB cable costs around $6 at the minimum, so, that would give Apple 60 cents on the sale of each unit.
But whatever the case may be, the next iPhone looks to be a catalyst for Cypress. Investment research provider Needham & Company estimates that the semiconductor specialist's earnings could increase by $0.11 to $0.19 per share on revenue gains of $87.5 million to $157.5 million during the next iPhone cycle if Apple ditches Lightning for a USB-C port. By comparison, Cypress' adjusted earnings last quarter were $0.15 per share on revenue of $530 million.
Even if Apple decides to continue using the Lightning port with Type-C power delivery, Kuo believes that Cypress will win a spot to supply power delivery chips to enable this technology. Cypress is a leading provider of Type-C controllers with $295 million worth of design wins in this market, so it could be on its way to take advantage of the next iPhone's upgraded charging technology.
Cypress previous supplied only components for Apple accessories, such as a programmable chip for the AirPods. Therefore, a spot in the next iPhone would be a big win for it as the Cupertino-based smartphone giant is expected to make 250 million to 350 million units of the device.
Moreover, a closer look at the company's fourth-quarter conference call transcript (via Seeking Alpha) reveals that Cypress might be gearing up for the iPhone production ramp-up in the second half of the year. In response to a question, Cypress CEO Hassane El-Khoury said:
A potential Galaxy S8 bonus
Apple might not be the only one driving growth in Cypress' Type-C controllers. Needham expects the Samsung(NASDAQOTH: SSNLF) Galaxy S8 to come equipped with USB-C charging capabilities. This isn't surprising as this charging standard is fast replacing the micro USB in Android smartphones.
Leaked images of the Galaxy S8 indicate that the Korean smartphone will indeed come with a USB-C port and Cypress has been a longtime component supplier to Samsung, so a USB-C port win in the next flagship device is quite likely.
As things stand, Needham expects Samsung to sell somewhere between 30 million and 60 million Galaxy S8 devices, with Cypress getting dollar content of $1 to $1.50 in each phone. This puts its potential revenue from the next Samsung flagship in the range of $30 million to $90 million, with earnings coming in between $0.04 and $0.10 per share.
Cypress Semiconductor seems on track for two big smartphone design wins this year that could substantially enhance its financial performance.
10 stocks we like better than Cypress Semiconductor When investing geniuses David and Tom Gardner have a stock tip, it can pay to listen. After all, the newsletter they have run for over a decade, Motley Fool Stock Advisor, has tripled the market.*
David and Tom just revealed what they believe are the 10 best stocks for investors to buy right now... and Cypress Semiconductor wasn't one of them! That's right -- they think these 10 stocks are even better buys.
Click here to learn about these picks!
*Stock Advisor returns as of February 6, 2017
Harsh Chauhan has no position in any stocks mentioned. The Motley Fool owns shares of and recommends Apple. The Motley Fool has the following options: long January 2018 $90 calls on Apple and short January 2018 $95 calls on Apple. The Motley Fool recommends Cypress Semiconductor. The Motley Fool has a disclosure policy.