Has CalAmp's Growth Just Begun?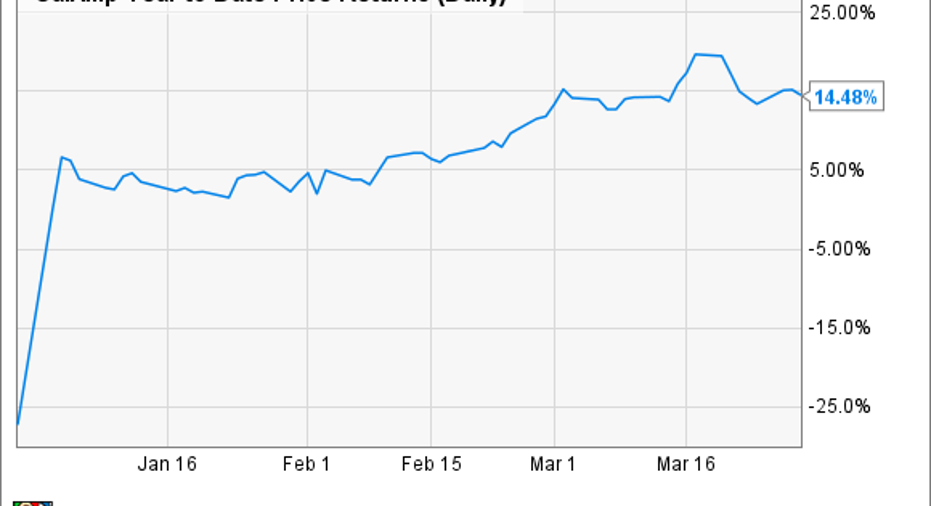 CalAmp (NASDAQ: CAMP) didn't have a great 2016, with the company's stock price falling 27% last year. But since the beginning of this year, CalAmp's share price has started to rise again and is now up about about 14% year to date.
So is the current rise just a momentary blip, or is CalAmp poised for more growth? To help answer that, we need to take a look at what CalAmp's doing right and what opportunities the company might capitalize on.
Image source: Getty Images.
Why the stock is making gains
CalAmp's stock price began to tick up slowly after the company reported its fiscal Q3 2017 earnings at the end of December. The quarter wasn't especially strong for CalAmp, with net income falling 33.3% on an adjusted basis, thoughrevenue did rise by11.6% year over year. But CalAmp's management was bullish on the company's future. CEO Michael Burdiek said in a press release:"We are optimistic about our near-term growth as visibility has improved markedly from earlier in the year, when macro factors negatively impacted demand for fleet telematics products in the U.S. As we look ahead, we see a number of catalysts on the horizon to drive near- and long-term growth for our novel portfolio of connected vehicle telematics solutions."
CalAmp also forecast solid growth for the fourth quarter. The company expects revenue between $84 million and $89 million, which would be a 15.7% increase year over yearat the midpoint.
The optimism from management and projections for more revenue growth are making investors happy. Additionally, investors are likely pleased with CalAmp's growth opportunitieswith some of its currentcustomers, likeCaterpillar. CalAmp said the industrial equipment company contributed $6 million in revenue in Q3 and that that amount will increase to $7 million to $8 million in Q4, and into the next fiscal year. As one of CalAmp's largest customers in its machine-to-machine (M2M) business, this is a good sign of the company's growth.
And then there's the prospect of more telematics software growth from the company. CalAmp's mobile resource management (MRM) telematics sales hit their highest level in a yearin Q3 2017. And the company expects new requirements for connected fleets to bring incremental demand for this business over the next two to three years.
Is this just the beginning?
It's impossible to predict if CalAmp's stock price will continue growing, but the company's latest moves are certainly putting the company in a stronger position. CalAmp is betting that its M2M offerings and growing telematics saleswill help it capture a portion of the $1.29 trillion worth of global spending on Internet of Things over the coming years.
If there'ssomething that investors should be cautious about, it would be that the IoT market is still just getting started. This could be a good thing, of course, but it also means that there's a fair amount of risk for CalAmp because its hardware, software, and services are an early bet on this growing IoT market. Other players in the space, like Sierra Wireless, are fighting for more M2M market share as well.
But if CalAmp can continue its strong position with customers like Caterpillar (and add more like it), and continue improving its telematics software sales, then investors may see the company's stock price continue moving in the right direction.
10 stocks we like better than CalAmpWhen investing geniuses David and Tom Gardner have a stock tip, it can pay to listen. After all, the newsletter they have run for over a decade, Motley Fool Stock Advisor, has tripled the market.*
David and Tom just revealed what they believe are the 10 best stocks for investors to buy right now... and CalAmp wasn't one of them! That's right -- they think these 10 stocks are even better buys.
Click here to learn about these picks!
*Stock Advisor returns as of February 6, 2017
Chris Neiger has no position in any stocks mentioned. The Motley Fool owns shares of and recommends Sierra Wireless. The Motley Fool recommends CalAmp. The Motley Fool has a disclosure policy.