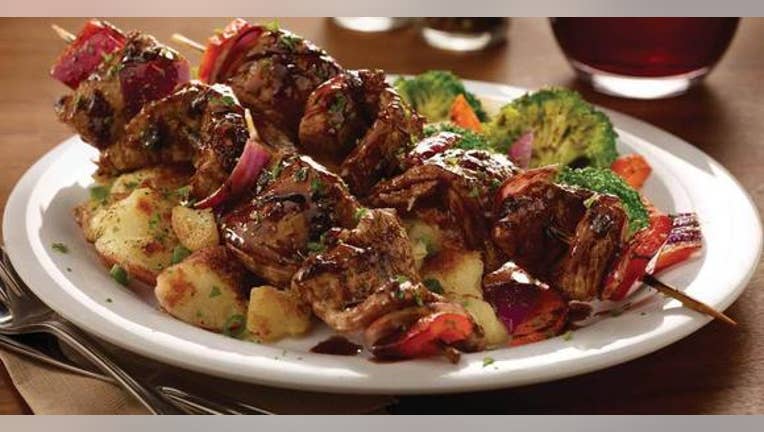 Growth investors are always on the hunt for the next big thing -- the diamonds in the rough that other investors have yet to fully appreciate. These types of stocks can deliver handsome returns to investors for years and even decades, creating fortunes along the way. Read on to learn about three businesses that just might fit the bill.
Image source: Zoe's Kitchen.
The regional-to-national growth storyZoe's Kitchen is a rapidly expanding chain of fast-casual restaurants serving fresh, Mediterranean-inspired food. The company is early into its national expansion strategy, with currently only 165 locations in 17 states located mostly in the southeast. Yet management believes that Zoe's could ultimately exceed 1,600 locations in the U.S. alone. With the company opening 33 restaurants in 2015, that store count target represents years, and possibly even decades, of steady growth.
And it's not just unit expansion that will drive Zoe's growth; Wall Street is expecting comparable restaurant sales growth to exceed 5% in 2016 as Zoe's ramps up its dinner and catering offerings and continues to take share from rivals. In addition, margin expansion should further boost results as the company raises prices and implements cost control initiatives.
Even better, Zoe's stock has taken a hit in recent months, with analysts citing concerns such as Zoe's premium valuation relative to some of its peers. But after the stock's 40% slide from its 52-week high in July, Zoe's shares are now much more reasonably priced. And when it comes to ultra-long-term growth stories such as Zoe's Kitchen, it's often best not to haggle too much on price, or you risk missing out on the company's massive potential. As such, patient investors may wish to consider using the sell-off as an opportunity to nibble on Zoe's Kitchen stock.
Image source: Envestnet.
The wealth managerWhen it comes to growth investing, market potential is a particularly important metric. In that regard, Envestnet shines brightly. The company is a leading provider of cloud-based software for independent asset managers and financial planners. Envestnet estimates its total addressable market to span across 240,000 advisors and more than $8 trillion in assets. Currently, Envestnet serves 43,000 of those advisors, who in turn serve 3.2 million accounts and work with about $800 billion in total assets.
Envestnet's edge resides not only in the quality of its technology, but also in the integration of its product suite. In fact, Envestnet is striving to become a one stop shop for advisors and has made significant progress in that regard, with product offerings that include reporting, billing, trading, and portfolio rebalancing, as well as client portals and customer relationship management software, among other services.
And with its recent acquisition of Yodlee , Envestnet can integrate best-in-class data aggregation capabilities. What's more, Envestnet's shares plunged more than 30% when the deal was announced in August and have yet to recover. Investors appear to be writing off nearly all of the more than $500 million that Envestnet paid for Yodlee. But the serial acquirer has proven to be quite adept at integrating its previous acquisitions, so it's unlikely that the Yodlee deal will prove to be that disastrous even in a worst-case scenario. That's a discrepancy that risk-tolerant investors may wish to exploit, and an opportunity to invest in Envestnet and its fast-growing wealth management platform at a substantial discount.
Image source: Casey's General Stores.
The pizza chain disguised as a gas stationGas Stations may seem like an odd place to look for a growth-focused investment idea, but one company is winning with an interesting approach in this otherwise dull industry.
Casey's General Stores owns and operates about 1,900 gas station/convenience stores in 14 Midwestern states. The company's friendly staff and popular prepared foods give it an edge over the competition. In fact, Casey's serves up more than 15 million pizzas each year and is now the fifth largest pizza chain in the United States.
In addition, Casey's focuses on smaller communities that typically don't have a lot of options for gas or food, with nearly 60% of its stores located in towns of under 5,000 and more than 80% in communities of less than 20,000. That helps to further insulate Casey's from the competition present in more densely populated areas.
This strategy has allowed Casey's to pump out impressive results over the last quarter century, with revenue and earnings increasing at an annual rate of more than 11% and 13%, respectively. Even better, there's plenty of growth still to come, with many rural communities still left underserved. And Casey's continues to improve its offerings, such as a new online ordering system that's expected to boost profits in 2016. All told, today seems like a great time to grab a slice of Casey's General Stores.
The article Growth Investing 2016: 3 Stocks to Put on Your Radar originally appeared on Fool.com.
Joe Tenebruso has no position in any stocks mentioned. The Motley Fool owns shares of and recommends Casey's General Stores and Zoe's Kitchen. The Motley Fool recommends Envestnet. Try any of our Foolish newsletter services free for 30 days. We Fools may not all hold the same opinions, but we all believe that considering a diverse range of insights makes us better investors. The Motley Fool has a disclosure policy.
Copyright 1995 - 2016 The Motley Fool, LLC. All rights reserved. The Motley Fool has a disclosure policy.