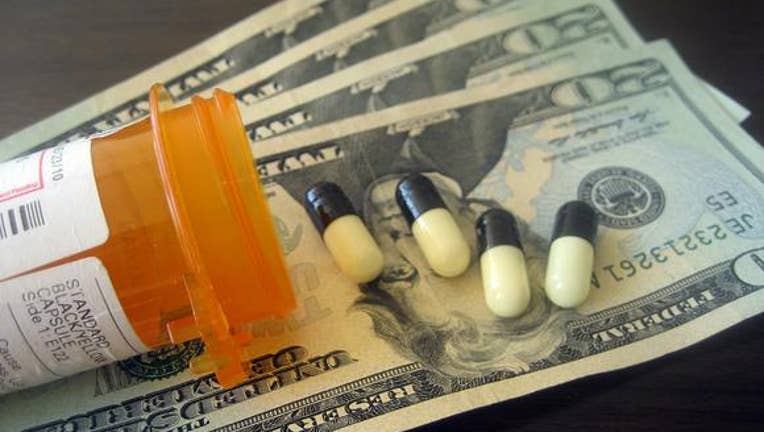 Image source: Images_of_Money via Flickr Creative Commons.
Biotech blue-chip Gilead Sciences has been in the news a lot recently. The company is continuing to make clinical and regulatory progress on its huge pipeline, and with a few dozen clinical trials going on at any given time, it can be a bit of a challenge to keep up with the company's news flow. Since the start of October alone, Gilead has announced four regulatory wins. You wouldn't know it from only looking at the company's stock price, however, as shares have basically traded sideways over that time period.
Did investors miss something important? Let's dig in to the recent announcements to judge for ourselves.
A cardiovascular winMost of the attention Gilead garners from investors relates to it dominant HIV and Hepatitis C businesses, so you might be surprised to learn that Gilead has a cardiovascular division. In fact, Gilead currently counts three different drugs on the market that treat cardiovascular diseases -- Letairis, Lexiscan, and Ranexa. While none of these medicines on their own is big enough to have much of an impact on Gilead's top or bottom lines, they still deserve some attention from investors. Combined, these drugs have produced nearly $1 billion in sales through the first nine months of the year.
GIlead's current best-selling cardiovascular drug, Letairis, just managed to nab an additional label expansion from the FDA. On October 2, the agency approved a new combination treatment option usingLetairis and tadalafilfor pulmonary arterial hypertension -- or PAH -- a condition characterized by high blood pressure in the lungs. In clinical studies, using Letairis and tadalafil together reduced the progression of PAH by almost 50% when compared to using either therapy alone.
Letairis isn't an enormously important drug for Gilead investors to concentrate on since it "only" generated $508 million in sales through the first nine months of the year, but a win is a win, and this label expansion should help the drug continue to grow.
A HIV/AIDS treatment win at home and across the pondWhile revenue from its cardiovascular disease drugs is a relative drop in the bucket, revenue from Gilead's HIV/AIDS drugs is extremely important. These drugs have combined to generate roughly $8 billion in total sales since the start of the year.
With that in mind, investors should likely be cheering November 5th's FDA approval of Genvoya, Gilead's new single-tablet treatment for HIV-1.
Genvoya looks like it could be a big winner for Gilead. The drug showedimproved renal and bone clinical outcomes compared to only using a TDF-based regimen, such as Gilead's Viread. That could prove to be a great clinical advantage since many patients with HIV also have low bone mineral density and renal impairment.In addition, Genvoya appears to be quite potent, as it showed similar clinical antiviral efficacy when compared to Viread at one tenth of the dosage level.
To add some more good news to this party, Gilead just announced that Genvoya alsoreceived marketing authorization in the European Union as well.
While the net impact on the company's financials is a bit tough to judge at this point -- Genvoya's success could end up simply stealing sales from its other HIV medicines -- it does show that Gilead continues to maintain its clinical edge in HIV. All told, Gilead should continue to dominate the HIV market.
A small Hepatitis C victory lapFinally, Gilead announced on November 12 that the FDA has approved an expanded labeling for blockbuster HCV treatment Harvoni. Patients with Hepatitis C Genotypes 4, 5, and 6, as well as patients who are co-infected with HIV are now cleared to use Harvoni. In addition, Harvoni can also be used in combination with ribavirin in Genotype 1 patients who have cirrhosis.
Since Hepatitis C Genotype 4, 5, and 6 only represent a tiny fraction of the total U.S. HepatitisC population, this approval is unlikely to greatly expand Harvoni's near-term sales. However, just like the Genvoya approval, it does show that Gilead continues to be one step ahead of competitors, which, in the Hepatitis C market, includes pharma giantAbbVie . Investors have been worried about AbbVie's entry into this market for some time, and that worry remains one of the reasons that Gilead's price-to-earnings ratio remains so low. However, Gilead continues to run circles around AbbVie in this market. AbbVie recently stumbled as it received a FDA warning letter related to both of its Hepatitis C drugs, sending shares lower. If nothing else, this approval should give investors confidence that Harvoni will continue to dominate.
Tying it all togetherWhile each of these approvals helps to strengthen the company's market position, I don't think any of them are likely to have a meaningful impact on near-term financials. Harvoni and Sovaldi continue to be the near-term drivers of growth for Gilead, so seeing Harvoni get approved in Japan is a far bigger deal than any of these regulatory wins.
Still, wins come in all different shapes and sizes, and since each of these make the company incrementally stronger, I for one continue to feel bullish about Gilead's long-term potential.
The article Gilead Sciences Grabs 4 Regulatory Wins -- but Does It Matter? originally appeared on Fool.com.
Brian Feroldi owns shares of Gilead Sciences. The Motley Fool owns shares of and recommends Gilead Sciences. Try any of our Foolish newsletter services free for 30 days. We Fools may not all hold the same opinions, but we all believeconsidering a diverse range of insights makes us better investors. The Motley Fool has a disclosure policy.
Copyright 1995 - 2015 The Motley Fool, LLC. All rights reserved. The Motley Fool has a disclosure policy.