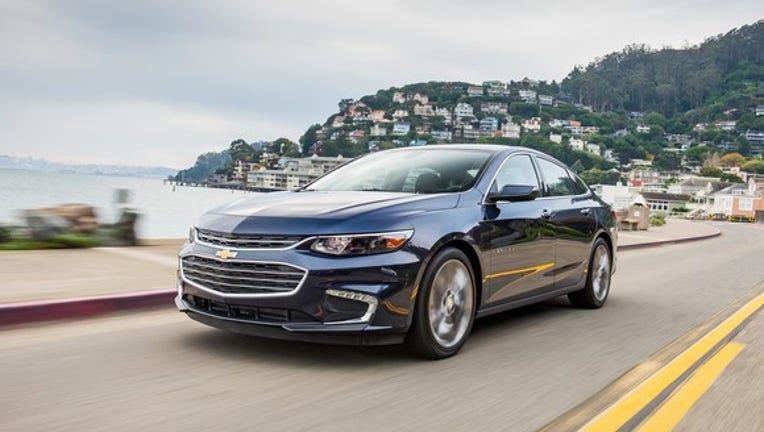 The market for sedans has been tough recently. But the new-for-2016 Chevy Malibu posted an 11% sales increase in May, and GM said it could have sold more if supplies hadn't been tight. Image source: General Motors.
General Motors said on Wednesday that its U.S. sales fell 18% in May. Is the General's multi-year transformation effort starting to lose steam?
What GM said about the sales decline
GM attributed the drop to three factors.
First, as many analysts had predicted, a calendar quirk made the year-over-year comparison daunting: May of 2016 had one fewer weekend than May of 2015, or two fewer "selling days" in the industry lingo. That's important: Many new cars are sold on weekends, when people who work during the week have time to visit dealers and take test drives. Most of GM's rivals posted sales declines in May, and most were attributable to the calendar.
Second, GM has been reducing its sales to rental-car fleets for months, part of CEO Mary Barra's effort to boost profit margins. Rental-fleet sales are troublesome for two reasons: First, they tend to have low profit margins, and second, the cars sold to rental fleets depress used-car prices when they're sold off several months later.
GM would rather focus its busy factories on producing vehicles for higher-profit retail sales, and it can use the improvement in its used-car pricing to help its finance arm offer better leasing deals. GM's deliveries to rental fleets dropped by almost 22,000 vehicles, or 49%, in May. Had GM's rental sales been flat year over year, its overall sales would have dropped a more reasonable 10.5% last month.
But even 10.5% is worse than the drops posted by many of GM's rivals. GM said supplies of some of its newest (and most in-demand) products were unusually tight. GM was forced to suspend production at four factories in April because of parts shortages caused by damage to a key supplier's factory. The products made at those factories include the all-new Cadillac XT5 SUV and the all-new Chevrolet Malibu and Cruze sedans. All four factories have since reopened, but it will take a while for them to make up the lost production.
How did GM actually do?
GM's numbers weren't terrible, and on balance, its results suggest the General is still on track for a strong second-quarter profit.
For starters, sales of one of GM's most profitable products, the full-size Chevrolet Silverado pickup line, rose 10.6% despite the lost "selling days." All of GM's big, massively profitable truck-based SUVs posted sales gains at retail, GM said. That group includes the Chevy Tahoe and Suburban, GMC Yukon and Yukon XL, and Cadillac's Escalade.
Some of GM's big-selling crossover SUVs also managed year-over-year gains. Sales of Buick's wildly popular small Encore SUV rose 21%, and the brand's big Enclave crossover posted a 23% sales gain. The midsize Chevy Equinox managed a nearly 30% year-over-year increase.
As with most of GM's rivals, car sales were hurt as more and more buyers migrate to SUVs and trucks. All of GM's Cadillac and Buick sedans posted year-over-year declines, as did the well-regarded full-size Chevy Impala. But GM wasn't kidding about hot demand for its all-new midsize Chevy Malibu: Despite the production disruptions, and despite the strong consumer trend away from sedans (and despite the calendar), Malibu sales were up just over 11%.
What the experts think
Kelley Blue Book senior analyst Karl Brauer also thinks May's results look good for GM when viewed in context. "It's easy to look at GM's total sales number for May and assume the automaker is in trouble," Brauer said.
The upshot: GM is prioritizing profits over sales totals
For more than a year now, Barra has been saying that GM now prioritizes profits over sales totals or market-share victories. That's a sea change from the Old GM way of doing things, and for shareholders, it should be a welcome one.
GM's sales decline in May looks dismal at first glance; it's not a surprise that the stock dropped sharply after the news was announced. But I think it'll recover quickly as investors digest the news and the context. If GM posts good retail sales in June (and I bet it will), expect all of this to be quicklyforgotten.
The article General Motors' Sales Plummeted in May: Time to Worry? originally appeared on Fool.com.
John Rosevear owns shares of General Motors. The Motley Fool recommends General Motors. Try any of our Foolish newsletter services free for 30 days. We Fools may not all hold the same opinions, but we all believe that considering a diverse range of insights makes us better investors. The Motley Fool has a disclosure policy.
Copyright 1995 - 2016 The Motley Fool, LLC. All rights reserved. The Motley Fool has a disclosure policy.