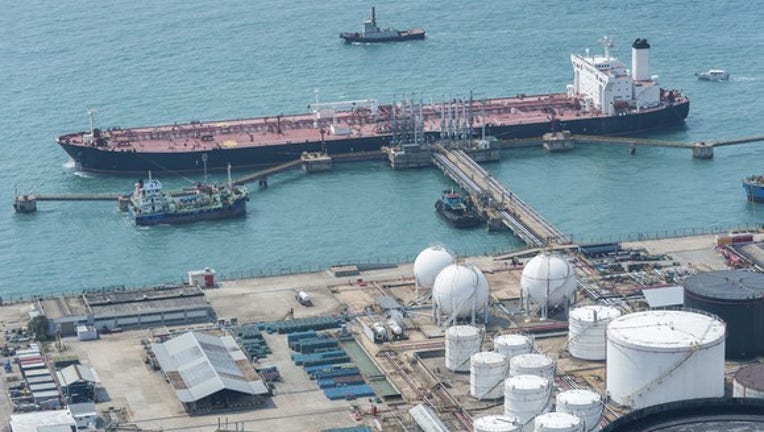 While Enterprise Products Partners (NYSE: EPD) may not have suffered as much as other companies in the oil and gas industry lately, it did nonetheless suffer. For several quarters, the company has been able to keep its earnings steady by bringing new projects online to offset lower volumes and lower contract prices on some of its assets. With 2016 in the rearview mirror, management has a much brighter outlook for 2017. Here are several quotes that Enterprise investors should consider when looking at the midstream giant and what we can expect for the coming year and beyond.
Image source: Getty Images.
Building out the growth pipeline
Perhaps the biggest knock on Enterprise from an investor standpoint is that its announced growth pipeline always looks smaller than others' in the industry. Part of that is because the company only announces projects once they start construction rather than announcing everything it has in the works. As part of this strategy, CEO Jim Teague highlighted some of the new assets the company brought online over the past year, and announced some of its newer projects:
General outlook is improving
2016 was a tough year for everyone in the oil and gas business -- even the more stable parts of the business like logistics. While we haven't seen a complete turnaround, Teague was quick to point out that the industryas a whole has a lot more optimism behind it, as evidenced by some of the things happening in the oil patch today:
The Permian Basin isn't the only place where oil and gas activity is growing
All the talk about the return of shale drilling in the U.S. has been about the Permian Basin, and deservedly so. The economics of wells in this region coupled with the proximity to the U.S. Gulf Coast and its massive petrochemical infrastructure makes it an easy place to work. But this isn't the only place where oil and gas activity has picked back up. Senior Vice PresidentTonyChovanec went out of his way to highlight some of the trends happening in the Eagle Ford shale:
It's worth noting that Enterprise may be a little biased in this regard since it has made some major capital investments into the Eagle Ford, so investors should take that statement with a grain of salt.
Expect a lag
All this optimism around the oil and gas industry is going to get some people interested in this part of the oil and gas value chain again. One thing that Teague wanted to remind everyone, though, is that they shouldn't expect an immediate upturn with the price of oil:
This is simply a matter of knowing the industry dynamic. It takes at least 15 to 20 days from when a drill is on site at a drilling location, then there is the work to tie that well into existing infrastructure. Investors need to consider those things in the timeline because it means all of this new drilling activity won't likely result in bottom-line results for Enterprise for a few quarters at a minimum.
Our model works
Imitation is the sincerest form of flattery, and several companies in this industry are complimenting Enterprise by replicatingits corporatestructure. One of the reasonsother companies are doing this is to lower their cost of capital and be more competitive. When asked if other companies replicating Enterprise's structure is making it harder to do deals because it's more competitive, CFO Bryan Bulawa pointed out that it takes more than just the same corporate structure to be good in this business:
Currently, Enterprise's weighted average cost of capital is 7.61%, the lowest among publicly traded MLPs. Some companies that have the general partner/limited partner corporate structures have a lower WACC at the parent level, but it's higher at subsidiarylevel where projects eventually end up. Part of this advantage goes back to the original gripe from investors that it doesn't have a massive project backlog. By remaining disciplined with its capital spend, it is able to hang onto many of these advantages.
10 stocks we like better than Enterprise Products Partners When investing geniuses David and Tom Gardner have a stock tip, it can pay to listen. After all, the newsletter they have run for over a decade, Motley Fool Stock Advisor, has tripled the market.*
David and Tom just revealed what they believe are the 10 best stocks for investors to buy right now... and Enterprise Products Partners wasn't one of them! That's right -- they think these 10 stocks are even better buys.
Click here to learn about these picks!
*Stock Advisor returns as of January 4, 2017
Tyler Crowe owns shares of Enterprise Products Partners. The Motley Fool recommends Enterprise Products Partners. The Motley Fool has a disclosure policy.