Energy Sales: A Catalyst for Tesla Motors, Inc. in 2016?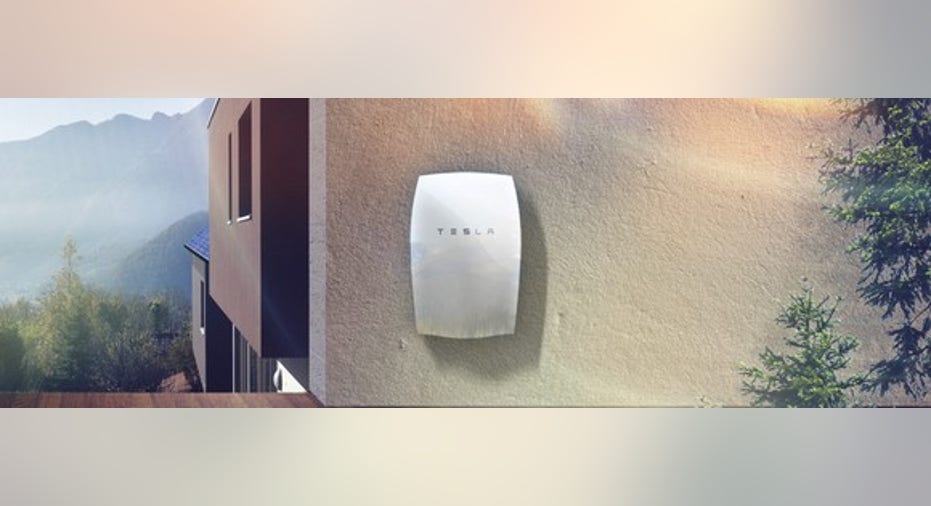 It was just over a year ago when electric-car maker Tesla Motors launched its energy storage business, bringing Tesla into a whole new segment. With its Powerwall and Powerpacks, Tesla set out with a big mission: to "wean the world off fossil fuels." While Tesla Energy is still undoubtedly in its early stages, it's also off to a promising start, with enough momentum to potentially transform into a key catalyst this year.
Tesla Powerwall. Image source: Tesla Motors.
A faster-than-expected start
In the third quarter of 2015, Tesla began production of its energy products at its Fremont factory, where it builds its vehicles. However, Tesla wouldn't begin scaling production to meaningful levels until it transitioned production of energy products to a more automated line at its Gigafactory, or a factory purposed to produce more lithium-ion battery pack capacity per year by 2020 than was produced in the entire world in 2013.
But the transition to the Gigafactory didn't take long. The company began relocating production to the battery factory during the fourth quarter -- a move positioning Tesla Energy "for strong growth in 2016," management said in its 2015 third-quarter shareholder letter. The decision for a "pull-ahead" in Tesla Energy's transition to the Gigfafactory was spurred by "very strong demand for Tesla Energy products globally," management explained.
Management detailed some of its plans for marketing Tesla Energy products in its third-quarter shareholder letter:
In conjunction with an earlier-than-expected move to the Gigafactory, the company also "accelerated plans to begin cell production for Tesla Energy products at the Gigafactory by the end of 2016" -- a move management said in its third-quarter shareholder letter was several quarters ahead of schedule.
From immaterial to meaningful
After a relocation of Tesla's energy product business to its Gigafactory, where production would be far more streamlined than it was at Fremont, the company was poised to begin ramping up both production and deliveries of its Powerwalls and Powerpacks.
Rendering. Image source: Tesla Motors.
Indeed, Tesla Energy began picking up momentum by Q4 last year.
"[B]oth Powerwall and Powerpack production is now operating smoothly and expanding at the Gigafactory," management said in the company's fourth-quarter shareholder letter.
By this time, Tesla had already delivered and installed energy products in the U.S., Australia, and Germany. Further, the nascent business was already achieving positive gross margins and was on pace for a "steady increase in gross margins throughout the year as volumes ramp up and costs reduce, allowing a positive cash contribution to Tesla overall even with rapid growth."
Finally, by the time Tesla released its first-quarter shareholder letter, the business was beginning to ramp up meaningfully.
"Tesla Energy also expanded production and deliveries, with momentum continuing to build, and Gigafactory construction remains ahead of our original plan," management said.
During the first quarter, the company delivered over 2,500 Powerwalls and nearly 100 Powerpacks, or over 25 megawatt-hours of energy. Deliveries spanned across North America, Asia, Europe, and Africa, management said.
Powerpack installation. Image source: Tesla Motors.
As Tesla Energy sales continue to grow, Tesla has begun to see the impact on its financial statements. Revenue from Tesla's "services and other" segment, which includes Tesla's powertrain, service, Tesla Energy, and pre-owned vehicles revenue, was up 131% in Q1 compared to the year-ago quarter. Further, the segment increased from representing 4.9% of sales to 10.5% of sales.
While not all of this segment's increase in revenue can be attributed to growing Tesla Energy sales, the company does at least cite it as a key contributor to the revenue segment's growth; the year-over-year growth was driven primarily by "increases in pre-owned vehicle sales, Tesla Energy sales, andmaintenance service revenue," Tesla said in its first-quarter 10-Q filing. Assuming a third of the incremental revenue in the segment came from Tesla Energy, the new segment could already represent about 2.2% of the company's total sales -- enough to become a meaningful driver of the company's overall business if rapid growth continues. And given Tesla CEO Elon Musk's recent remarks that Tesla Energy sales could eventually approach Tesla vehicle sales, the company's optimism suggests growth isn't slowing.
Going forward, high demand, rapidly expanding production, and management's aggressive expansion of the business segment mean Tesla Energy could become a meaningful catalyst for the company by the end of this year.
The article Energy Sales: A Catalyst for Tesla Motors, Inc. in 2016? originally appeared on Fool.com.
Daniel Sparks owns shares of Tesla Motors. The Motley Fool owns shares of and recommends Tesla Motors. Try any of our Foolish newsletter services free for 30 days. We Fools may not all hold the same opinions, but we all believe that considering a diverse range of insights makes us better investors. The Motley Fool has a disclosure policy.
Copyright 1995 - 2016 The Motley Fool, LLC. All rights reserved. The Motley Fool has a disclosure policy.