Does Amazon Need to Worry About "The Grand Tour" Piracy?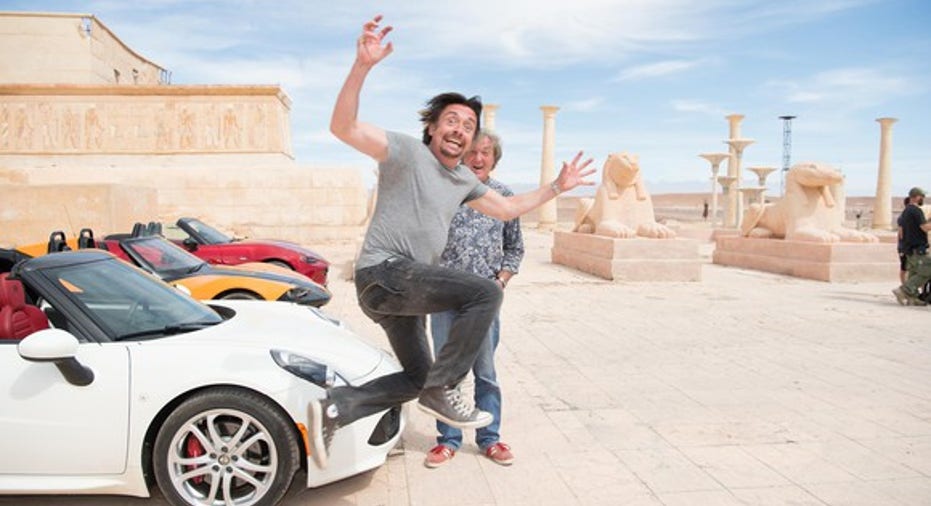 Image source:The Grand Tour on Facebook.
The latest original show from Amazon.com (NASDAQ: AMZN) is a hit, but it may be drawing some viewers Amazon isn't too happy with. The Grand Tourhas been illegally downloaded more times than any other television seriesin its first three episodes, according to data from industry analyst Muso.About 7.9 million people elected to pirate the first episode rather than sign up for Amazon Prime.
To be clear, The Grand Tour hasn't been pirated nearly as much as HBO's Game of Thrones. Last year's season 5 finale was downloaded 14.4 million times. Jeff Bewkes, the CEO of HBO parent company Time Warner (NYSE: TWX) once said, "Game of Thrones is the most pirated show in the world. That's better than an Emmy."
Should Amazon have the same optimistic outlook as Bewkes when it comes to piracy, or is it a more serious problem?
Lost sales or a sales opportunity?
The analysis from Muso posits Amazon lost 3.2 million pounds ($4.05 million) on the first episodes of The Grand Tour alone. Amazon paid $160 million for the show's first 12 episodes with the aim of attracting a larger British subscriber base. It currently has about 2 million Prime members in the U.K., less than 10% of households.
But the idea that Amazon lost over $4 million on the first episode because nearly 8 million people downloaded it is faulty logic. Not everyone who downloaded the show illegally would have paid to watch it if that was their only option.
More importantly, not everyone who downloaded it even had the option of paying for it. The Grand Tour is only available in the U.S., U.K., Germany, Austria, and Japan. Major markets for The Grand Tour like Canada and Australia can't even watch the show without pirating it. Luckily for fans in those countries, Amazon just launchedThe Grand Tourand the rest of its Prime Instant Video servicein 200 countries.
To that end, the high piracy numbers may indicate pent-up demand for Amazon Prime Instant Video in countries where it's only recently available. That doesn't represent a sales loss so much as a sales opportunity.
Building up word of mouth
If anything, that $4 million estimated loss can be viewed as a marketing expense.
Going back to Jeff Bewkes' 2013 comments about Game of Thrones, he sees piracy as a way for consumers to find out more about HBO's programming. "If you go to people who are watching it without subs, it's a tremendous word-of-mouth thing," he told analysts on an earnings call. "Our experience is that it leads to more paying subs."
HBO changed its tone toward piracy after it launched its stand-alone HBO Now service in the U.S. and Mexico last April. It became more vigilant in sending out Digital Millennium Copyright Act notices to internet users that download its content illegally and takedown notices to websites hosting the infringing content. It encouraged internet service providers to refer online pirates to subscribe to HBO.
Investors may expect a similar sentiment from Amazon's management as it starts to deal with the piracy problem. If expanding the show (and Amazon Prime Instant Video) to more territories doesn't quell the problem, Amazon may become more active in fighting against online piracy in order to get users to pay for its service.
Even with its piracy problem, it's not like HBO is struggling. Revenue climbed 5% year to date, and it sports a healthy 34% operating margin. For now, Amazon should worry more about successfully launching Prime Instant Video and The Grand Tour globally than trying to reduce piracy.
10 stocks we like better than Amazon.com When investing geniuses David and Tom Gardner have a stock tip, it can pay to listen. After all, the newsletter they have run for over a decade, Motley Fool Stock Advisor, has tripled the market.*
David and Tom just revealed what they believe are the 10 best stocks for investors to buy right now... and Amazon.com wasn't one of them! That's right -- they think these 10 stocks are even better buys.
Click here to learn about these picks!
*Stock Advisor returns as of Nov. 7, 2016
Adam Levy owns shares of Amazon.com. The Motley Fool owns shares of and recommends Amazon.com. The Motley Fool recommends Time Warner. Try any of our Foolish newsletter services free for 30 days. We Fools may not all hold the same opinions, but we all believe that considering a diverse range of insights makes us better investors. The Motley Fool has a disclosure policy.