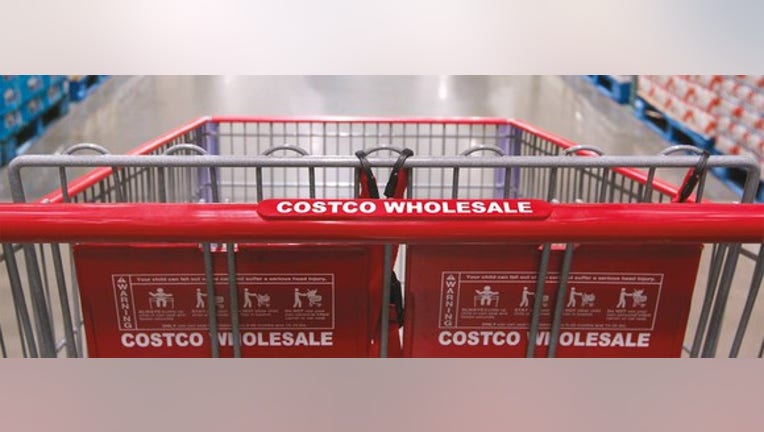 Stocks had a mixed showing last week, with the Dow Jones Industrial Average falling slightly and the S&P 500 rising to break its three-week losing streak. Both indexes remain in positive territory for the year, but by less than 1%:
For the week ahead, Costco (NASDAQ:COST) ,GameStop (NYSE:GME)and Dollar Tree (NASDAQ:DLTR), could each make large swings as investors react to their quarterly earnings announcements.
Wednesday, May 25: Costco's profits
Costco's stock has trailed the market so far this year due to an unusual streak of two consecutive quarters of earnings declines. The warehouse giant's customer traffic growth has also slowed down a tick, falling from its market-thumping 4% level to something closer to 3%. In turn, its comparable-store sales growth is weakening, weighing in at 3% in March and 2% in April compared to 4% in the prior full quarter.
Image source: Costco.
On Wednesday we'll find out how much of that decline had to do with temporary factors like price deflation, and how much -- if any -- is tied to slowing shopping trends. Consensus estimates call for a 5% profit improvement to $1.23 a share, but more important than that bottom line figure will be Costco's membership growth and subscriber renewal rates. The company is also making huge investments in growing its store base, which investors can consider a down-payment on decades of future sales gains.
Thursday, May 26: GameStop's sales growth
More From FOXBusiness.com...
Judging by the stock's performance lately, investors will be paying close attention to GameStop when it posts quarterly results this week. The specialty retailer's shares are down 30% in the last year, pushing its dividend yield up from an incredible 4.8% to now well over 5%.
The company is generating record profits while successfully pushing into new business lines outside of its traditional video game sales. But Wall Street's more concerned about a general retailing pullback, and the threat that spiking digital downloads will disrupt its core business before it has a chance to transition into more sustainable areas of consumer electronics and mobile services.
CEO Paul Raines and his team forecast a rough quarter, suggesting as much as 7% lower comps. That's mostly due to a video game release calendar that's up against an unusually strong prior-year period. If GameStop stays on pace for just a slight comps decline this fiscal year -- even as profits touch a new record --then the stock could post a sharp rebound.
Thursday, May 26: Dollar Tree's gross margin
Discount sellers have been a consistent bright spot in retailing over the last few years. This helps explain why Dollar Tree's stock is up 150% since 2011 and pushing record highs heading into this week's quarterly report. In contrast, department store chains like Macy's (NYSE:M) and Nordstrom's (NYSE:JWN) are at multi-year lows.
Dollar Tree's sales improved by 80% last year thanks mainly to its purchase of the massive Family Dollar business. The good news is that the merger greatly extended its reach in the discount retailing market. The bad news is that it helped push profitability down: Gross margin slumped to 30% of sales from 35% in 2014.
To keep its growth streak alive, Dollar Tree will have to show that it can keep outgrowing the market, which means posting comps of around 3%. It also needs to make good on its promise to bring the Family Dollar segment's profitability up closer to the core Dollar Tree division's. To that end, consensus estimates are looking for earnings to rise 14% to $0.81 per share, near the high end of management's March forecast of between $0.75 and $0.83 of quarterly profit.
The article What to Watch in the Stock Market This Week originally appeared on Fool.com.
Demitrios Kalogeropoulos owns shares of Costco Wholesale. The Motley Fool owns shares of and recommends Costco Wholesale. The Motley Fool has the following options: short July 2016 $28 puts on GameStop. The Motley Fool recommends Nordstrom. Try any of our Foolish newsletter services free for 30 days. We Fools may not all hold the same opinions, but we all believe that considering a diverse range of insights makes us better investors. The Motley Fool has a disclosure policy.
Copyright 1995 - 2016 The Motley Fool, LLC. All rights reserved. The Motley Fool has a disclosure policy.