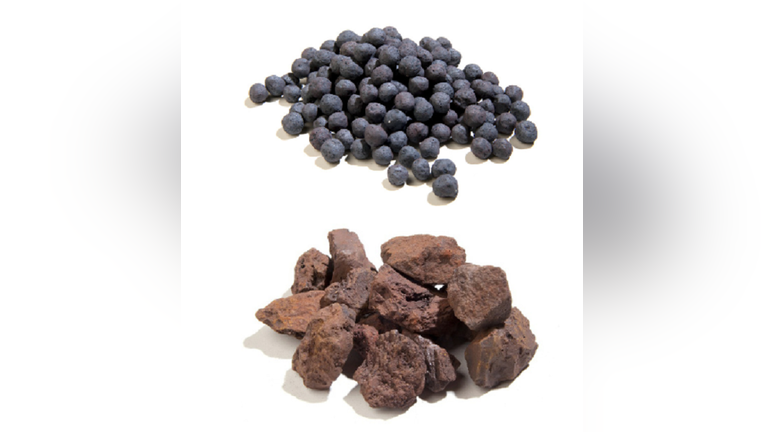 Iron ore and pellets. Image: Cliffs Natural Resources.
Iron-ore producer Cliffs Natural Resources has struggled for years now, and the slump in commodities continued through 2015. Strategic moves to focus on its highest-potential business prevented Cliffs from seeing the even greater declines that Peabody Energy and other coal producers suffered this year, but many investors still don't know whether Cliffs' future will be as bright as CEO Lourenco Goncalves and his management team hope. Let's take a closer look at what happened with Cliffs Natural Resources this year with an eye toward seeing whether a rebound could come next year.
What has happened to Cliffs Natural Resources in 2015? Cliffs Natural came into 2015 already having browbeaten its long-term investors with terrible losses. The stock took a worse than 70% hit in 2014, with activist investors succeeding in naming a new management team and implementing dramatic closures of key assets in order to focus on Cliffs Natural's most lucrative assets in the Great Lakes region.
Yet throughout 2015, the iron ore market hasn't done Cliffs Natural any favors. The Chinese economy plays a key role in driving iron ore demand, and its continued slowdown has led to ever-weakening prices for the commodity. At the same time, fellow suppliers Vale and BHP Billiton haven't taken substantial steps to curtail production, and that has helped throw the international iron ore market into an even steeper downturn.
In response, Cliffs continued to retrench with further strategic moves. In March, Cliffs decided to sell its chromium assets in northern Ontario, taking a loss but avoiding the ongoing expenses of maintaining the suspended operation there. The company has also looked at divesting its coal assets entirely, following up on a $175 million sale in late 2014 with more extensive plans. Weakness in the coal industry has hurt giants like Peabody Energy and has thus far prevented Cliffs' coal sales to other coal players from going forward, as Cliffs has been in the uncomfortable situation of having its prospective buyers suffering financial strains of their own.
First-quarter earnings were predictably weak due to the usual seasonal factors that Cliffs faces from its geographical location. Yet the second quarter didn't bring any true relief, with revenue plunging by a third and adjusted losses from continuing operations nearly doubling the consensus forecast among investors. Even though Cliffs saw success in cutting costs, it wasn't able to do enough to offset the even steeper declines in prevailing market prices for its products, and that resulted in margin compression. Third-quarter results showed the continuing benefits of cost-cutting, but even though the company has managed to cut its losses somewhat, Cliffs' path to prosperity is far from clear.
The biggest positive impact on Cliffs Natural came from its efforts to refinance its debt. A tender offer for Cliffs bonds during the summer helped spur a huge bounce in the stock, as the company successfully bought up near-term debt maturing in 2018 at a substantial discount and thereby reduced its future interest expense as well. Nevertheless, such one-time items haven't changed the bleak fundamentals that Cliffs is facing along with Vale, BHP Billiton, and other producers.
Cliffs Natural Resources: Sales and Earnings
Source: S&P Capital IQ.
Can Cliffs Natural Resources bounce back?Looking forward, the problems aren't over for Cliffs. The company terminated a supply agreement with a key steelmaking customer, leading Cliffs to reduce its sales volume estimates even further. With steelmakers facing problems of their own, the hoped-for signs of a rebound in iron ore demand haven't materialized yet and don't appear likely in the immediate future.
Simply put, Cliffs Natural Resources desperately needs conditions in the iron ore market to improve in 2016. Without such a rebound, the company will likely continue to struggle into next year and beyond.
The article Cliffs Natural Resources in 2015: Why It's Fallen 68% originally appeared on Fool.com.
Dan Caplinger has no position in any stocks mentioned. The Motley Fool owns shares of Cliffs Natural Resources and Companhia Vale Ads. Try any of our Foolish newsletter services free for 30 days. We Fools may not all hold the same opinions, but we all believe that considering a diverse range of insights makes us better investors. The Motley Fool has a disclosure policy.
Copyright 1995 - 2015 The Motley Fool, LLC. All rights reserved. The Motley Fool has a disclosure policy.