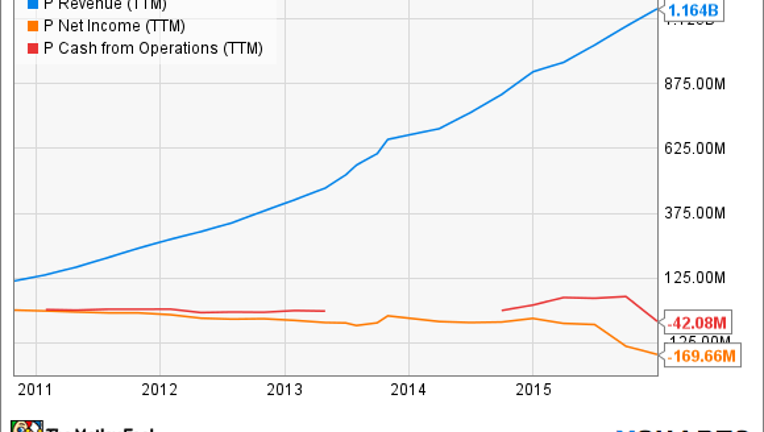 The past year has proven decidedly more down than up for digital radio innovator Pandora Media .
After the firm's bruising post-earnings sell-off in late October,Pandora's stock has trended steadily down. These clear and continued struggles led to rumors earlier this year that Pandora might be looking to sell itself. And even more recently, the firm once-again reshuffled its leadership, which will unfortunately do little to reverse the course of a company dealing with more fundamental problems than its C-suite.
Back to its rootsThe most important news in this week's press release about Pandora's management team reshuffle was that it brought back founder and former CEO Tim Westergren to re-assume the CEO position. In the characteristically optimistic, "ra ra" nature of such announcements, Westergren is quoted as saying:
CFO Mike Herring also added the role of president to his responsibilities, which includes revenue, music licensing, finance, legal, and IT functions. Chief Strategy Officer Sara Clemens will now assume the role of chief operating officer, with an emphasis on implementation and scaling Pandora's current and future business initiatives. Lastly, Chris Phillips will serve as chief product officer. Former CEO Brian McAndrews has left Pandora.
All of this sounds great on paper. However, Pandora's new executive team has its work cut out for it to reverse the firm's money-losing ways.
A more fundamental flawPandora's problem isn't a leadership issue. The company's core ad-based online radio product simply doesn't scale.Not only has the company never turned a profit in its 16 cumulative years of existence, but it has failed to do so even as sales have skyrocketed.
P Revenue (TTM) data by YCharts
Worse yet, the firm's average per-song royalty rateswill increase in 2016 from $0.00153 to $0.00176, creating an additional headwind for a company working diligently to optimize its average revenue per user.
Source: Pandora
Worse yet, Pandora's efforts to launch an on-demand product this year could prove too little too late. Apple Music continues to steam ahead with its exclusive content strategy. SoundCloud has launched its own subscription service. And perhaps most importantly, Spotify recently raised $1 billion in new financing to invest in growth and conversion initiatives, which lays the groundwork for a Spotify IPO in the not-too-distant future. Presumably, when Pandora launches its new on-demand service, it will be doing so into an increasingly crowded space.
There's also the potential acquisition angle to consider. As mentioned earlier in this article, The New York Timesreported in February that Pandora has retained Morgan Stanley to explore a possible sale of the company. However, given the rapid evolution of the digital music space and Pandora's profitless history, I find myself questioning what value a strategic buyer might gain by spending more than $2 billion on Pandora. The numbers simply don't add up.
To be fair, Westergren is something of a visionary in the music industry. He founded Pandora and its Music Genome Project in 2000, at a time when the Internet remained largely a novelty to many investors and music fans. Westergren could conceivably have concocted an equally prescient rescue plan to help steer his company toward calmer, more profitable waters. However, as far as bankable scenarios go, this one doesn't seem to have much in the way of evidence to support it. As such, I'm skeptical that new management alone can right Pandora's ship.
The article Bringing Back Its Founders Won't Solve Pandora's Woes originally appeared on Fool.com.
Andrew Tonner owns shares of Apple. The Motley Fool owns shares of and recommends Apple and Pandora Media. Try any of our Foolish newsletter services free for 30 days. We Fools may not all hold the same opinions, but we all believe that considering a diverse range of insights makes us better investors. The Motley Fool has a disclosure policy.
Copyright 1995 - 2016 The Motley Fool, LLC. All rights reserved. The Motley Fool has a disclosure policy.