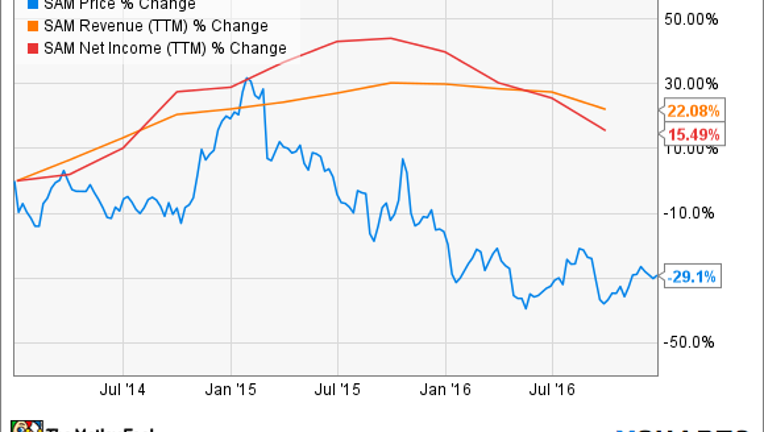 The Boston Beer Company's (NYSE: SAM) stock rallied as much as 15% since the end of the U.S. presidential election on Nov. 8, but its head of steam has recently cooled off. For good reason, too, as the company is struggling amid increased competition that has led to falling sales. After the rebound in the last two months, investors shouldn't be surprised to see the stock resume its slide.
Image source: The Boston Beer Company.
The current state of affairs
The Sam Adams lager parent has had its share price nearly halved from all-time highs in early 2015. The drop in price has come on the back of steep declines in both the top and bottom line.
Data by YCharts.
After such a steep drop, one might expect Boston Beer to now be trading at a discount. That assumption would be incorrect, though,as the trailing-12-month price-to-earnings multiple is 28, and forward-12-month estimated price to earnings is at 26. Such high figures are usually reserved for high-growth stocks, a description the company currently does not fit.
In fact, the last report had management expecting full-year 2016 earnings coming in between $6.30 and $6.70, a drop of as much as 13% from last year's profitability -- and in a year that has an extra week of business. Not much light has been shed on 2017 yet, but initial expectations were for a slight increase in beer shipments at best and gross profit margins 1% to 3% lower than the highs from 2015.
A blown keg with no replacement
What is the root cause of the brewer's woes? In a word: competition.
In the 1970s, total U.S. brewers numbered as few as 100. By the end of 2015, that number had skyrocketed to more than 4,200 and the totals are still increasing. The numbers underline the resurging American interest in the hometown, or even neighborhood, brewpub or taproom, as many of the upstarts operate as local hangouts and gathering places.
Boston Beer management has admitted that the explosion of small competition is indicative of changing consumer trends. Beer drinkers have been gravitating toward smaller brewers in search of new and creative crafts. Management has also acknowledged the Brewers Association, a nonprofit economic organization that represents the craft-beer industry, which says trends are shifting toward smaller and local consumption.
This is beginning to manifest itselfin Boston Beer's depletions, or beer shipped from distributors to retailers or end consumers. The metric has been on a downward trend for four quarters in a row now.
Chart by author. Data source: Boston Beer Company quarterly earnings reports.
While overall shipments were still growing through most of 2015, the fact is that weakness in the company's flagship Sam Adams lineup was being reported as early as the first quarter of 2015. This was glossed over by the more than offsetting performance of the company's newer brands like Traveler and Twisted Tea. Faced with mounting pressure from smaller players, though, even some of those former areas of growth have slipped into the negative.
Waiting for a corner to be turned
The good news is that the king of the craft movement is on it. Boston Beer is working on its marketing, including label refreshes for its original Sam Adams family. It was also announced that a strategic review of the business is under way, not limited to current brands but encompassing future initiatives as well.
Samuel Adams' new packaging began shipping the second half of this year. Image source: Boston Beer Company.
While those words are encouraging, I'm not yet ready to call a bottom and personally buy. Boston Beer's management itself said that industry trends suggest a continued slowdown in growth in the short termas increased competition and new-drink introductions continue to pressure the company.
Until material changes are announced at the company, or the numbers indicate a corner has been turned, I'll stick with the view that the post-election stock rally was just too good to be true.
10 stocks we like better than Boston Beer When investing geniuses David and Tom Gardner have a stock tip, it can pay to listen. After all, the newsletter they have run for over a decade, Motley Fool Stock Advisor, has tripled the market.*
David and Tom just revealed what they believe are the 10 best stocks for investors to buy right now... and Boston Beer wasn't one of them! That's right -- they think these 10 stocks are even better buys.
Click here to learn about these picks!
*Stock Advisor returns as of Nov. 7, 2016
Nicholas Rossolillo has no position in any stocks mentioned. The Motley Fool owns shares of and recommends Boston Beer. Try any of our Foolish newsletter services free for 30 days. We Fools may not all hold the same opinions, but we all believe that considering a diverse range of insights makes us better investors. The Motley Fool has a disclosure policy.