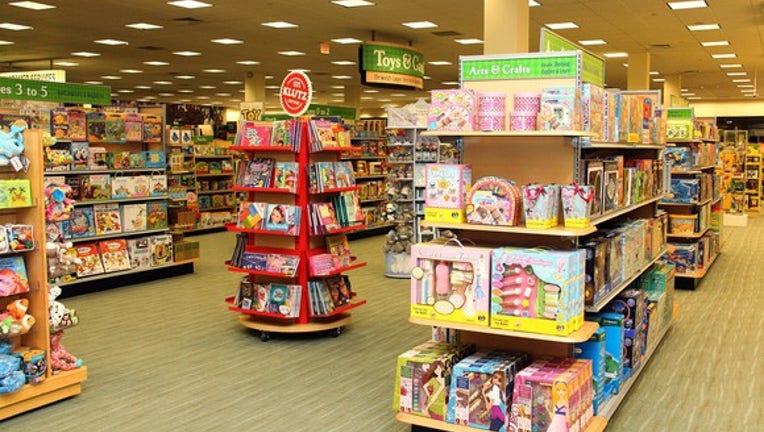 Barnes & Noble(NYSE: BKS)released weaker-than-expected results for the fiscal third quarter 2017 ended January 28, 2017, punctuated by declining profitability, lower traffic, and the continued slide of the company's NOOK business during the crucial holiday season. Shares of the bookseller declined nearly 8% on Thursday as the market absorbed the news.
Let's take a closer look at what drove Barnes & Noble's business this quarter, as well as what investors can expect from the company going forward.
IMAGE SOURCE: BARNES & NOBLE, INC.
Barnes & Noble results: The raw numbers
Data source: Barnes & Noble.
What happened with Barnes & Noble this quarter?
Earnings before interest, taxes, depreciation, and amortization (EBITDA) was $157.8 million, down from $169 million in the same year-ago period. This included
Retail earnings before interest, taxes, depreciation, and amortization (EBITDA) of $160.2 million, down from $180.1 million in last year's fiscal Q3.
NOOK segment EBITDA losses of $2.4 million, narrowed from an EBITDA loss of $11.2 million this time last year.
Retail sales, including Barnes & Noble stores and BN.com, fell 7.5% year over year, to $1.276 billion.
Comparable-store sales fell 8.3%, primarily due to lower traffic, and to a lesser extent, from declining revenue from coloring books, artist supplies, and high sales of a best-selling Adele album in the same year-ago period.
Nook sales, including digital content, devices, and accessories, declined 25.7%, to $38.4 million.
Returned $14.4 million in cash to shareholders this quarter, including $10.9 million in dividends, and $3.5 million by repurchasing 311,000 shares at an average price of $11.23 per share during the quarter -- though shares closed Thursday at $9.05. The latter marked the completion of Barnes & Noble's original $50 million repurchase authorization.
What management had to say
Last quarter, Barnes & Noble chairman and CEO Len Riggio insisted the company's sluggish saleswere "directly related to the election cycle," expressing hope that sales would improve into the holiday season. Unfortunately that didn't turn out to be the case, according to management during the subsequent conference call, as Barnes & Noble endured "challenging traffic trends" similar to those reported of late by other retailers.
In fact, Riggio elaborated during the call:
Looking forward
What's more, despite an initial post-holiday improvement in sales, Barnes & Noble saw sales trends soften once again in late January, and persist so far into the current fiscal fourth quarter. As such, Barnes & Noble now expects full fiscal-year 2017 comparable-store sales to decline roughly 7%, while full-year adjusted EBITDA should be in the range of $180 million to $190 million, down from previous guidance of $200 million to $250 million. That range assumes fiscal 2017 retail EBITDA of $200 million to $210 million, down from $240 million to $280 million previously, and an EBITDA loss from the NOOK segment of $20 million -- an improvement from EBITDA losses of $30 million to $40 million expected before.
In the end, it's encouraging to see Barnes & Noble continuing to stem the losses of its NOOK segment. But it's difficult to be optimistic, as the performance of its core retail business continues to slide. Given Barnes & Noble's painful holiday quarter and reduced outlook, it's no surprise to see shares trading lower today.
10 stocks we like better than Barnes and NobleWhen investing geniuses David and Tom Gardner have a stock tip, it can pay to listen. After all, the newsletter they have run for over a decade, Motley Fool Stock Advisor, has tripled the market.*
David and Tom just revealed what they believe are the 10 best stocks for investors to buy right now... and Barnes and Noble wasn't one of them! That's right -- they think these 10 stocks are even better buys.
Click here to learn about these picks!
*Stock Advisor returns as of February 6, 2017
Steve Symington has no position in any stocks mentioned. The Motley Fool has no position in any of the stocks mentioned. The Motley Fool has a disclosure policy.