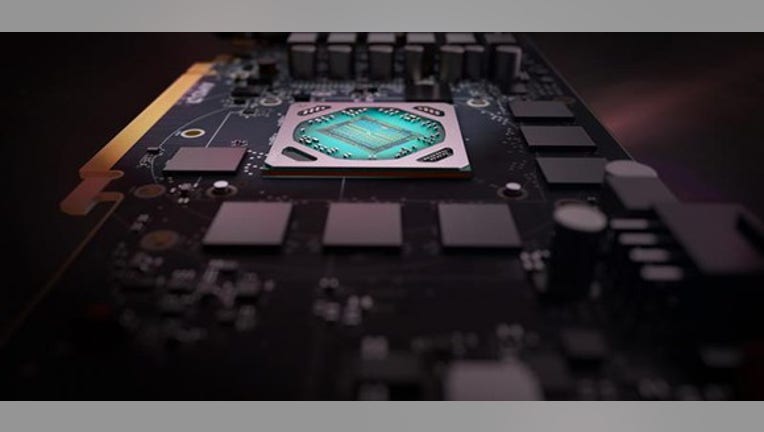 While Advanced Micro Devices' (NASDAQ: AMD) reentry into the high-end graphics card market with Vega is nearing, the company launched a separate set of graphics cards on April 18. The Radeon RX 500 series is a refresh of AMD's Radeon RX 400 series, based on the mainstream Polaris GPUs. The RX 580 and RX 570 are available immediately, the RX 550 will be available on April 20, and the RX 560 will launch sometime in May.
The RX 400 series launched in the middle of last year, making AMD more competitive with rival NVIDIA (NASDAQ: NVDA) in the mainstream portion of the graphics card market. This initial launch of Polaris helped drive some much-needed growth for AMD, but NVIDIA was able to maintain its market share lead by launching its own mainstream graphics cards, the GTX 1060 and GTX 1050.
The RX 500 series graphics cards bring some minor performance improvements, but they still fall short of NVIDIA's offerings. Polaris didn't light the world on fire last year, and it's likely not going to fare much better this year, either.
Image source: AMD.
A bit better than before
The 8 GB version of the RX 580 is priced at $229, the same price that NVIDIA's 6 GB GTX 1060 is now available for. This presents a problem for AMD. While the RX 580 provides a performance improvement compared to the RX 480, about 3% according to Anandtech, it still falls short of the GTX 1060 on average. Across all of Anantech's gaming benchmarks, the RX 580 falls 7% short of the GTX 1060 on average at both 1080p and 1440p resolutions.
Not only does AMD still fall short of NVIDIA in terms of performance with the RX 580, but the power efficiency of the RX 500 series cards has gotten worse compared to the RX 400 series. AMD sacrificed efficiency for performance, but it still wasn't enough to match NVIDIA's offerings.
The gap between AMD's mainstream graphics cards and NVIDIA's mainstream graphics cards is now smaller with the RX 500 series, but it's still there. That makes the prospect of AMD picking up meaningful market share in the mainstream portion of the market unlikely.
Polaris will continue to fall short
Vega is the big graphics card story for AMD this year, and if the company can come out with competitive high-end products, it could claw back some lucrative high-end market share from NVIDIA. In the mainstream market, only price cuts that give AMD an edge will change the dynamic.
Neither AMD nor NVIDIA provide detailed sales figures for specific graphics cards, but PC gaming platform Steam publishes hardware survey data each month. This data is far from perfect, and it may not be a great representation of the graphics card market as a whole. But with Steam being the dominant PC gaming platform, this data gives investors some idea of how well various graphics cards are selling.
A look at the data tells you one thing: NVIDIA is overwhelmingly dominant. The top 16 most popular DirectX 12 graphics cards are all NVIDIA. The GTX 1060 is No. 4 on the list, with 4.45% of survey respondents owning the card. It's beaten only by older NVIDIA products. The most popular AMD Polaris graphics card is the RX 480, which is owned by just 1.05% of survey respondents. The GTX 1060 is more than four times as popular.
With the RX 500 series failing to shake things up, NVIDIA's dominance in the mainstream graphics card market will likely continue.
10 stocks we like better than Advanced Micro DevicesWhen investing geniuses David and Tom Gardner have a stock tip, it can pay to listen. After all, the newsletter they have run for over a decade, Motley Fool Stock Advisor, has tripled the market.*
David and Tom just revealed what they believe are the 10 best stocks for investors to buy right now... and Advanced Micro Devices wasn't one of them! That's right -- they think these 10 stocks are even better buys.
Click here to learn about these picks!
*Stock Advisor returns as of April 3, 2017
Timothy Green has no position in any stocks mentioned. The Motley Fool owns shares of and recommends Nvidia. The Motley Fool has a disclosure policy.