9 Figures That Sum Up Gilead Sciences' First Quarter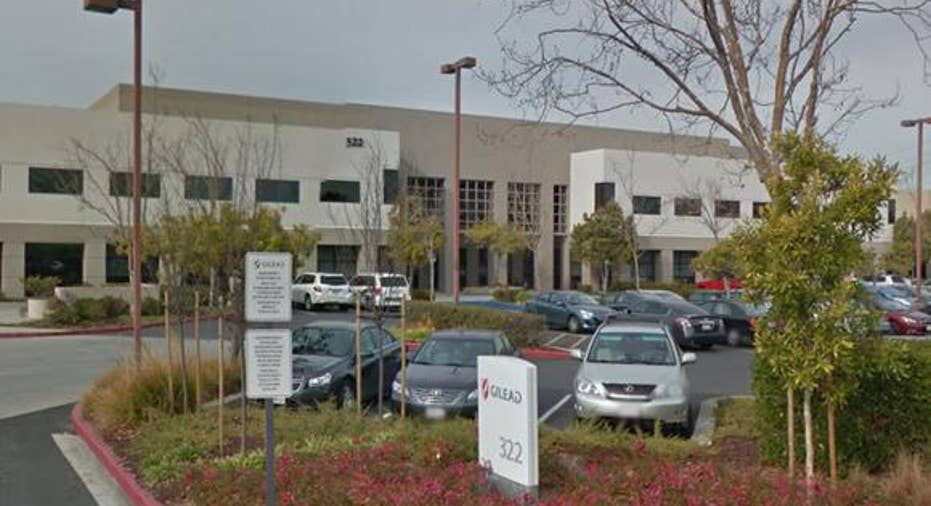 Image source: Gilead Sciences, Inc.
After reporting first-quarter financials that were shy of industry watchers' forecast, Gilead Sciencesshares were trading down 5% after the bell today. Investors wondering if Gilead Sciences shares are a buy or sell might want to consider these nine numbers (plus a bonus!), each of which offers additional insight into whether the company is worth owning in portfolios.
$7.7 billion. That's the amount of money Gilead Sciences raked in last quarter from its medicines, including its widely used HIV and hepatitis C drugs. The haul was slightly bigger than the $7.6 billion the company reported a year ago.
$4.3 billion. This is how much Gilead Sciences had leftover in adjusted net income after it covered its operating costs and paid its taxes. Clearly, this is a big chunk of money, but it's still down from adjusted net income of $4.6 billion a year ago.
$3.14. Industry watchers were modeling for non-GAAP EPS of that amount, but they got only $3.03 instead.
$800 million. That's how much product sales slumped in America versus last year following the approval of Merck & Co.'s Zepatier in January. Last year, U.S. product sales were $5.2 billion, but this time around, they were just $4.4 billion.
$1.1 billion. Sluggish U.S. sales following Zepatier's launch were offset by a surge in sales in Japan. Combining Japan's $1.1 billion in Q1 2016 sales with the $571 million generated in other international locations, excluding Europe, gives you $1.67 billion. For comparison, total international sales were $364 million a year ago.
Image source: Gilead Sciences, Inc.
$1.6 billion. That's how much less its top-selling Harvoni brought in versus last year in the United States last quarter. U.S. Harvoni sales fell to $1.4 billion from $3.02 billion last year. Global Harvoni sales, however, slipped by less. Thanks to sales growth overseas, Harvoni revenue was $3 billion in Q1, down from $3.6 billion a year ago.
$2.86 billion. Gilead Sciences' combined sales of its HIV drug franchise clocked in at this pace, giving its HIV drugs an annualized run rate of $11.44 billion. For comparison, Gilead Sciences' HIV sales were $2.4 billion in Q1, 2015.
$30 billion to $31 billion. After all the quarter's give and take, this is how much Gilead Sciences still expects to generate in product revenue this year. The amount is a reiteration of guidance announced in February, and it reflects a slight dip from 2015's $32.2 billion in product revenue.
$8 billion. Management's appetite for its own shares surged last quarter, resulting in share repurchases totaling this amount.
Bonus: $21.3 billion. After covering costs, buying back shares, and paying its dividend, the company still has a cash war chest of this size exiting March.
Tying it togetherThe biggest takeaway from Gilead Sciences' quarter has to be the drop in U.S. Harvoni sales and the corresponding increase in revenue that was likely enjoyed by Merck. Merck reports its first-quarter financials on May 5, and it will be intriguing to hear what the company says about prescription trends. Although Harvoni's sales decline was a drag on Gilead Sciences' top line, the drop was made up for by demand in other markets, most notably in Japan.
Overall, the company's HIV sales continue to impress, and given that a FDA approval of the company's arguably best-in-class next-generation hepatitis C drug this summer could reverse market share lost to Zepatier last quarter, it may be best to stick with Gilead Sciences rather than unload its shares based on today's report.
The article 9 Figures That Sum Up Gilead Sciences' First Quarter originally appeared on Fool.com.
Todd Campbell owns shares of Gilead Sciences. Todd owns E.B. Capital Markets, LLC. E.B. Capital's clients may have positions in the companies mentioned. The Motley Fool owns shares of and recommends Gilead Sciences. Try any of our Foolish newsletter services free for 30 days. We Fools may not all hold the same opinions, but we all believe that considering a diverse range of insights makes us better investors. The Motley Fool has a disclosure policy.
Copyright 1995 - 2016 The Motley Fool, LLC. All rights reserved. The Motley Fool has a disclosure policy.