7 of the Most Shocking Biotech Pipeline Blowups of 2016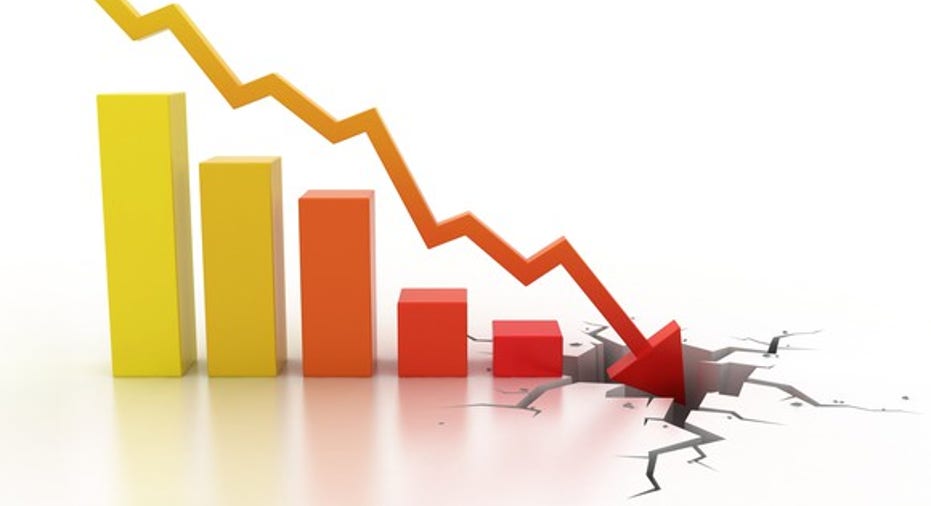 The FDA's data shows that only about 7% of drugs that enter phase 1 clinical trials will make it all the way to market. Those are terrible odds, and each year, biotech investors have to watch as some of the most promising and exciting compounds go down in flames.
Image source: Getty Images.
Here's a look back at seven of the biggest pipeline blowups of 2016.
1.Alnylam Pharmaceuticals(NASDAQ: ALNY) -- Revusiran
RNAi specialist Alnylam shocked the markets inOctober when it announced that it wasdiscontinuing development of revusiran, one of the company's most advanced compounds that held promise to treat hereditary ATTR amyloidosis with cardiomyopathy. The decision was made when an unblinded review of the trial "revealed an imbalance of mortality in the revusiran arm, as compared to placebo." That implies that the benefits of using the drug do not outweigh the risks.
This news was a huge blow to investors, and it raises new questions about the rest of the company's pipeline. Alnylam has created a number of interesting drugs based on its gene-silencing RNAi expertise, so if this technology proves to betoo unsafe to be used in real-world applications, then it's possible that its other product candidates could go on to suffer a similar fate.
2.Clovis Oncology (NASDAQ: CLVS)--Rociletinib
Cancer-focused Clovis was flying high in 2015 over excitement for rociletinib, a hopeful treatment for lung cancer. However, shares were walloped earlier this year when new data came in from thedrug's clinical trials that showed that rociletinib'sprojected response rate was too high. That caused theFDA's advisory committee to vote 12-to-1 against an approval recommendation.
The agency later notified Clovis that it had decided to follow the committee's recommendation.In response, Clovis decidedto stop all future clinical development of the drug and withdrew its regulatory application in Europe.
Image source: Getty Images.
The company's future success is now completely in the hands of rucaparib, aPARP inhibitorthat is a hopeful treatment for ovarian cancer.
3. Celldex Therapeutics (NASDAQ: CLDX) -- Rintega
Rintega wasanother promising product candidate that had captured the market's attention. This experimental cancer vaccine looked quite promising in early clinical trials as a hopeful treatment for the brain cancer glioblastoma.
Unfortunately, phase 3 data showed that rintega failed to improve upon overall survival rates when compared to the control group. Managementabandoned the drug soon after, sending shares in atailspin.Celldex has since shifted its focus to glembatumumab vedotin, a potential treatment for breast cancer.
4. Eli Lilly (NYSE: LLY) -- Solanezumab
History shows that developing new treatments for Alzheimer's disease has been incredibly difficult, and investors were reminded of that just weeks ago after another high-profile treatment bit the dust.
In late November, pharma giant Eli Lilly reported data from itsEXPEDITION3 trial, which was testing solanezumab as a treatment formild dementia due to Alzheimer's disease.Unfortunately, data from the trial showed that solanezumab did not demonstratea statistically significant slowing of cognitive decline when compared to the placebo group.
Image source: Getty Images.
Shares tumbled on the news, and Lilly has since abandoned its plans to seek regulatory submission.
5.Novavax (NASDAQ: NVAX) -- RSV F
Vaccine developer Novavax had some difficult news to share with investors inmid-September. The company reported top-line data from its Phase 3 RESOLVE trial, testing the company's hopeful respiratory syncytial virus (RSV) vaccine in older adults. Unfortunately, data from the trial showed that the placebo modestly outperformed the company's RSV F vaccine.
Shares cratered, falling by85% in a single day.Nonetheless, Novavax is still a believer in the drug and is moving forward with trials that are testing the vaccine's use in infants via maternal immunization.
6. Arrowhead Pharmaceuticals (NASDAQ: ARWR) --ARC-520, ARC-521, and ARC-AAT
Arrowhead dropped a bombshell on investors in late November when it announced that it was going to discontinue development of three of its most promising pipeline candidates. Management stated that the decision was made in response to the FDA placing a clinical hold on the company's Heparc-2004 study, which was researching ARC-520 as a potential cure for hepatitis B. The hold was ordered so that Arrowheadcould provide answers related to liver toxicology issued on EX1, the company's intravenously administered delivery vehicle.
Image source: Getty Images.
Management stated that it would take quite a long time to gather all of the necessary clinical data, and even then the company still faced long odds of success. As a result, they decided to cancel all development of drugs that used EX1 as a delivery vehicle, which includedARC-520, ARC-521, and ARC-AAT.
7. BioMarin Pharmaceuticals(NASDAQ: BMRN) -- Drisapersen
In 2014, BioMarin ponied up $680 million to acquire Prosensa Holding to get its hands on drisapersen, a hopeful treatment forDuchenne muscular dystrophy (DMD). The move put BioMarin, Sarepta Therapeutics, and PTC Therapeutics in arace to be the first to bring a treatment for this rare muscle-wasting disease to market.
However, time would later prove that BioMarin had backed the wrong horse. The FDA's advisory committee raised some big concerns aboutdrisapersen's efficacy, leading theagency to reject the drug outright in January. BioMarin withdrew its application in Europe a few weeks later and decided to halt all future development completely.
BioMarin's failure left the door wide open forSarepta Therapeutics. While Sarepta's drug eteplirsen also had issues of its own, the FDA went on to give the drug the green light just a few months later.
10 stocks we like better than Alnylam Pharmaceuticals When investing geniuses David and Tom Gardner have a stock tip, it can pay to listen. After all, the newsletter they have run for over a decade, Motley Fool Stock Advisor, has tripled the market.*
David and Tom just revealed what they believe are the 10 best stocks for investors to buy right now... and Alnylam Pharmaceuticals wasn't one of them! That's right -- they think these 10 stocks are even better buys.
Click here to learn about these picks!
*Stock Advisor returns as of November 7, 2016
Brian Feroldi has no position in any stocks mentioned.Like this article? Follow him onTwitter where he goes by the handle@Longtermmindsetor connect with him on LinkedIn to see more articles like this.
The Motley Fool owns shares of and recommends Alnylam Pharmaceuticals. The Motley Fool recommends BioMarin Pharmaceutical and Celldex Therapeutics. Try any of our Foolish newsletter services free for 30 days. We Fools may not all hold the same opinions, but we all believe that considering a diverse range of insights makes us better investors. The Motley Fool has a disclosure policy.