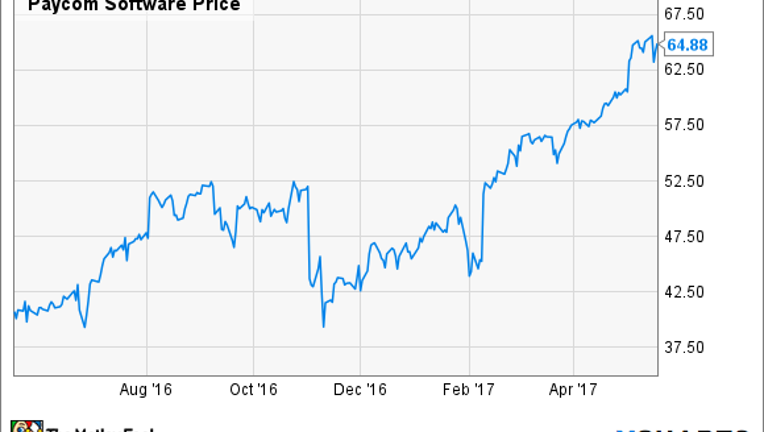 After growing its top line by more than 40% each of the past four fiscal years, Paycom Software (NYSE: PAYC) is on a roll, with its stock trading at all-time highs. Paycom's recent appearance at the Jefferies 2017 Global Technology Conference revealed a company quite optimistic about its future as well. During a "fireside chat"-style presentation, CEO Chad Richison highlighted a few factors that speak to the size of the growth opportunities still ahead for the payroll and human resources software provider.
1. Increased opportunities with larger clients
Although Paycom has long targeted clients in the 50- to 2,000-employee range with its all-in-one cloud-based software solution, Richison has also made it a habit on each quarter's earnings call to talk about client wins with larger companies. Over the past four quarters, he's announced 12 new clients with between 2,000 and 8,000 employees. Since Paycom's licensing agreements usually include an additional per-employee fee, these larger clients offer extra profit potential.
Now that the company is establishing a successful track record with bigger businesses, Paycom is beginning to receive even more attention from companies outside its original niche. At the conference, Richison noted:
Richison also stated that about half of American workers are employed by businesses in Paycom's target range. But on an annualized revenue per employee basis, he believes Paycom currently represents just 2% of the total addressable market for 50- to 2,000-employee companies. While that's where Paycom will keep focusing its sales efforts, the continued larger client wins may provide a big incremental -- and more profitable -- growth opportunity down the road.
Image source: Paycom Software.
2. A novel sales office strategy keeps paying off
The presentation also provided some additional color on the company's winning formula for opening up new sales offices. The company basically plucks one of its most successful sales managers from an existing office, relocates him or her to a new region, and gives that person full autonomy to build the new office as they see fit. Richison explained:
While Richison says this model has been "really disruptive" for Paycom, it's helped the company consistently achieve its goals. Paycom also has an interesting strategy of not hiring salespeople from within the industry, oftentimes hiring people with zero sales experience. However unorthodox that may be, you can't argue with the kind of growth that Paycom continues to see as a result. The company plans to announce additional office openings later this year.
3. The long-term upside remains enormous
Paycom currently has a total of 43 sales offices. Richison said that the company believes that it can eventually build that number up to 120, with the working assumption that each office can ultimately support between $6.1 million and $6.2 million in annual sales.
While the scenario above is a long way off, that means Paycom believes it's capable of someday generating incremental annual sales of roughly $738 million, in addition to the recurring revenue it already recognizes from existing clients. When you consider that the company's total revenue last year was around $329 million, that's a huge runway for future growth.
Paycom has been on an impressive winning streak for the past several years as its software continues to make inroads with small and medium-sized businesses. And judging from the company's most recent earnings results -- as well as the large opportunities still on the horizon -- I doubt it'll be slowing down anytime soon.
10 stocks we like better than Paycom SoftwareWhen investing geniuses David and Tom Gardner have a stock tip, it can pay to listen. After all, the newsletter they have run for over a decade, Motley Fool Stock Advisor, has tripled the market.*
David and Tom just revealed what they believe are the 10 best stocks for investors to buy right now... and Paycom Software wasn't one of them! That's right -- they think these 10 stocks are even better buys.
Click here to learn about these picks!
*Stock Advisor returns as of May 1, 2017
Andy Gould owns shares of Paycom Software. Andy Gould has the following options: short May 2017 $50 puts on Paycom Software. The Motley Fool owns shares of and recommends Paycom Software. The Motley Fool has a disclosure policy.