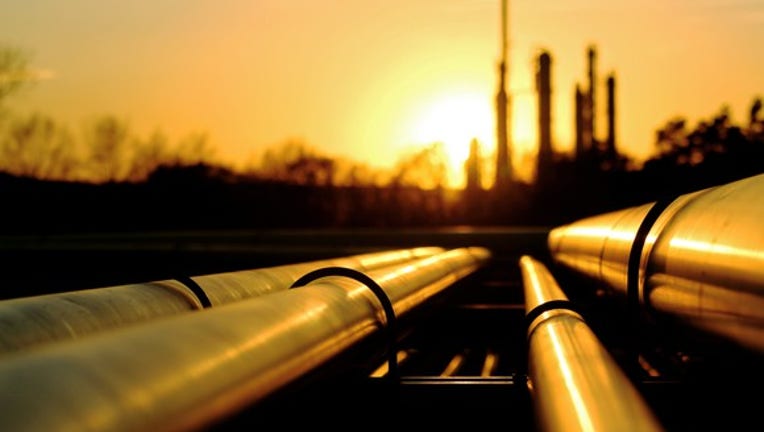 The outlook has been pretty gloomy for oil and gas exploration and production companies. But several are starting to see modest growth, andApache(NYSE: APA) is no exception to this trend.
Apache's growth forecast is especially compelling because of its big Alpine High find in the Permian Basin. During its recent first-quarter earnings call, Alpine High was front and center. So front and center, in fact, that there were some items of special significance you might have missed -- items that could make this stock a real buy.
Oil and gas industry player Apache is building wells and pipelines to develop its big Alpine High find. Image source: Getty Images.
Ahead of schedule
CEO John J. Christmann put it succinctly early on in the call: "Our midstream buildout at Alpine High is ahead of schedule and under budget." That is, of course, good for investors, but Christmann went on to provide some details that make Apache look particularly compelling over the course of the next few quarters.
The first phase of Alpine High production came online two months ahead of schedule. Because of that, the company was able to raise its North American production guidance for 2017, from a range of 252 million to 263 million barrel of oil equivalents per day up to 256 million to 264 million BOE/day.
The infrastructure development has been going so well that the company is accelerating some of its planned 2018 infrastructure build into 2017, with no corresponding increase in its capital budget. CFO Steve Riney announced that the full-year 2017 capital investment guidance remains unchanged at $3.1 billion. This is good for the company, because the quicker the company can ramp up Alpine High, the quicker it will start seeing returns on the investments it's making there.
Patience is a virtue
The company's stock took an immediate hit after its earnings were announced and didn't measure up to analysts' expectations. But just as Rome wasn't built in a day, wells and pipelines at Alpine High won't be, either.
On the earnings call, Christmann was asked about his "rainy day plan" in regards to falling oil prices and the company's balance sheet. Christmann noted that the company still has $1.5 billion of cash on hand after $440 million of "predominantly non-producing" acreage sales, but he also said this:
The company is sitting on just under $7 billion in net debt, which is high, but hardly unusual for an oil and gas exploration and production company these days. Management isn't concerned, and investors should be patient, too, as management executes its current strategy of getting Alpine High up and running.
There are other baskets
While it's true Apache is putting a lot of its eggs (at least in terms of capital expenditures, focus, and hype) into the Alpine High basket, the company does have other operations, particularly in the North Sea and in Egypt, and while those may not be front and center right now, the company isn't ignoring those plays.
Both the North Sea and Egypt contributed strong free cash flow to the company in Q1. Management says its strategy in Egypt and the North Sea is to make investments at a level that sustains free-cash-flow generation. Luckily, both regions have extensive infrastructure in place, so major capital expenditures aren't needed to execute this strategy.
In Egypt, the company has been granted two new land concessions in the Western Desert, which have increased the size of Apache's Egypt holdings by about 40%. The company hasn't been granted any Western Desert concessions in more than a decade, so management is eager to do a 3D seismic survey this year -- and hopefully start drilling in the third quarter.
The company is predicting lower North Sea production in Q2 2017 because of annual maintenance activities. These activities are being moved up toaccommodate the installation of subsea tieback facilities for the company's Callater discovery, which should begin production in Q3 2017. The company estimates initial production of 20,000 BOE/day from Callater.
Investor takeaway
In case you haven't noticed, Q3 2017 is going to be huge for Apache. Not only is that when Alpine High should be ramping up production, it's also when drilling will begin in the company's new Egypt concessions -- and when production should begin at the Callater discovery in the North Sea.
And yet, the stock -- hovering around $50 per share -- is currently cheaper than it was before Alpine High was announced in September, and it's only about $3 per share higher than it was when the company announced the Callater discovery in October 2015. Smart investors should strongly consider buying into this focused, patient company's growth prospects before the third quarter rolls around and the market catches on.
10 stocks we like better than ApacheWhen investing geniuses David and Tom Gardner have a stock tip, it can pay to listen. After all, the newsletter they have run for over a decade, Motley Fool Stock Advisor, has tripled the market.*
David and Tom just revealed what they believe are the 10 best stocks for investors to buy right now...and Apache wasn't one of them! That's right -- they think these 10 stocks are even better buys.
Click here to learn about these picks!
*Stock Advisor returns as of May 1, 2017.
John Bromels owns shares of Apache. The Motley Fool has no position in any of the stocks mentioned. The Motley Fool has a disclosure policy.