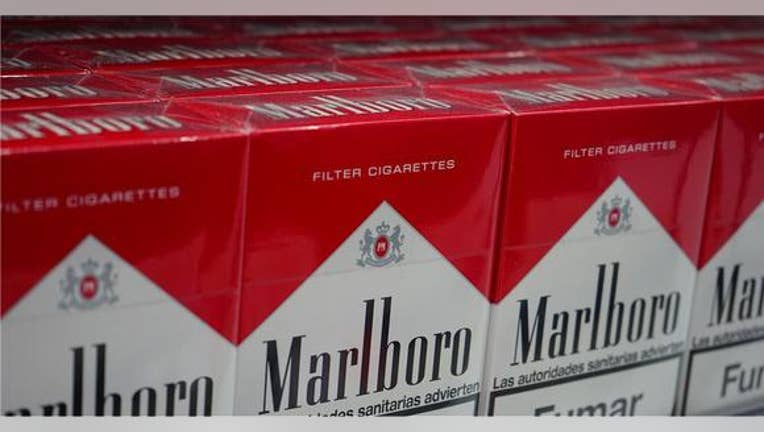 Tobacco giant Altria is a solid income play for conservative investors. The company has paid out 75% of its free cash flow as dividends over the past 12 months and currently offers a forward annual yield of 3.6% -- much higher than the S&P 500 and its 2.2% yield.
After divesting its stake in Kraft Foods in 2007 and spinning off its overseas business as Philip Morris International in 2008, Altria has hiked its dividend every year. To counter declining smoking rates in America, Altria shrewdly cut costs, raised prices, and bought back shares, which boosted its annual earnings per share 43% between 2005 and 2015 as revenue only increased 4%.
Altria and PMI both sell Marlboro cigarettes. Source: Pixabay
However, a 150% share price rally over the past five years has reduced Altria's yield to a multi-year low and boosted its trailing price-to-earnings to a multi-year high of 24 times, toppingthe industry average of 21 for tobacco companies. Therefore, investors who are looking for another tobacco play with beefier dividends might want to consider two other companies -- Philip Morris International and Vector Group .
Philip Morris InternationalPhilip Morris has underperformed Altria over the past five years due to currency headwinds and concerns of economic slowdowns in Europe and Asia. But during that period, the stock still rallied more than 50% and roughly matched the S&P 500.
Over the past 12 months, PMI paid out 90.5% of its free cash flow as dividends and currently offers a forward annual yield of 4.3%. That payout ratio certainly looks high, but CEO Andre Calantzopoulos stated during the most recent conference callthat "dividends are sacrosanct" and that the company "will go to a large extent to maintain the dividend."
Last quarter, sales declined 11% year-over-yearto $6.39 billion. However, excluding the $1.1 billion impact of currency and acquisitions, sales actually rose 4%. Revenue fell across all geographic regions as reported but grew across all regions on a constant currency basis. Adjusted earnings fell 21% to $0.81 per share but only declined 4% on a constant currency basis.
Therefore, if the dollar weakens, PMI's top and bottom line growth will improve considerably. Investors seem willing to look past currency woes -- the stock has already rallied about 9% since that earnings report, although it missed top line estimates andjust met them on the bottom line. But even after that jump, PMI still trades at just 22 times earnings, more in line with the rest of the industry than Altria.
Vector GroupVector Group, a holding company, isn't a "pure" tobacco play. Last quarter, only 63% of revenues came from its domestic tobacco business, which sells Liggett cigarette brands like Pyramid and Eve. The remainder came from its real estate portfolio, which includes hotels, residential buildings, and various commercial properties.
Vector's top cigarette brands. Source: Vector Group
During the quarter, Vector's tobacco sales dipped 0.8% annually due to a 0.2% decline in sales volume, which was partially offset by higher prices. Real estate revenue rose 11%, thanks to improved revenue from Douglas Elliman, one of the largest real estate companies in America. Vector's total revenue rose just 0.2% year-over-year to $430.8 million but still beat estimates by$29.7 million. Adjusted non-GAAP net income rose 31% to $16.4 million, or earnings of $0.13 per share -- which came in five cents below expectations.
Over the past 12 months, Vector paid out 143% of its free cash flow as dividends and currently boasts a forward annual yield of 6.8%. That high payout ratio and yield certainly raises questions about the sustainability of its dividend, but during the previous conference call, CEO Howard Lorber simply declared that Vector's "cash dividend policy remains the same" and noted that the company had an "uninterrupted track record of regular, quarterly cash dividends since 1995 and an annual 5% stock dividend since 1999."
Analysts expect Vector's earnings to grow 11% annually over the next five years, which might make its payout ratio more sustainable, but it's a bright red flag which shouldn't be ignored. The stock has rallied nearly 70% over the past 5 years and currently trades at 49 times earnings, making it much pricier than its larger peers.
Should you buy PMI or Vector Group?On the surface, both PMI and Vector offer "better" payouts than Altria, but both stocks have their own risks. Investors could dump PMI if the dollar soars to new highs or flee from Vector if weak earnings growth results in a dividend cut. Therefore, investors should complete their due diligence and understand that these higher yields come with strings attached.
The article 2 Tobacco Stocks With Better Dividends than Altria Group Inc originally appeared on Fool.com.
Leo Sun owns shares of Philip Morris International. The Motley Fool has no position in any of the stocks mentioned. Try any of our Foolish newsletter services free for 30 days. We Fools may not all hold the same opinions, but we all believe that considering a diverse range of insights makes us better investors. The Motley Fool has a disclosure policy.
Copyright 1995 - 2016 The Motley Fool, LLC. All rights reserved. The Motley Fool has a disclosure policy.