2 Things That Teekay Management Wants You to Know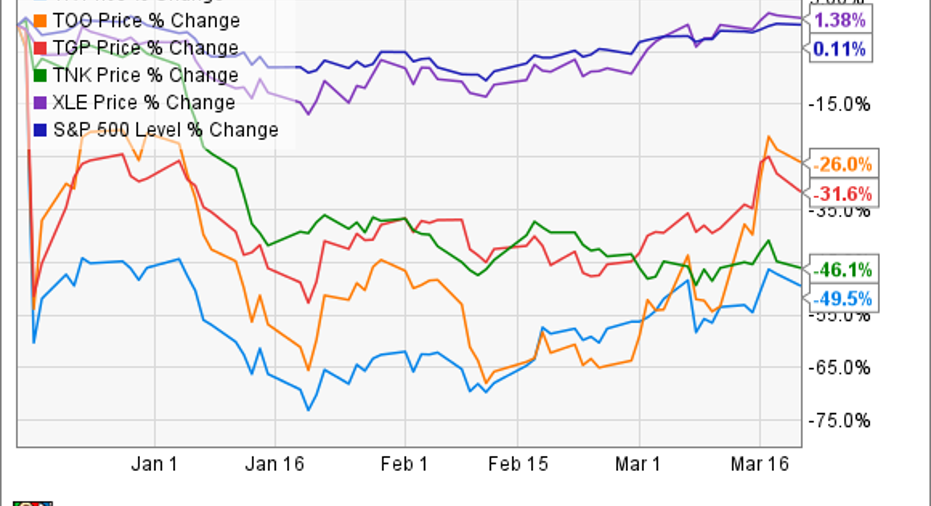 Source:Pixabay
Teekay Corporation(NYSE: TK) shares have badly lagged the market ever since the company decided to cut its dividend by 90% to focus on growth. Since December, shares of Teekay have fallen almost 50% versus the S&P 500's flat performance andthe Energy Select Sector SPDR (ETF)'s 1% advance.
As dire as the stock price suggests, Teekay's quarterly results and management outlook seem to suggest something different. In addition to its fourth quarter results, below are two additional takeaways that Teekay management would like shareholders to know.
Better than expected fourth quarter resultsBecause its subsidiaries have done well, Teekay's fourth-quarter results were also better than expected. The company reportedearnings of $0.41 per share on consolidated revenue of $700.11 million, beating estimates by $0.04 per share and $103.41 million, respectively. Despite the challenging macroeconomic conditions, Teekay Group delivered the highest fiscal year adjusted earnings since 2008, generating an adjusted net income of $68 million and total Teekay parent free cash flow of $149.7 million.
1. Strong 2016Management believes 2016 will be another strong year, as the high fleet utilization, new growth projects coming online, and operational efficiency improvements drive its results.Teekay CEO Peter Evensen said:
In addition, if Saudi Arabia continues its market-share-over-everything-else strategy and contango continues in the crude futures curve, demand for tankers will remain strong too.
2. No change in dividend policyTeekay management isn't planning on changing its variable dividend policy anytime soon. Management first notes that the December 2015 dividend cut wasn't due to deteriorating fundamentals, but rather to the stormy capital market:
Management then affirms its belief that funding growth now instead of increasing the dividend is the right choice for long-term shareholders:
Investor takeawayAlthough companies that cut their dividends by 90% and whose share prices badly lag the market are normally in dire shape with shrinking cash flows and heavy debt burdens, Teekay's situation is a bit different. Despite cutting its dividend, Teekay's fundamentals are strong. Teekay's subsidiary partnerships,Teekay LNG Partners(NYSE: TGP)andTeekay Offshore Partners(NYSE: TOO), each have long-term, fee-based contracts with high-qualitycounter-partiesfor the majority of their ships. Teekay's other subsidiary,Teekay Tankers(NYSE: TNK),recently reported realizing the strongest annual crude tanker rate in seven years, driven by low crude tanker fleet growth and the 1-million-barrel-per-day increase in OPEC production.Because of the strong tanker demand,Teekay Tankers generated strong free cash flow of $74 million, or $0.48 per share, for the fourth quarter.
Image source: Teekay investor relations.
The company reported an excellent fourth quarter and a robust 2015 despite the challenging macro energy conditions. Management believes 2016 will be another strong year and at $9.66 per share, Teekay trades at just above its net asset value of $9.34 per share. When debt markets normalize and industry growth capital becomes affordable again, Teekay will raise its dividend, and its stock price will recover some of the ground it gave up last December. Teekay is a quality company that deserves a higher stock price.
The article 2 Things That Teekay Management Wants You to Know originally appeared on Fool.com.
TMFJay22 has no position in any stocks mentioned. The Motley Fool has no position in any of the stocks mentioned. Try any of our Foolish newsletter services free for 30 days. We Fools may not all hold the same opinions, but we all believe that considering a diverse range of insights makes us better investors. The Motley Fool has a disclosure policy.
Copyright 1995 - 2016 The Motley Fool, LLC. All rights reserved. The Motley Fool has a disclosure policy.