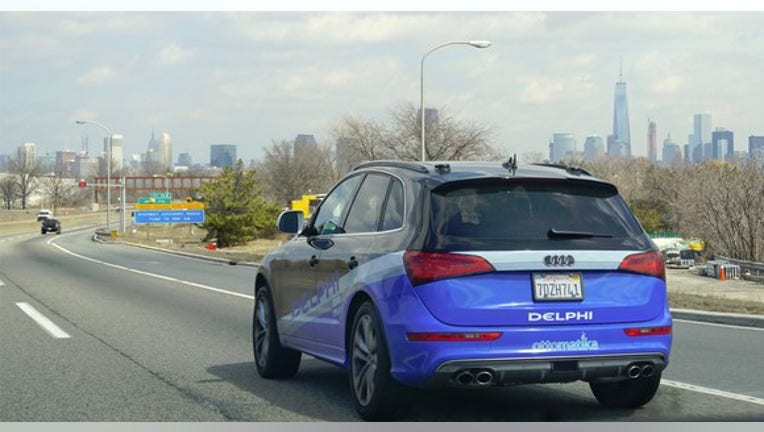 Many automakers believe that fully autonomous cars will hit public roads within the next decade. Research firm PWC estimates that the entire connected-car market will grow from $35 billion in 2015 to $128 billion by 2020, andBI Intelligence believes that the percentage of new cars which are shipped "connected" to the Internet could rise from 13% in 2015 to 75% in 2020.
Those bullish forecasts have driven various chipmakers into a land grab in the automotive chip market. To see if any of these chipmakers are viable investments, investors should run those companies through this 10-question gauntlet.
Auto chipmakers sell a wide variety of components. For example, Nvidia sells Tegra chips for infotainment systems and end-to-end computing solutions for driverless cars. Mobileye sells ADAS (advanced driver assistance systems) that use cameras and radars to spot and avoid obstacles, and EyeQ computer vision chips for semi-autonomous driving.
Many of these chipmakers' interests clearly overlap. Nvidia's Tegra chips directly compete against Mobileye's EyeQ and Qualcomm's Snapdragon A chips. NXP Semiconductors -- the largest automotive chipmaker in the world -- recentlylaunched its own "plug-and-play" BlueBox computing system for driverless cars to counter Nvidia's Drive PX platform and Mobileye's upcoming EyeQ5 chip for autonomous cars.
The price of the product matters greatly. About 90% of the world's top automakers install Mobileye's ADAS because its mix of cheaper cameras and radars is much less expensive than a fully autonomous LIDAR-based system, which can cost between $8,000 to $30,000. If a company's product is too expensive, it probably won't be adopted by a wide range of automakers.
Bigger companies can bundle various automotive chips together to undercut smaller rivals. For example, NXP can bundle its existing automotive chips, which aren't used for ADAS or driverless purposes, with BlueBox. Nvidia, Qualcomm, and Mobileye lack that major advantage.
Chipmakers need to have a wide enough moat to fend off potential rivals. Qualcomm can leverage its expertise in connected chips with integrated modems to link cars to the Internet. Nvidia might use its experience in graphics processing to pull ahead in the computer vision race. Without a distinct competitive advantage, a chipmaker could get lost in the shuffle.
Many chipmakers talk about connected cars as a new pillar of growth, but the products only generate a small percentage of overall sales.Delphi Automotive , one of the biggest auto component suppliers in the world, is frequently mentioned as a driverless car leader because it's beentesting its prototype vehicles on public roads. However, the electronics and safety unit, which sells ADAS and autonomous solutions, only generated 18% of its sales last quarter. By comparison, NXP's automotive chip segment accounted for 36% of its top line last quarter.
Delphi's driverless Audi. Image source: Delphi Automotive.
7. Is the company part of a broader IoT alliance?
Tech companies have been splitting the connected-car market into various alliances with shared communication standards for the Internet of Things (IoT). On the chipmaking front, Qualcomm's AllSeen Alliance has been fighting a winning battle against Intel's Open Interconnect Consortium. NXP joined AllSeen earlier this year, indicating that connected cars will be compatible with smart homes, appliances, wearables, and other IoT gadgets.
8. Is the company a buyout target?
As the market for connected automotive chips grows, the market will likely consolidate as smaller players get gobbled up by larger players. Mobileye, with an enterprise value of $8.2 billion and a first mover's advantage in the ADAS market, is frequently mentioned as a potential buyout target for larger chipmakers. There's also been a lot of buzz lately about Qualcomm making a bid for NXP, which could help the world's largest mobile chip maker dominate the auto industry. However, don't base your investment thesis on the potential of a buyout, which might never happen.
9. Is the company's stock overvalued?
Since connected cars are considered a hot growth market, a "pure play" stock like Mobileye trades at a lofty 115 times earnings. Meanwhile, NXPI, a "mature" chipmaking stocks with a growing stake in automotive chips, only trade at 20 times earnings. When buying any stock, consider whether it is a good buy now. The price-to-earnings ratio is one metric to consider.
10. What will happen to the company if driverless cars don't catch on?
Last but not least, investors should consider what could happen to the company if demand for driverless cars is weaker than expected. A recent poll by the University of Michigan Transportation Research Institute found that just 15.5% of respondents were interested in autonomous vehicles. In that scenario, diversified chipmakers like Nvidia would be a better bet than top-heavy companies like Mobileye.
But that's just the beginning
If a chipmaker passes all these tests, it might be a sound investment in the growing connected and driverless car market. However, investors should still dig deeper and do their homework before buying shares in any of these companies.
The article 10-Point Checklist for Investing in Driverless Cars originally appeared on Fool.com.
Leo Sun owns shares of Qualcomm. The Motley Fool owns shares of and recommends Nvidia, NXP Semiconductors, and Qualcomm. The Motley Fool recommends Intel. Try any of our Foolish newsletter services free for 30 days. We Fools may not all hold the same opinions, but we all believe that considering a diverse range of insights makes us better investors. The Motley Fool has a disclosure policy.
Copyright 1995 - 2016 The Motley Fool, LLC. All rights reserved. The Motley Fool has a disclosure policy.