US job openings are historically high and there's no 'quick fix,' expert warns
US workers quitting at historic levels as job openings top 10 million for 13 consecutive months
As many businesses still struggle to fill job openings despite millions of available positions nationwide, more experts are adding to the argument that the Great Resignation isn't over quite yet.
"We're seeing historically high openings across the spectrum, certainly in things like leisure and hospitality and some low-wage service workers, but also in manufacturing, we have really high levels of job openings compared to the available unemployed workers out there," Cato Institute director of general economics Scott Lincicome told Fox News senior national correspondent Rich Edson.
"So this is really a system-wide issue," he continued, "and one that there's not really any easy, quick fix."
The headline number of 223,000 jobs added in December comes from the Labor Department's establishment survey, while the headline unemployment rate of 3.5 percent comes from the household survey. Both have their own measure of employment, but they tend to move roughly in sync with one another over time.
DECEMBER JOBS REPORT'S REAL NUMBERS ARE ANEMIC NOT ROBUST. HERE'S WHY AMERICANS SHOULD BE WARY
In 2021, however, they diverged sharply. Since March, that divergence has been 2 million jobs.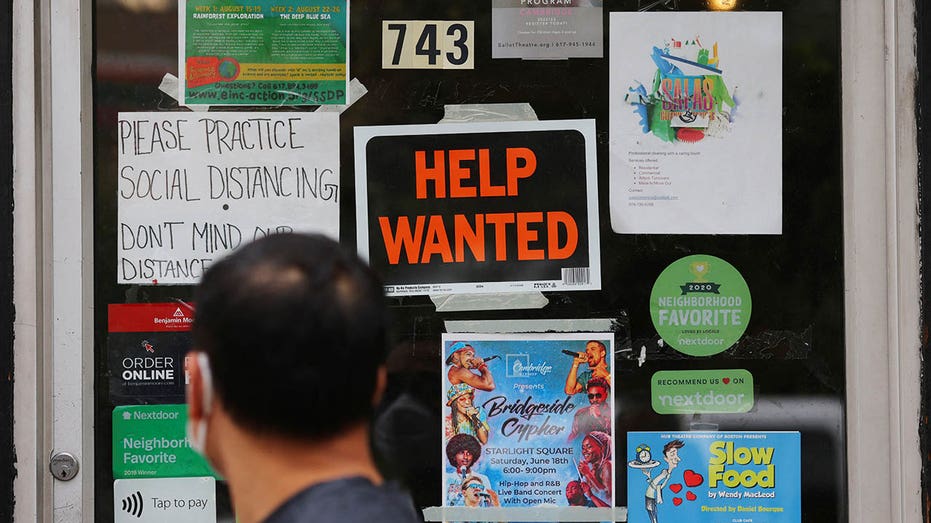 The recent November jobs report indicated there were 10.4 million jobs available, but just 6 million people looking for a job, according to the Bureau of Labor Statistics.
Federal Reserve Chair Jerome Powell claimed in December that there was a structural labor shortage taking place with more than 4 million fewer workers available for current demand.
In response, the Clinton administration's Secretary of Labor Robert Reich wrote in The Guardian Sunday, "Here's the truth: there is no labor shortage."
"There is, however, a shortage of jobs paying sufficient wages to attract workers to fill job openings," Reich further argued in his op-ed.
Republicans such as Senate Minority Leader Mitch McConnell, R-Ky., have placed blame for the job market imbalance on government action during the pandemic.
"You've got a whole lot of people sitting on the sidelines because, frankly, they're flush at the moment," McConnell had said at a public event last July. "What we've got to hope is that once they run out of money, they'll start concluding it's better to work than not to work."
During a man-on-the-street report last week, FOX Business' Jeff Flock asked Americans what they believe are the forces behind the Great Resignation. One man weighed in, saying that he thinks "skilled labor" is the key issue – arguing that there is widespread availability of jobs, but not the proper people to fill them. Another woman explained to Flock that her place of employment is "very short-staffed" because "nobody wants to work," and everybody wants "free money."
Some statistics are starting to signal that the current labor market is particularly "tough" whether you have a job or not.
GET FOX BUSINESS ON THE GO BY CLICKING HERE
A survey conducted by Top Workplaces asked Americans about the reasons they are willing to work. It found that nearly 40% of Americans are "overwhelmed" by their job, and more than 25% said they were anxious or upset about their work.
Additionally, 22% said that their job was interfering with their life, and nearly 30% said that it was negatively impacting their personal life.
The White House is reportedly examining government intervention in child care, housing and workforce training to get Americans back to work.
FOX Business' E.J. Antoni and Kayla Bailey contributed to this report.