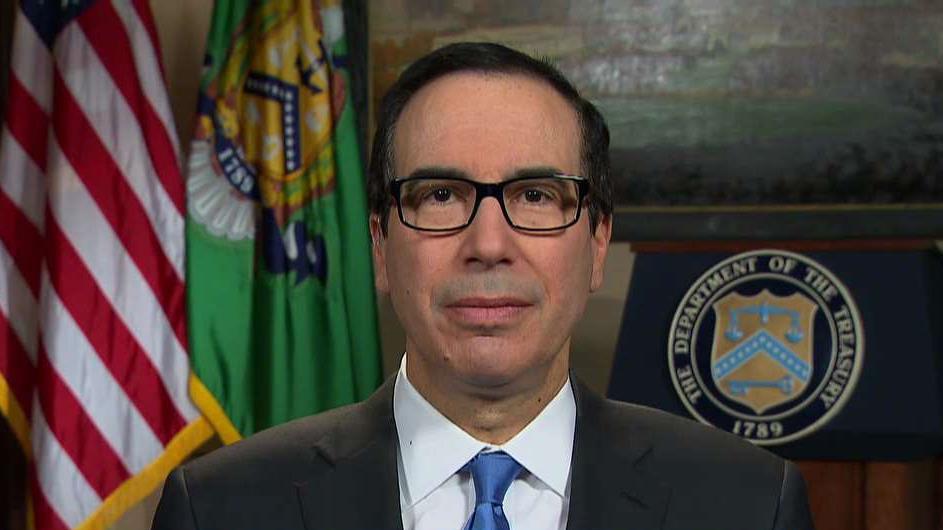 Citing the benefits of the U.S. tax cut, Treasury Secretary Steven Mnuchin countered Senate Minority Leader Chuck Schumer's assertion that former President Barack Obama deserves a lot of credit for economic growth.
"It's unfortunate that Democrats can't acknowledge the reality that the Trump economic agenda has been great for the economy," Mnuchin told FOX Business' Stuart Varney on Wednesday during an interview on "Varney & Co."
Schumer, a Democrat from New York, said on the Senate floor Tuesday before President Donald Trump's first official State of the Union address that Trump inherited low unemployment, job growth and a soaring stock market.
"Here are two words we won't hear President Trump say tonight about the economy: Thanks, Obama," Schumer said.
Gross domestic product (GDP) grew at a 2.6% annual rate in the fourth quarter, compared with 3.2% in the prior three-month period, the Commerce Department reported last week. The economy expanded 2.3% in 2017, accelerating from a 1.5% rate in 2016.
"A real focus is for 3% sustained GDP growth," Mnuchin said.
Highlights of the tax overhaul signed by Trump in December include cutting the corporate tax rate to 21% from 35%, lowering almost all of the individual rates and doubling the standard deduction.
Continue Reading Below
Advertisement