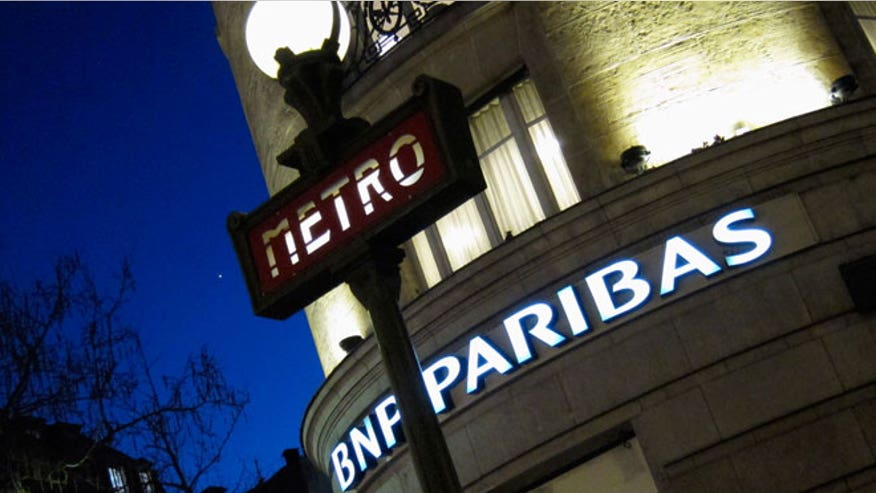 Shares of the big French bank BNP Paribas plunged Friday after a report that U.S. investigators are seeking a $10 billion fine to settle criminal charges the bank violated U.S. sanctions by doing business with a handful of outlaw nations.
The Wall Street Journal reported that U.S. authorities also want BNP Paribas to plead guilty to criminal charges, the same concession reached with Credit Suisse (CS) bank last week.
Guilty pleas in addition to huge fines represent a significant shift in the government's strategy for cracking down on big banks accused of large-scale misconduct. The guilty plea by Credit Suisse, which was charged with helping Americans evade taxes by hiding money from the IRS, was the first such plea by a major financial institution in more than a decade.
BNP Paribas was reportedly hoping to pay about $8 billion to settle the criminal investigation. A spokesman for the bank didn't immediately respond to a request for comment.
The bank is under investigation for allegedly doing business with countries including Iran, The Wall Street Journal reported, citing people familiar with the settlement discussions. Other reports say the bank also moved money in and out of the Sudan and Cuba.
Last week, following the Credit Suisse settlement, it was reported that BNP Paribas might face a $5 billion penalty, but that amount has apparently risen sharply.
BNP Paribas has told investors it can raise billions of dollars by offering debt after reaching a settlement with the U.S., the Journal said.
"Beyond the uncertainty related to the potential financial settlement, the key issues remain of the type of potential charges and impact on BNP Paribas' operational capability," Citigroup analysts wrote in a note to clients. Citigroup said it has kept its "buy" recommendation on BNP Paribas stock, but has taken the bank off its list of favorite picks.
However, the analysts said a $10 billion fine would reduce BNP Paribas' capital ratio to below 10%, or below thresholds set under new guidelines established in the wake of the 2008 financial crisis.
The stakes have grown significantly for BNP Paribas as the investigation by U.S. authorities has dragged on. According to the Journal, in February, the bank said it had put aside $1.1 billion to cover the expected settlement, considered a large amount at the time. Two months later, the bank warned of "the possibility that the amount of the fines could be far in excess" of what the bank previously had set aside.
The possible large U.S. fine has raised concerns by French authorities. Christian Noyer, the governor of the Bank of France, said earlier this month that BNP's alleged actions didn't violate European or French laws.
"We have indeed verified that all the transactions were in line with EU and French rules, regulations and directives," Noyer said at a news conference. "So there have been no breaches."
The French lender's shares fell more than 6% in trading in Paris.