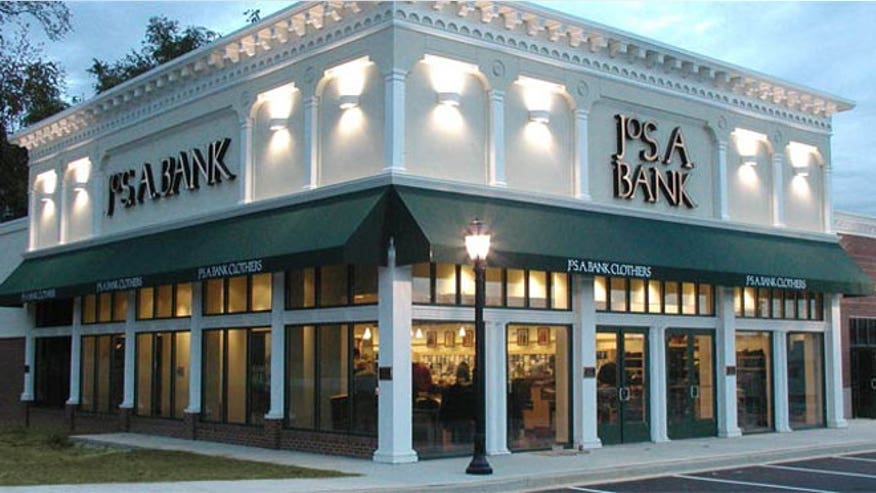 Jos. A. Bank Clothiers (JOSB) inked an $825 million deal to acquire fellow retailer Eddie Bauer, offering the latest salvo in its takeover fight with Men's Wearhouse (MW).
Jos. A. Bank said Friday it will pay Eddie Bauer owner Golden Gate Capital $564 million in cash and roughly 4.7 million new shares at $56 apiece. Following the transaction's close, Golden Gate will hold a 16.6% stake in Jos. A. Bank.
The suit seller will partially finance the transaction by borrowing from Goldman Sachs (GS), a financial advisor to Jos. A. Bank. The deal for Eddie Bauer, which has about 370 stores in the U.S. and Canada, is expected to immediately contribute to earnings.
Jos. A. Bank also announced a buyback of 4.6 million common shares at $65 a share if the Eddie Bauer acquisition goes through.
In a battle dating back to October, Jos. A. Bank has been in a tug-of-war with rival men's apparel retailer Men's Wearhouse, with both companies making takeover offers.
Early last month, Jos. A. Bank urged shareholders to reject a tender offer. Eminence Capital, which is pushing for a combination of the two retailers, subsequently unveiled plans to nominate two candidates to Jos. A. Bank's board.
On Friday, Jos. A. Bank said it first talked to Golden Gate about a buyout of Eddie Bauer in early 2012, and then several months before making its proposal to buy Men's Wearhouse. The Hampstead, Md.-based company reserved the right to terminate its deal for Eddie Bauer if a superior transaction surfaces.
Chairman Robert Wildrick added that Jos. A. Bank reviewed "a number of strategic alternatives," including an acquisition of Men's Wearhouse or a sale to its rival.
"We are convinced that our transaction with Eddie Bauer and the issuer tender offer provide the greatest value creation opportunity for Jos. A. Bank shareholders," Wildrick said. "At the same time, the Company's Board has preserved the ability to enter into an alternative transaction that creates greater value for our shareholders should such a transaction be proposed."
In response to news of the deal, Men's Wearhouse said it will evaluate its options with respect to Jos. A. Bank.
Separately, Jos. A. Bank reported fourth-quarter sales growth of 0.4%, as comparable store sales improved 1.8%. It projected per-share earnings of $1.04 to $1.10, compared to 98 cents in the same period a year earlier.
Jos. A. bank shares fell 1.8% to $53.94 in recent trading. Men's Wearhouse retreated 9% to $42.34.