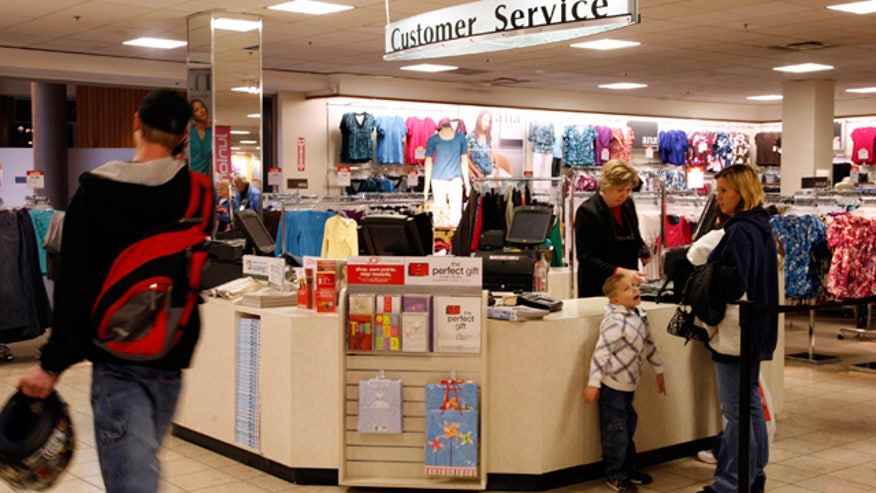 As retail sales numbers continue to slump, retailers have been trying to lure wary consumers through their doors with heavy discounts. But experts say it's time for a new strategy.
January retail sales came in below expectations, falling 0.4%. Excluding autos, sales were unchanged, missing estimates for a 0.1% increase. December's headline sales number was also revised lower, to a 0.1% decline from a 0.2% gain.
In the wake of the Great Recession, retailers slashed prices and increased their promotions to appeal to budget-conscious shoppers. This moved trained customers to rely on heavy discounts without having to worry about supply. That might change this year.
"I wouldn't get too cocky with the power dynamic; it seems as if retailers are finally learning their lesson when it comes to their inventory," says Paula Rosenblum, managing partner at SR Research. "This might be the year that, if you see something you want, you better get it before it's gone."
She says research from the National Retail Federation shows a steady increase in imports this year compared to last year, despite the trade organization's expectations of a 4.3% increase in sales in 2014.
"Retailers are cutting back on inventory, and that is a good thing. That was one of their biggest challenges last year that led to those major blowout sales with 70% off." She points to a stronger-than-expected earnings season during the recession because retailers didn't have the working capital to buy excess inventory.
"They learned the idea that buying less and making inventory a little more scarce can help persuade shoppers to buy. The year after the recession, we were disappointed to see a forecast sales increase of between 4-5%, and port traffic was up 14% to 15%. That's when they got back into trouble."
According to retail analyst Kristin Bentz, retail sales have been declining on a month-to-month basis since 2011, proving that something has to give.
"That core sales number, which excludes autos, gas and building materials, is -0.3% and that will be taken into account in our GDP," she explains.
While the economic environment isn't exactly consumer friendly, experts stress retailers have to improve their strategic efforts when it comes to stocking their shelves, targeting customers and their sales tactics.
"Shoppers are still scared, their taxes went up in 2013, their health-care costs are going up this year along with their electricity and heating rates going through the roof because of the winter weather," says Burt Flickinger, managing director of Strategic Resource Group. "What we are seeing is consumers going back to the terrible spending habits that we saw from 1977 to 1978 that only included purchases for food, fuel and prescription drugs."
He says major grocery store chains like Kroger (KR) are catering to their customers' demands in the midst of the winter weather, along with chain drug stores to be able to not only ride out the rocky environment, but thrive. "Groceries, building supply chains, chain drug stores and heating utility companies are really proving to be the four corners of the retail industry."
Bentz, author of the upcoming book It's Worse Than You Think: The U.S. Economy and the Decline of the Middle Class, says retailers who hope to survive the tight spending environment are going to have to be nimble. "The ones that can alter their pricing to compete, waive shipping fees and get the right products into their stores are going to be able to pull through; as of right now, that's the behemoths in the industry."
She says expects discounts to go from "deep" to "desperate" as stores try to move inventory ahead of spring.
"We learned that staying open for all hours of the day didn't work. Retailers need to use every possible route to get to the consumer, whether it's mobile, on the tablet, offering Pinterest in stores and other interactiveness to bring in customers."
But Rosenblum warns offering deals can't be a long-term sales strategy. "Discounts have been the name of the game, but retailers need to sit down and ask themselves if it has helped increase profits and sales, and the answer is no. They need to figure out how to have more planned promotions with a more strategic merchandising approach."
Flickinger points to another worrisome statistic in the retail world: a 0.6% decrease in online sales. "For the first month in a decade, online sales dropped in January. What's also more troubling is blizzards tend to mean more online shopping, and given our weather so far, this is a bad barometer for retail."
Rosenblum is less concerned with the drop, suggesting that this might be the year that online sales find their share of the market. "We keep assuming Internet growth will continue at the same growth rate, but in 1990, catalog sales, which means people were buying direct, were 10% of all retail sales. We are now hovering at that same 10% level with online shopping, which is also direct sales. Maybe this is the normal activity amount -- the next 12-18 months will determine that."
The NRF might be expecting an increase of sales just above 4% this year, but Flickinger doesn't see a rebound in the retail sector until Memorial Day. "February is a writeoff because the Super Bowl was so early, Easter and Passover will help in April, but Passover is late this year so that pushes further into May."
Bentz isn't as hopeful for a rebound, saying data is showing luxury spending, which has been a bright spot in spending recently, is starting to wane. "The middle class is continuing to lose its purchasing power and now the one-percenters are also starting to taper, which is just more bad news for retailers."
Follow Kathryn on Twitter @kathrynvasel